At the Democratic National Convention (DNC), held as a virtual event in August in Milwaukee, Wisconsin, participants were able to unite at a critical time in American history. Democratic Party delegates at the convention formally nominated Joe Biden and Kamala Harris as candidates for the 2020 United States presidential election.
The DNC Committee wanted to make the 2020 Convention diverse and dynamic, and looked for ways to use virtual participation and production techniques to overcome the absence of a physical audience. LTN became their official interactive production partner, using their video transport network systems and live video content management to combine audience participant feeds into an engaging live video experience.
With LTN's Live Video Cloud (LVC), the Committee could aggregate huge numbers of live streams from participants' IP cams, encoders, streaming servers or consumer devices across the country before distributing them onto large onstage LED screens and into on-air production for channels, including social media. LVC is a high-capacity media-control console from the LTN Command system, and gave the DNC the live video acquisition, routing and distribution capabilities required to combine remote presenters and viewers and create the experience of being part of a live event.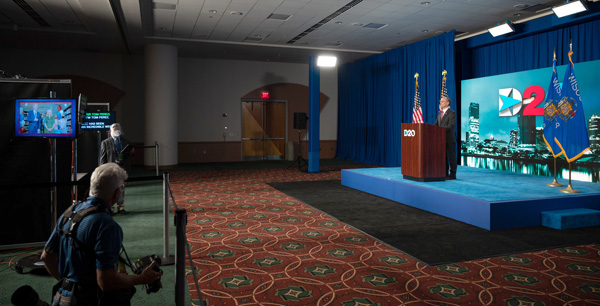 The LTN global ingest network automatically selects the best available ingest server, or allows the user to specify the geographic location, and saves every input file. "The decentralised architecture of LTN Live Video Cloud (LVC) ingests live video signals close to the source, independent of the production location," said Andreas Jacobi, General Manager of LTN Command, LTN Global. "Once ingested, LVC takes the shortest first mile through the public internet to avoid loss of quality or adding uncontrolled latency.
"The transport of content from the ingest server to the production server in this way is managed in a controlled, predictable manner, and compares favourably to systems that run within a single data centre, even if contributors are located on the other side of the world."
The LVC interface helps organise the feeds, supporting multiple connections and features like continuous playback and review, visibility into signal stability and rights management control. The user can use pass-through to push live outputs out to streaming services or back to a master control room. Outputs can also be transcoded as multi-bitrate streams and pushed to CDNs, social media and other destinations.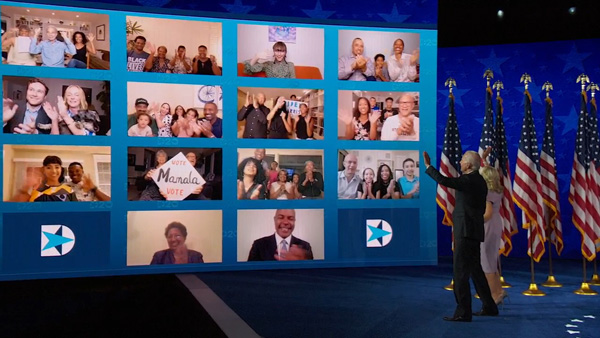 "Output engines can be stopped and started with or without transcoding, whenever and wherever they are needed," Andreas said. "Users can route signals into on-premises production environments or add distribution targets and destinations very simply, on the fly. Since only the time output instances that are used are paid for, users can control the costs associated with adding more destinations or outlets to maximise reach and revenue."
The Chief Operating Officer of the 2020 Democratic National Convention Committee Andrew Binns said, "LTN Global's system made it possible to include audience reactions, despite being unable to gather in person. Employing virtual production meant we could engage live with many people who may never have been able to come to the Convention in person."
"Any individual with a device has the potential to add unique value to an event," said Malik Khan, LTN Executive Chairman and Co-Founder. "Such inputs are likely to come from anywhere. To be able to bring them all together into one view, let an editorial team decide which are relevant to a story, an event or an audience, and then insert that in real time into your final output is very important today. Using LTN's cloud based systems, the DNC has set a precedent for the future of events in any format, theme or geographical location." ltnglobal.com