Banijay Deploys Hybrid Blue Lucy MAM for Content Operations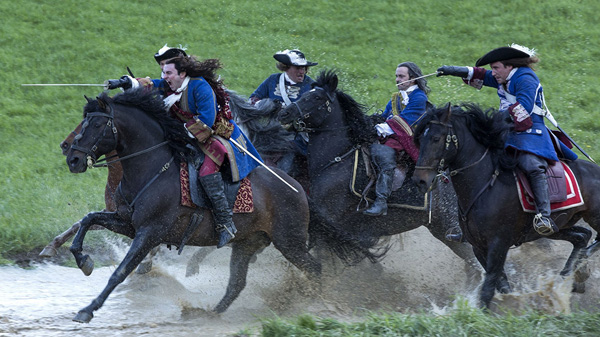 Versailles
The Banijay Group is one of the world's largest independent content creation groups supplying television and multimedia platforms. Banijay Rights is the group's international distribution division and is responsible for storing, managing and distributing the more than 250,000 assets in the group's content catalogue.
When the division recently chose to move storage and management of their content library in-house, they needed to set up their own infrastructure to bring the archive under secure management. At the same time they wanted to control operations with fewer people, resources and steps, requiring automation and task management. To set up their automated management system, they adopted Blue Lucy Asset Manager.
Blue Lucy's system allowed them to define and build an asset management system entirely within their own organisation, supporting a workflow in which a number of critical time-consuming tasks have been automated, avoiding errors and saving hours. The system is also strong and resilient, and works in the same way regardless of content format and data type.
Different Space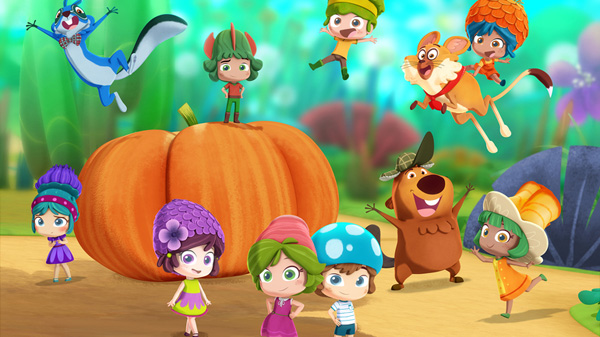 Lilybuds
"We occupy a different space in the market to a traditional broadcaster because, although we have a large inventory to manage, our delivery timelines are generally measured in days or weeks as opposed to newsrooms that are expected to deliver content in seconds," said Banijay Rights project manager, Mark Glennon. "Enterprise asset management systems built with broadcast fail-safes as standard generally cost hundreds of thousands of pounds and can't shrink below a certain size. Products like Blue Lucy Asset Manager cater to Banijay's type of distribution by supplying the core functionality in an affordable package that can scale up if we need it to."
The Blue Lucy implementation was completed in mid-2017 and establishes a complete process workflow – from the creation of media product placeholders, imported through integration with the rights management system, to the ingest and QC of media through editing, archive management, publication of screeners and delivery. All of this was set up to be controlled through a simple browser-based user interface.
Integrating Content Rights
To get the greatest advantage from the workflow automation, integration with Banijay's primary business systems has been an important part of the project. One of these integrations is with the content rights management software, EasyTrack.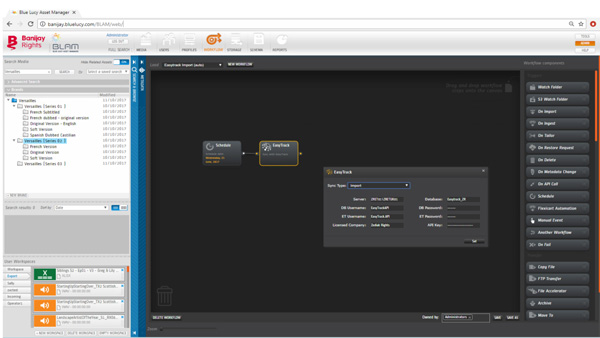 Asset Manager's workflow builder schedules EasyTrack queries. Left pane shows the asset hierarchy derived from EasyTrack.
As part of the workflow, EasyTrack is checked at regular intervals for any new titles resulting from content deals or commissions. From these, a media structure, or placeholder, based on the number of series and episodes for a given title is created in the asset management system, and any metadata fields common between the systems are automatically populated. In Blue Lucy, metadata is inherited within the hierarchy derived from EasyTrack, where each asset's metadata, including episodic numbers, durations, synopsis, genre, classification, rights and so on, is managed and updated. Its document management functionality also has a metadata exchange tool designed to share asset data with other systems.
Asset Manager imports and tracks both physical - DVD and video tape - and file-based assets. Files can be imported via watch-folders. Once assets are imported, the media handling workflow, encompassing processing automation and user task management, is triggered. Staff at Banijay Rights match media to the titles manually, using Asset Manager's browser-based video players, which are a software plug-in. The players allow frame-accurate, random seek and video playback access to the media file with a controllable play head position and tools such as multi-track audio monitoring.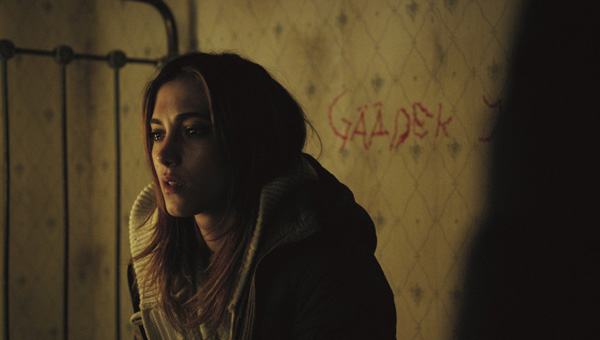 Black Lake
As part of this workflow, the team also improves on the content metadata, using controlled vocabularies to maintain accuracy, and on-screen feedback to ensure the data is complete. This workflow includes mandatory fields which operators must complete before the workflow moves on. The resulting tight integration makes sure that both the media rights and media management system are synchronised at all times, which saves operator time and ensures accuracy.
"The integration of our rights management system with media and operations management is one of the biggest benefits we've seen from this implementation," said Mark Glennon. "Banijay is an amalgamation of many different companies and being able to put all our content into one library and use EasyTrack integration to expose all this material to our sales team will make it much easier to market and sell our inventory."
Third Party QC Integration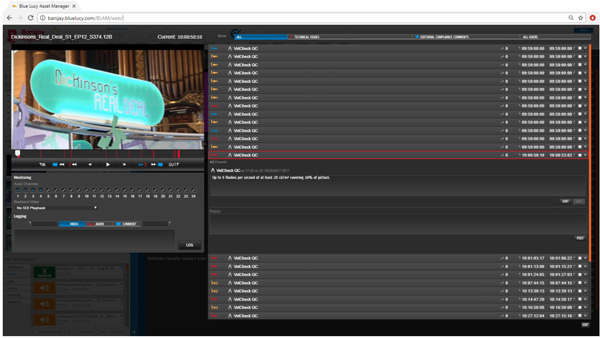 Asset Manager's QC view shows the VidCheck data and video player timeline.
Asset Manager users can perform QC visually using the Baseband player plug-in or, as in the case of Banijay's quality assurance, use the Manager's connector for Telestream VidCheck integration to automate QC processing. Vidchecker automatically checks parameters and settings that are frequent sources of error during the manual preparation and exchange of file-based media between post production, distribution and broadcast.
Vidchecker runs a series of QC tests on all ingested material and passes the results back to Asset Manager as time-code delineated data, supplied to the user as a .pdf report. Any errors or warnings that VidCheck raises are highlighted in the player timeline within the browser-based interface. Operators can then seek identified issues within the material and carry out a visual check using a baseband grading monitor.
AWS Cloud Storage Management
Like rights management and QC, media management operations are automated where possible and workflow driven. Asset Manager copies all material that enters the system to the nearline storage, held on spinning disk media, and a safety copy is uploaded to one of two AWS S3 buckets. Asset Manager manages the spinning disk and, when a given threshold is reached, the material that has not been accessed for the longest period is deleted. As part of that automated workflow, Asset Manager re-checks that the safety copy is secure in AWS S3 before deletion.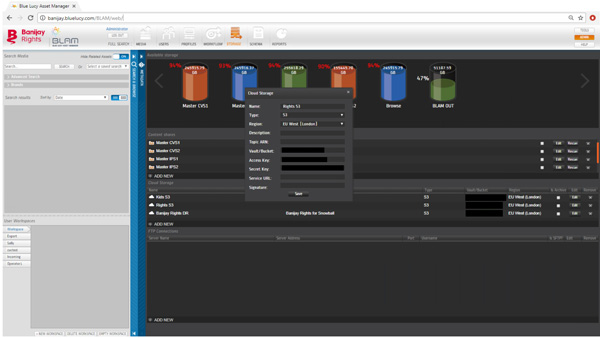 AWS storage configuration.
For all archived material, the browser-viewable proxy material, created by Asset Manager at the point of ingest, is always kept on-line. This allows operators to search for and view content before triggering fulfilment workflows such as full format content delivery or publishing to the Banijay media sales portal as a screener.
Snowballing Data
In order to overcome the on-going challenge of data migration, Banijay invested in AWS Snowball data transport, which Asset Manager supports natively. Snowball scales from terabytes to petabytes that uses secured, intechangeable hardware appliances to transfer large amounts of data into and out of the AWS cloud. Using Snowball addresses the common challenges associated with large-scale data transfers including high network costs, long transfer times and security issues. Blue Lucy is mainly interested in Snowball as a means to bring disparate content stores under management.
"As a rule, we do a lot of work on the material in the first six to nine months after it arrives and then seldom touch it again," Mark said. "The cloud archiving model works really well for us because we don't need constant access to the original content, but we can recover it fairly easily when we do need it." bluelucy.com