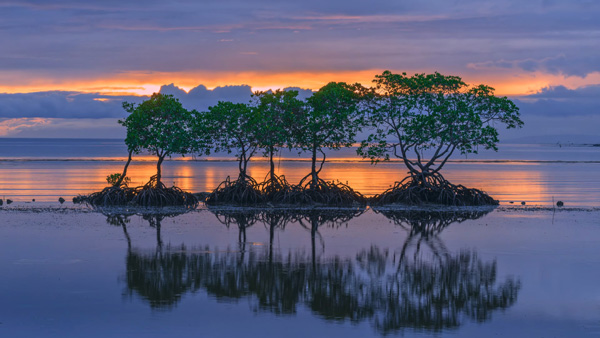 LYNX Technik's HDR Suite of Processing software – HDR Evie+, HDR Evie and HDR Static – for the greenMachine platform addresses the challenge that broadcasters and content creators face when content needs to be broadcast or archived in both SDR and HDR. The simple solution is to operate two independent production routes for SDR and HDR, but this method is costly and falls short of delivering full HDR content to the customer and ultimately, the subscriber or viewer.
The greenMachine suite of HDR processing tools addresses the issue of simultaneous workflows, and avoids expensive, time-consuming dual SDR / HDR production, by combining optimised HDR with up-converted SDR sources into a single HDR production process.
Enhanced Video Image Engine
HDR STATIC, HDR Evie (Enhanced Video Image Engine) and HDR Evie+ processing applications run on the LYNX Technik greenMachine platform, multi-purpose processing hardware for 4K, UHD and 12G workflows. It works as a reconfigurable toolbox for studios, OBs, remote production and other media facilities that rely on video and audio signal processing.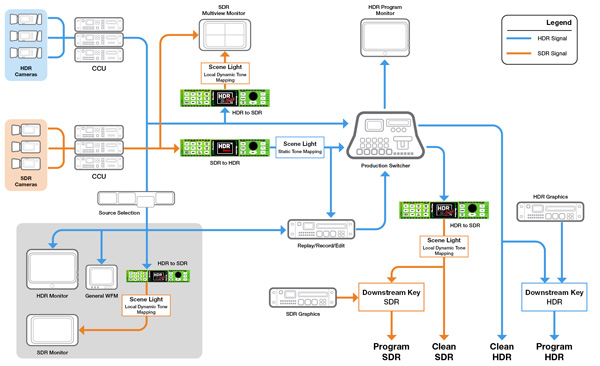 Using the HDR/SDR format conversion applications facilities can, for example, use a single greenMachine titan hardware module to up-convert four independent 3G SDR sources such as SDR cameras, graphics, replays, external feeds or archives, to HDR in a variety of formats, and feed directly into the HDR production workflow.
This conversion makes sure that HDR content is delivered directly from the optimised HDR cameras without compromise. Once the content is ready for delivery, broadcast or streaming to clients and subscribers/viewers, greenMachine can down-convert one of the HDR program output feeds to SDR, allowing media facilities to deliver content to both HDR-capable screens and to viewers who are still watching content in SDR.
Segmented Dynamic Conversion
HDR Evie+, the most recent application LYNX Technik's HDR series makes use of dynamic segmented frame-by-frame algorithms that use sectional dynamic tone mapping that allows adjustment of each segment (144 segments/frame) of 3G or 4K HDR content all in real-time. Dynamic tone mapping in general terms uses an algorithm to segment and analyse a source image in real time and re-map shadow levels, midtone and highlight levels in specific areas of the image automatically, based on scene contrast ratios.

This kind of processing makes the image suitable for viewing on a particular digital screen. The segmented dynamic conversion by greenMachine HDR Evie+ is especially suited to complex and unpredictable content, with fast moving subjects and high contrast conditions found in live sports and news broadcasts.
All of LYNX Technik's greenMachine HDR < > SDR processing software supports the range of major open standards for conversion, tone mapping and colour gamut, including HLG, PQ, SDR and SLog3. It also works with Rec709, Rec 2020 and camera standards by Panasonic, Sony, ARRI, ACES, DCI-P3, RED and Blackmagic Design. www.lynx-technik.com