Kentucky Wildcats Choose Matrox Monarch HDX to Engage with Fans and Recruits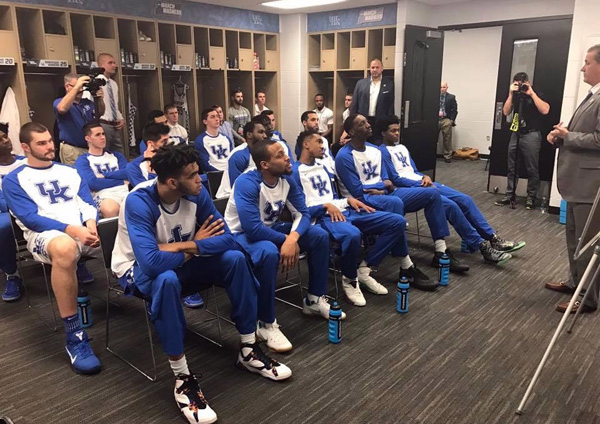 The University of Kentucky Wildcats basketball team has been one of the top Division I teams in the National Collegiate Athletic Association (NCAA) since its inaugural season in 1903, and has attracted a large contingent of fans and young recruits over the years. Capturing and recording video streams has become a great way to please fans and make new player recruitment more effective, and is now a priority for the team.
University of Kentucky Athletics Dept captures the team's 25 to 35 matches per regular winter season on 50-Mbps cameras and records the video to SD cards. The image quality is good for scaling and optimising later on for delivery to different screen sizes but at first, the higher quality format was preventing them from quickly accessing the footage for other purposes.
One Recording, Multiple Purposes
The Dept wanted to design a workflow that would allow them to record games simultaneously in multiple bitrates - one high-quality version to record onto an SD card and later edit for broadcast and viewing on the web, and a standard-definition version to record onto a USB drive and quickly upload onto iPads for recruiting material.
When the Athleics Dept started to look for a more flexible recording system, they weren't able to find many products that support multiple bitrate recording, which soon narrowed down the search. They eventually heard about the Matrox Monarch HDX, a dual-channel H.264 encoder made for streaming and recording, and decided to purchase two units.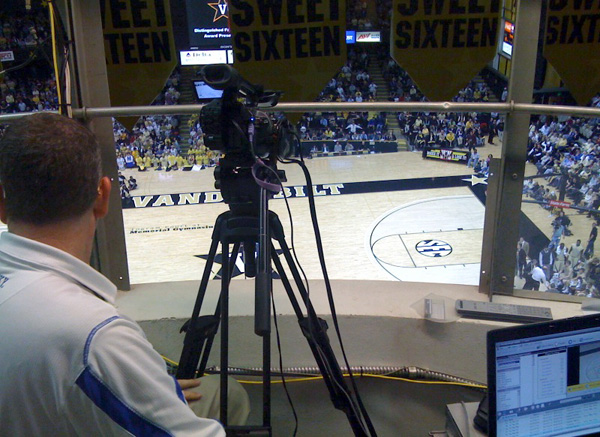 UK Athletics now uses the devices to record two independent feeds. As one of the NCAA's elite teams, having made championship tournament appearances nine of the past ten years, the Wildcats are considered to be a premier competitor on their opponents' schedules. A full production crew in a TV truck usually accompanies the team at home or on the road, with a video team handling six or more cameras to capture every point, assist, steal and rebound.
Multiple Bitrate Workflow
From the SDI camera sources, video feeds travel to a switcher located in the TV truck. The feeds are sent to the Monarch HDX units and encoded for recording as MP4 files at two different bitrates, 20 Mbps and 5 Mbps. The 20-Mbps videos are saved to an SD card, and the 5-Mbps videos to a USB drive. The MP4 files typically contain footage of the game, coaches' talks to players in the locker room, pre- and post-game commentary, as well as other behind-the-scenes experiences of the team throughout the season.
The 20-Mbps MP4 files are transferred from the SD card to Adobe Premiere Pro, where they are edited, a sound track is laid over and video effects are added. The finished product is a kind of Wildcats reality show that the Dept has titled 'This is Kentucky Basketball' and makes available online at the UK Athletics website.
This show gives fans a chance to connect with the team both on and off the court. The same footage, edited in a different style to produce 'Inside Kentucky Basketball' is also delivered, often in its original format, to a TV network that goes on to broadcast the material. The network is made up of 15 stations reaching Kentucky, Ohio, Indiana, Tennessee and West Virginia.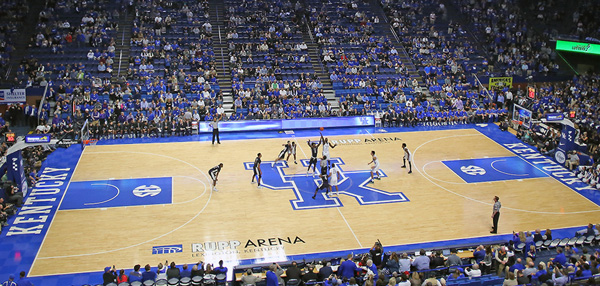 The 5-Mbps MP4 files are usually transferred from a USB drive to a laptop, where they are edited to create videos to be shown to recruits. The H.264 codec, which requires no transcoding before editing, allows them to quickly switch from editing to uploading the MP4 file, and can also be quickly downloaded to supply content for the coaches. For example, when games are filmed at night, and need to be played back the next day on an iPad in a recruit's home, the video playback requires no special viewing software.
Saving Cost and Space
As well as reaching their fans and potential recruits more easily, Monarch HDX has helped the Athletics Dept control their equipment costs and save physical space in TV truck racks.
"One of the main reasons I chose the Monarch HDX was that, instead of buying two pieces of equipment at different bitrates, I was able to use a single device that takes up less space than the gear I had previously been using to make the two separate recordings," said Tim Asher, the Dept's Director of Athletic Video and Team Technologies. "For me, that made a big difference because I'm travelling from place to place to record all the games with our team, and having one less piece of gear to keep up with is very important."
The Athletics Dept is also plans to use the dual-channel streaming and recording functionality of the Monarch HDX units. Tim said, "For members of the media who are unable to attend the men's basketball and football teams' coaches press conferences, UK Athletics will soon be streaming them live via UKAthletics.com with one unit while recording them with another unit." www.matrox.com