Al Kamel Transports Fans to Live Race Events with TVU Remote Transmission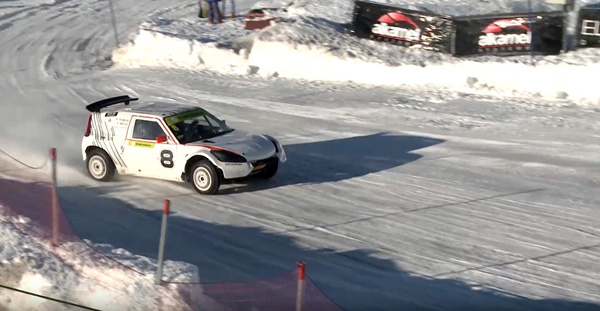 Credit Andorrà G-Series electric car Snow Rally Championships
Production staff at Al Kamel Systems in Barcelona, specialists in live statistics for motor sports, can now add race graphics remotely to broadcast productions instead of travelling onsite. They are using TVU's Remote Production System (RPS) to run the graphics in very close synchronisation with the live event. TVU RPS allows them to carry out their production tasks remotely using a public internet connection with a delay of less than one second between the live feed and graphics playout.
TVU RPS bi-directionally transports up to six HDSDI HEVC enhanced signals with sub-second latency and an IP data tunnel for extra remote control. The IP tunnel is used to form a private IP network communications channel between two networks and securely transport another network protocol by encapsulating its packets. Tunnelling can negotiate a public network so that the public routing nodes are unaware that the transmission is part of a private network.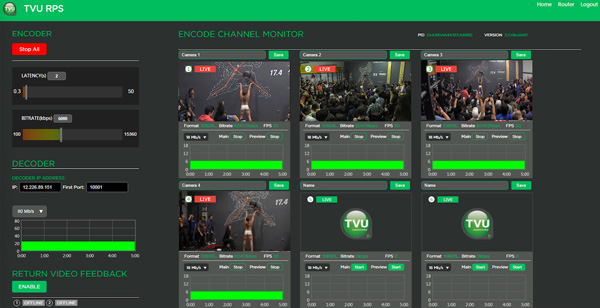 TVU's Remote Production System interface
In this way, all participants feel they are working in the same facility. TVU RPS can also send up to two low-latency return video feeds from the studio back out to the field, and has a simple UI that visualises network activity. Al Kamel Systems can save production time and reduce production costs on several events by allowing the team to remain at their headquarter production facility near Barcelona.
Earlier in 2019, Al Kamel Systems used TVU Networks' lightest live video transmitter, TVU NANO Video, to transmit real-time video feeds from the pilot cabin of cars taking part in the annual Credit Andorrà G-Series electric car Snow Rally Championships.
This event takes place every year at 2,400m in the Pyrenees, a region with interrupted, unreliable connectivity. To overcome the challenges – including a low car weight limit, a remote location at high altitude and availability of only one wireless network - the Al Kamel team used TVU NANO Video with two bonded SIMs to transmit full-HD 1080i and enhanced H.265/HEVC footage over the wireless network to a server located in Barcelona.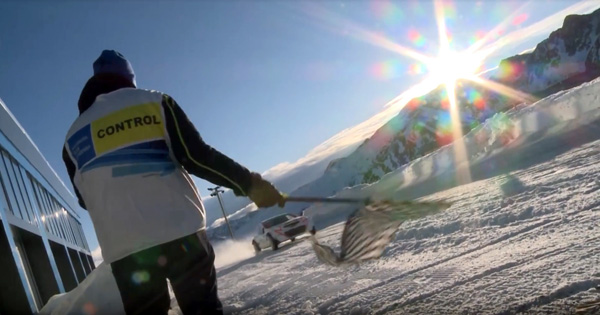 José Luis García, chief executive officer of Al Kamel Systems, said, "In previous years, motor sports fans have only had limited access to high quality live footage of their favourite sports. The portability and flexibility of the TVU NANO Video enabled us for the first time to supply the motor sports teams and fans with live, high-quality video, a key factor in helping the G-Series to grow in popularity."
TVU NANO Video, like other TVU Transmitters, transmits high-quality live feeds with a glass-to-glass latency of half a second. Its pocket-size design makes it easy to use in a variety of locations and events. It is powered by TVU Networks' patented algorithm, Inverse Statmux Plus, which achieves a high-bandwidth IP connection by aggregating multiple connection links including cellular, Ethernet and WiFi to secure bandwidth for stable transmission. www.tvunetworks.com