Israel's i24News Gains Production Efficiency with Telemetrics Automation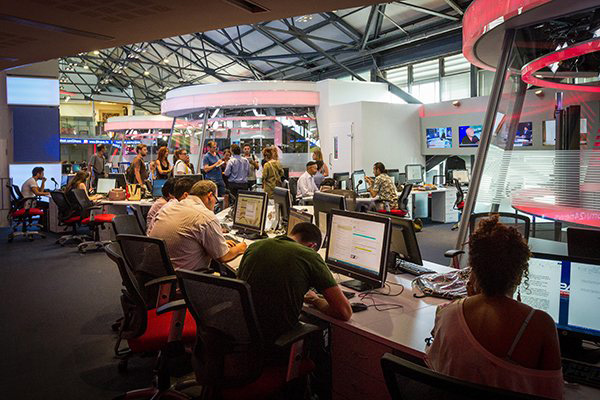 Based in Israel, i24 NEWS is an international 24-hour news and current affairs channel whose programming originates from three custom-designed and automated production units, called 'pods', within its headquarters in Jaffa Port, Tel Aviv that are individually dedicated to reporting 24 hours a day in one of three different languages - Arabic, English and French. Each pod consists of an anchor desk, three robotically controlled Sony PTZ cameras and an HD camera head mounted on a robotically controlled Televator camera pedestal made by Telemetrics. For each pod, a Telemetrics RCCP-1 Remote Camera Control Panel allows a single operator for each pod to control all of the cameras and the pedestal height for each show with precision, creating a distinctive, over-arching 'look' for the channel on air.
"We had to squeeze three 50sqm studios that needed to support 24/7 news production and magazines into a 1,500sqm space that also has to accommodate 300 content artists and technicians," said Effy Lupo, Chief Technology Officer at i24 News. "Under these circumstances, there is no room for unnecessary staff or equipment. Controlling the camera with Telemetrics robotics systems gave us the technical capabilities we need to look professional and cohesive on screen, plus the space savings we require."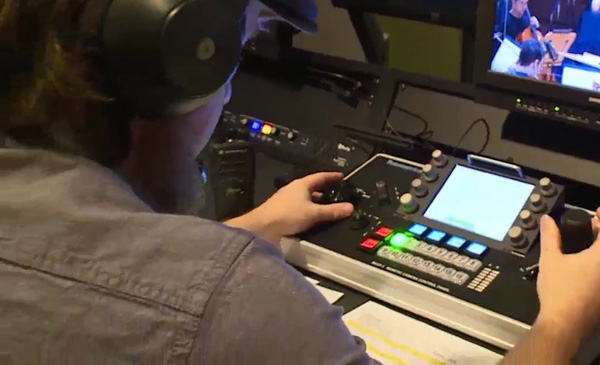 RCCP-1 Remote Camera Control Panel
Although just a year ago in February 2017, the channel also began to broadcast in the US from offices in New York City and a Washington DC bureau between 6 and 10pm EST, at all other times the channel originates from Israel.
Telemetrics automated production systems have been in place at i24 News for several years since their initial installation in July 2013, meanwhile undergoing several upgrades and regular maintenance. Effy said that the robotically controlled cameras work well for the channel's operations because the studio's pods are so small, allowing no room for manned camera positions. It also saved a lot of money on equipment and additional human resources.
"I believe that automation, in all of its forms, will replace most of the familiar areas of production work," he said, alluding to the fact that Telemetrics' automated camera systems can contribute to efficiency in almost any studio environment, reducing on-air errors while operating reliably for several years. "Technically, if it is planned correctly, automation is never wrong and does not get tired."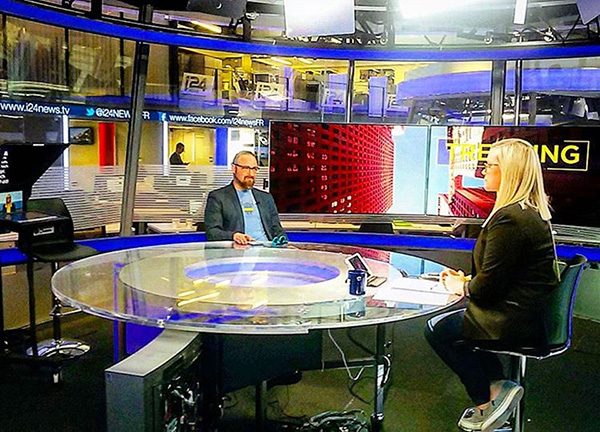 The RCCP-1 control panels, one for the programming in each language, helps i24News establish and replicate the exact same look for each of its three studios. Effy said that the panels' ability to store pre-sets for all camera moves in each pod was critical to achieving that goal. Using a single, integrated control surface, the RCCP-1 unifies command of camera robotics and camera shading. Operators at i24 NEWS can also access detailed menu controls of each of the cameras without the need for a dedicated camera control unit or paint box designed and manufactured per model.
The Telemetrics Televator series of elevating camera pedestals is specifically designed to accommodate virtually any camera and height position. It helps users make the most of available space while facilitating more creative shots that increase the production values for various types of projects – not only routine news presentations. With very smooth motion, quiet operation and extremely high mechanical precision, the Televator is well suited for i24News's operations.
"When we visited the i24News studios at mid-year, we were impressed with the frenetic yet highly productive activity of crews speaking in three different languages working side by side, all working to meet their on-air deadlines," said Anthony Cuomo, president of Telemetrics. "Their innovative use of our automated production systems was a real sight to see. It's the goal of efficient and cost-effective studio production that many customers are deploying to improve their operations." www.telemetricsinc.com.