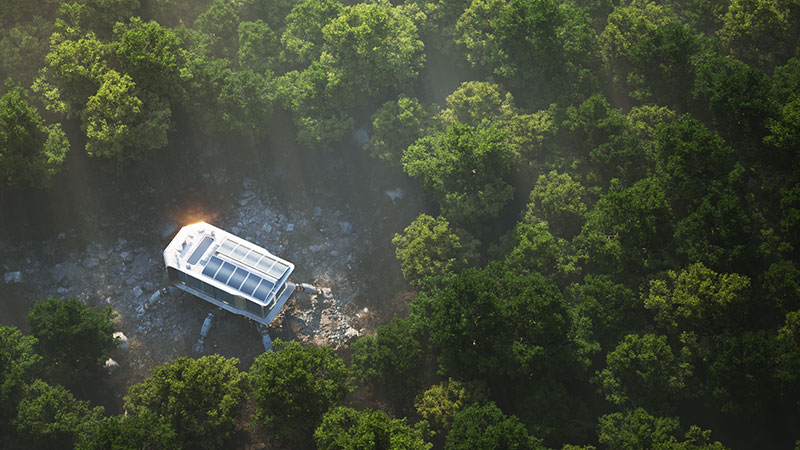 Scatter
The developers of V-Ray 6 for 3ds Max continue to add new functionality that allows users to handle a wider range of tasks inside of V-Ray without adding plugins. A major upgrade, version 6 has new world-building and workflow tools for quickly distributing 3D objects, generating detailed 3D surfaces and adding procedural clouds to customise beautiful skies. The update also features a cloud collaboration tool that facilitates reviews and approvals.
Chaos Scatter populates scenes with millions of 3D objects. Artists can produce natural-looking landscapes and environments full of vegetation, rocks, grass and so on without adjusting objects by hand. Objects can now be distributed, spaced and randomized with a system that is built to conserve memory, especially when used with V-Ray Proxy objects that only load at render time. To get used to Chaos Scatter, before your own projects are underway, free 3D models and scatter presets are available in the Chaos Cosmos content library.

New procedural clouds to use in custom skies are now part of the V-Ray Sun and Sky system, built on the Enscape integrated modelling and visualisation system. Artists can simulate a variety of cloud types and weather conditions, from partly cloudy to overcast. When these clouds are ray traced with V-Ray, they respond accurately to lights, shadows and volumetric effects, rendering them as realistically as possible. Procedural clouds can also be animated to create dynamic time-lapse skies and streaming streaks of sunlight.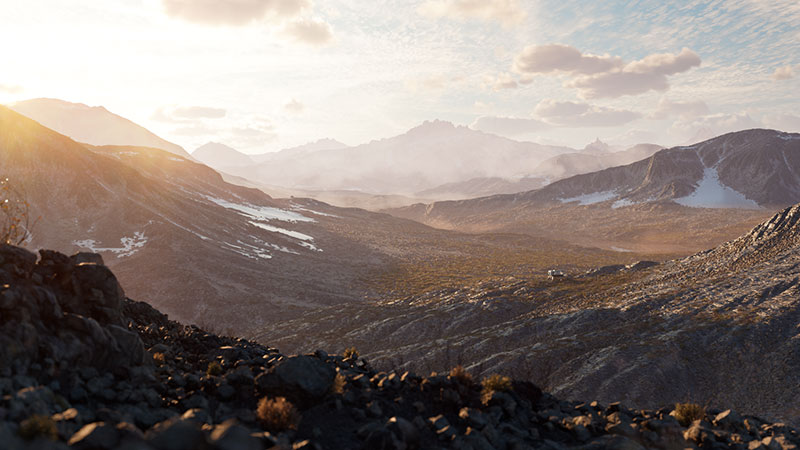 Procedural clouds

The VRayEnmesh tool tiles repeating patterns across objects to create complex, highly detailed surfaces. In order to accurately visualise surfaces that are created with full 3D geometry, Enmesh can produce intricate panels, fences and fabrics closely following the UVW space of that geometry, ready for viewing at close range. VRayEnmesh efficiently generates huge amounts of geometry at render time, without holding up scene performance.
The VRayEnmesh modifier includes a gizmo for interactive placement, with length, width and height parameters to reflect the gizmo size.
Other updates for texturing include Decal displacements. VRayDecal can now project displacement maps onto surfaces to add realism to cracks, rocks and embossed details, and multiple sub-textures can now be added to the VRayMultiSubTex map all at once as a batch.
Through a new Proxy hierarchy view, users can control object visibility and material overrides within a V-Ray Proxy. V-Ray GPU software supports nearly all new V-Ray 6 features. The Light Cache is faster and it has a new Device Selector to assign processors to tasks.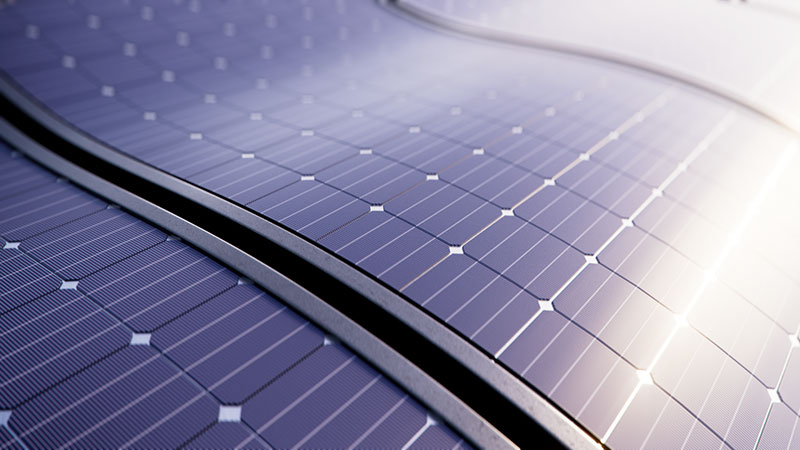 Enmesh
Dome Lights and V-Ray Material
Dome light has a new Finite mode for users who need to specify the and radius of a dome light or the height, by offsetting the height of the environment map projection. Dome light ground projections are also improved with control over the sharpness vs smooth blending of the transition between the ground plane and the hemispherical upper part of the Finite dome.
The V-Ray Material now renders reflective materials such as metals and rough reflective surfaces more accurately using a new energy preservation method that controls the weight and colour of material components. To follow physically based rendering, a material can't reflect more energy than a light source sends toward an object. Otherwise, the material will appear too bright and produce excessive noise.
Also, a new thin-film layer in the V-Ray Material helps users create natural-looking iridescent materials like soap bubbles and oil spills, and subsurface scattering renders, faster so that, for instance, low-polygon translucent objects render more smoothly.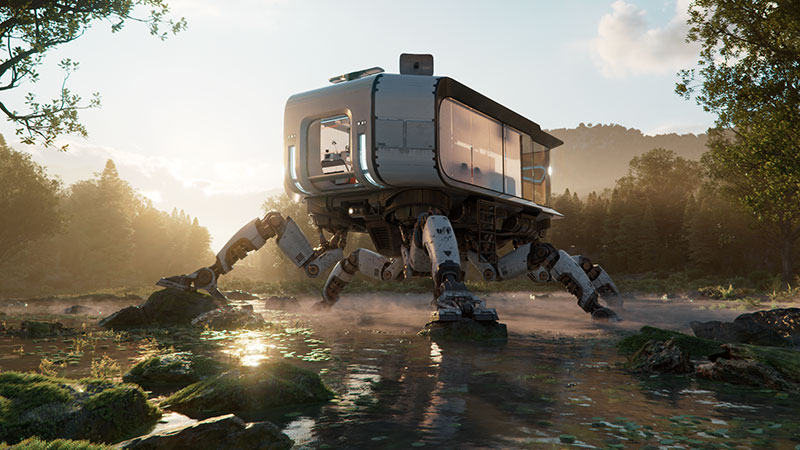 Working with V-Ray
The V-Ray Frame Buffer (VFB), which presents all of your render's statistics and parameters as adjustable settings that modify your scene, has updates including a 360° panorama viewer, a flip composition button, composition guides and the option to share renders via Chaos Cloud.
V-Ray 6 for 3ds Max also incorporates a free Chaos Cloud Collaboration service that shares images from V-Ray to Chaos Cloud. You can use the service to collaborate with colleagues or clients by inviting them to view or edit each other's work. Either upload images directly or share them from the Frame Buffer.
Shared projects may be viewed on any computer or device, from any location. The service can also be used to sort images into projects and folders to keep them organised, and to collect and keep track of feedback in one place. All of these collaboration features can be connected with an existing 3D rendering workflow. www.chaos.com