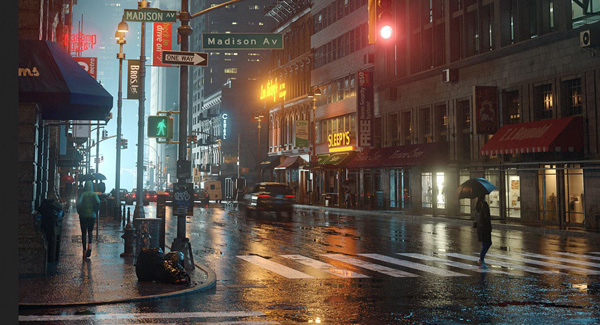 Following Redshift's April release bringing support for MacOS Metal, the Apple M1 chip and Open Shading Language, Maxon Redshift 3.0.46 includes robust support for OpenColorIO v2, enabling users to achieve more accurate and filmic colour through the use of ACES (Academy Color Encoding System) and other custom colour profiles. For users this gives significant enhancements to workflows with many new options and extra parameters.
For example, when employing ACEScg – a slightly larger colour space than the ITU Rec. 2020 colour space and linearly encoded for use within CG rendering and compositing tools – Redshift will automatically use the correct colour space for blackbody temperature on lights, melanin on hair, dispersion in the rsMaterial and the physical sun/sky. This latest version of Redshift also supports the ability to choose colours within a colour space in those host applications that already support OCIO.
OpenColorIO v2
OCIO v2 establishes comprehensive colour management for studio pipelines and makes it easier for everyone to achieve film-like results via ACES colour space. An OCIO configuration is supplied with Redshift, or users can reference a configuration for a specific pipeline. Users can choose from the available colour spaces when adding textures and define the colour space for rendering and viewing renders within the RenderView. Redshift for 3ds Max also includes a new Color Picker that allows users to choose colours within a colour space.
This latest release of Redshift for macOS, Windows and Linux is available now, with ongoing regular updates for stability and optimisation. www.maxon.net/en/redshift