V-Ray 5 for 3ds Max Moves into Post-Render Compositing and Lighting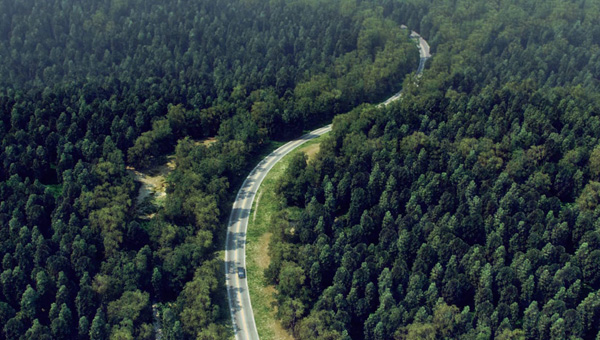 Chaos Group V-Ray 5 for 3ds Max now extends its rendering functions to other stages of the visualisation process. Artists and designers can now composite renders, enhance materials and interactively relight images without leaving their program.
Layer Compositor and Light Mix
Two of V-Ray 5's new functions, Layer Compositing and Light Mix, are located in the upgraded V-Ray Frame Buffer (VFB), which has been redesigned for efficiency and is easier on the eyes. The VFB is a display window in the user interface for V-Ray renderings. You can also render to the 3ds Max Rendered Frame Window (RFW or VFB), but the V-Ray Frame Buffer has some specific V-Ray functionality. It keeps the image in full 32-bit floating point format, for instance, and you can perform colour corrections, apply lens effects to the rendered image and switch between render elements on a dropdown, among other tasks.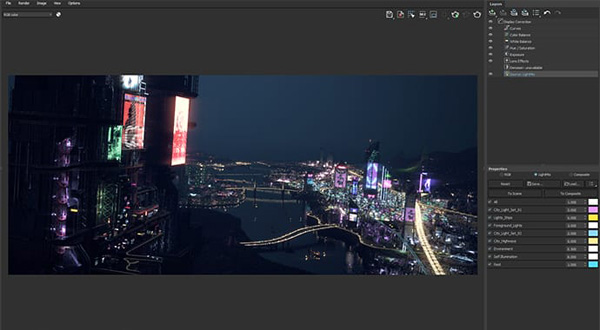 Light Mix
With Light Mix, artists can interactively try out different lighting scenarios after rendering, without having to re-render the image. It takes advantage of the ability ray tracing gives you to track the full contribution each light makes on a rendered scene including diffuse, specular, reflection, refraction and global illumination. Then, because light is an additive feature, users can adjust the colour and intensity of any of the light sources straight away, generating faster iterations when designing looks and moods.
Previously, this work required a manual setup for each light or group of lights, and taking the scene out to a compositing application to make the adjustments.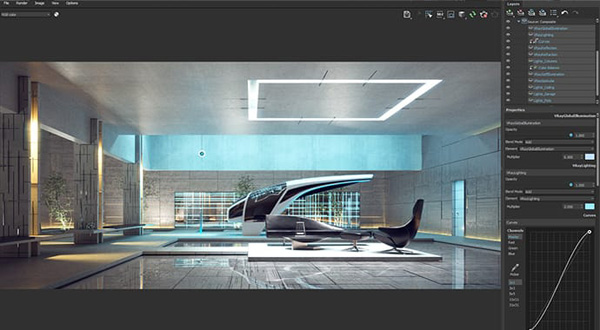 Layer Compositor
The Layer Compositor is a non-destructive workflow that can be used to perform certain post-processing tasks in the new VFB without outside applications. Users can adjust different render elements and perform colour corrections directly in the buffer.
Materials Updates
V-Ray 5 adds seven tools and improvements addressing materials work, including a new management system and a library of over 500 ready-made materials designed to cover most objects and spaces. New built-in presets are available to dial-in the most frequently used options like metal, glass and plastic, as well as common hair colours, which help achieve photorealism faster.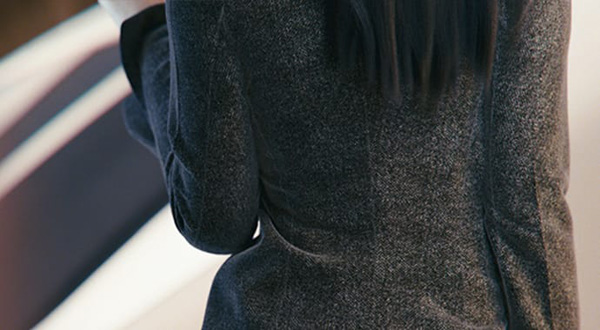 Sheen Layer
New randomisation tools in V-Ray 5 add slight, naturalistic variations to materials, increasing believability across a scene. Artists can now shift the VRayMultiSubTex colours by hue, saturation and gamma, like a photographer or colourist, and a new VRayUVWRandomizer map will adjust the offset, rotation and scale of both textures and procedural materials. Part of this map addresses repeating texture maps, so that artists now have Stochastic Texture Tiling to automatically remove tiling artifacts.
With the new Coat Layer, you can add reflective coatings directly in the updated V-Ray Material to produce extra reflections on surfaces without using blend materials. This saves time on separate material creation and rendering, compared to using Blend material. The V-Ray Material also has new Sheen Layer options that make simulating soft microfibre fabrics like velvet, satin and silk easier.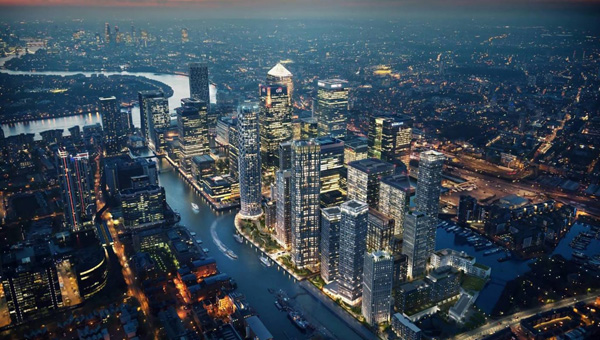 New controls for ageing materials with procedural Weathered streaks and dirt in crevices have been added to the VrayDirtMtl, which now employs both ambient and inner occlusion, and a new Car Paint Material produces very realistic flakes using less memory. Photoreal Material Previews now incorporate global illumination to display an exact representation of a rendered material.
Ease of Use
Other functions, systems and algorithms in V-Ray 5 for 3ds Max increase speed, realism and efficiency. A new Sun and Sky System improves accuracy when the sun is at the horizon, including the favourite photographic 'magic hours' just before sunrise and after sunset, helping to reproduce subtle twilight looks. Users can also adjust the exposure value of the V-Ray Physical Camera without affecting motion blur or depth of field.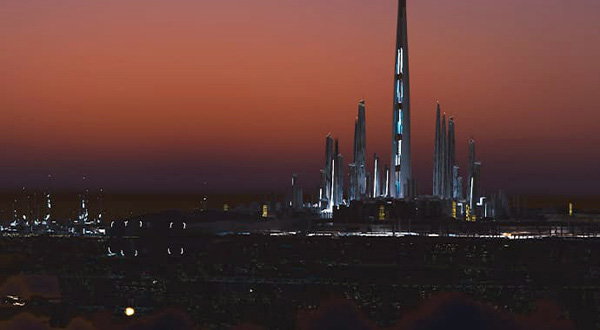 Sun and Sky system
GPU updates for V-Ray include a level of support for out-of-core geometry that allows users to overcome memory constraints when necessary. Resumable progressive rendering means artists never have to restart a render from square one. Blue Noise Sampling is an algorithm update that can make images look cleaner and achieve better noise distribution with fewer samples.
V-Ray Scene updates will now export selected objects, including pivot points, for transforms in Project Lavina, Chaos Group's software-in-development for real-time exploration and manipulation of V-Ray scenes within a completely ray-traced environment.
Colour and Light
Tools for light and colour, improving the artist's ability to blend CG elements into cinematic footage, include ACEScg Color Workflows. ACEScg is a colour space definition that is slightly larger than the ITU Rec 2020 colour space, linearly encoded to work better with CG rendering and compositing tools. Artists can now render in this new standard with automatic colour space adjustment accessing a wider gamut of colours for CG textures, dispersion, sun and sky, and light temperature.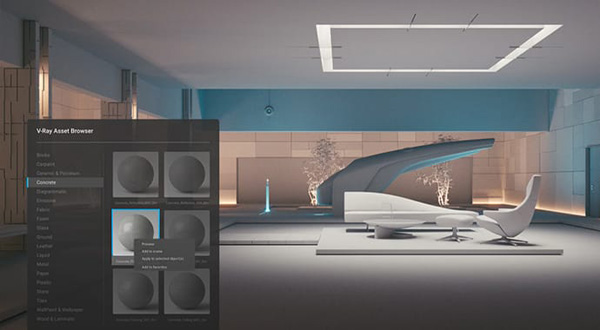 Photoreal Material Previews incorporating global illumination
With Light Path Expressions, an artist can use the behaviour of light, instead of geometry alone, to produce flexible masks for efficient compositing. Presets are built-in to start from, with scope for scripting for more control. Filmic Tonemapping allows HDR images to mimic the properties of film to give images a cinematic look.
V-Ray 5 for 3ds Max is available now for Windows. Chaos Group will also host a webinar and live Q&A on 23 June at 9am PST /7 pm EEST to launch V-Ray 5.
V-Ray Collection
Chaos Group is also launching V-Ray Collection, a new single floating license an artist can use to access 15 V-ray products and services for $699/year, including the latest versions of V-Ray, Phoenix FD, Project Lavina and the high-res material library, VRscans, on the same machine. Artists with this license can connect an entire creative pipeline, move between 3D applications and combine photorealistic rendering, fluid simulation and real-time scene exploration as required per project.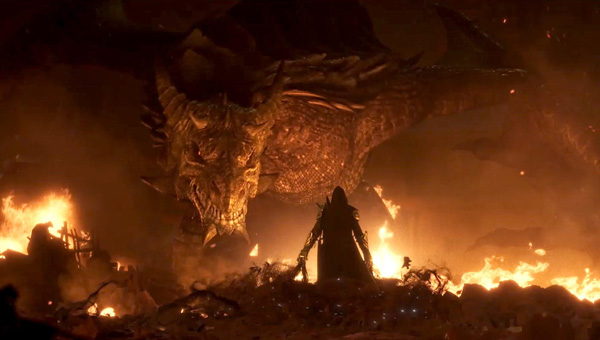 Users will receive free upgrades for the life of their license, as well as 20 Chaos Cloud credits every year. Chaos Cloud rendering is built into V-Ray and automates the set-up process from licensing and uploading scenes to launching the virtual machines. In effect turning a PC into a supercomputer, Chaos Cloud scales to match the size of the job, and by pushing the rendering to the cloud, artists can keep working.
V-Ray Collection Includes V-Ray for 3ds Max, Maya, Houdini, Nuke and Modo; SketchUp, Rhino and Revit; and Cinema 4D, Blender and the Unreal engine. For fluid simulations, Phoenix FD for 3ds Max and for Maya are part of the Collection, plus the more than 1,000 scanned materials in VRscans, and Project Lavina for scene exploration. V-Ray Collection is available now for $699/year directly from Chaos Group. Licenses do not require a separate render node for each product.
www.chaosgroup.com