Flame 2021 Adds Physical Defocus, Facial Keying, HDR Mastering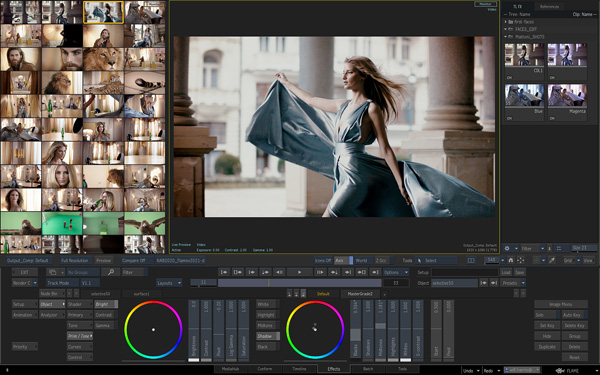 Autodesk Flame 2021 has new tools for human face segmentation driven by machine learning, and finishing tools for streaming services with new functionality for Dolby Vision HDR authoring and display. The release also adds a GPU-accelerated Physical Defocus effect, different ways for finishing artists to adjust looks across many shots, and options to share updates with clients.
The face segmentation tool automates all tracking used in compositing, colour grading and cosmetic beauty work on faces. A semantic keyer, it uses AI techniques to identify and isolate facial features including nose, eyes, mouth, laugh lines and cheekbones for further manipulation. AI-based face matching algorithms are also useful for specialised tasks such as specific mole or scar isolation. These tools extend the use of the AI functionality added to Flame a year ago in April 2019, with built-in machine learning analysis algorithms to isolate and modify common objects in moving footage.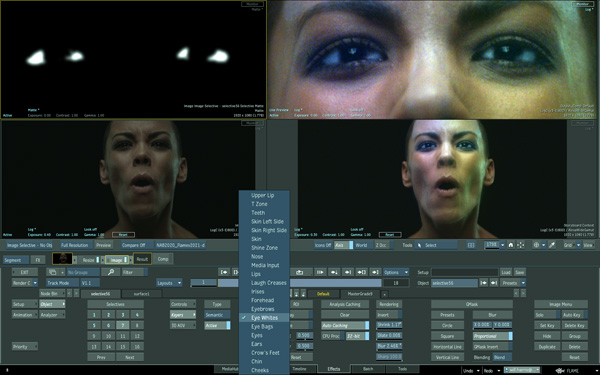 OTT streaming services are creating a demand for HDR content mastering. A new Dolby Vision HDR authoring and display workflow is now built into Flame 2021 that artists can use to import, author, display and export animatable Dolby Vision HDR metadata, shot-by-shot. For collaboration between Flame and Dolby certified colour grading tools including Autodesk Lustre, XML metadata import/export is enabled.
To view HDR content on SDR monitors and Dolby enabled TVs, metadata tunneling is added, a feature that enables the eCMU (an external hardware Dolby content mapping unit) and iCMU (the integrated CMU in the grading software) to output video and metadata to an SDR or Dolby Vision TV over HDMI. Users can also view a display of their trim pass and SDR/HDR target following the Dolby analysis pass. Flame's multilayer edit timeline now has a HDR track to keep Dolby Vision metadata in sync, make last-minute edit changes, finalise transitions and integrate graphics.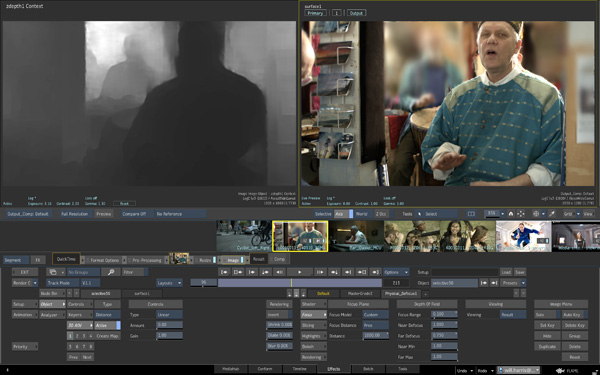 A new GPU-accelerated defocus effect, Physical Defocus, makes it easier to add depth of field to shots and can be used in Batch as a standalone Matchbox node or in Image Selective in combination with a generated AOV Depth map. It is a further development of the physical shaders convolve, physical bokeh and physical glare, used to produce realistic depth of field blurring with flexibility for 3D composites, post operations on CG render passes, or look development using Flame's finishing tools.
Physical and Action Camera focus models are supplied, or you can create custom models by adjusting their attributes. Lens artifacting and radial, chromatic aberration can be customised to achieve a precise level and quality of out-of-focus blur. Depth Slices of the image before and after the central in-focus slice, can be increased and blended in distinctive ways for more granularity of focus. The highlights can be bloomed using a selection of Bokeh attributes and lens noise models.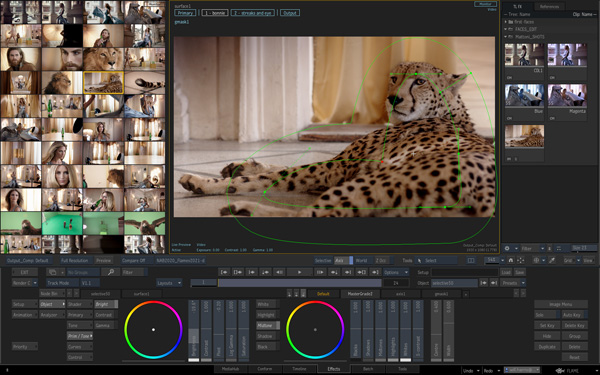 The Explorer is a new tool for use on the Storyboard, where users can quickly store and retrieve colour grading and VFX work, including Timeline FX setups and references. It works as a dedicated grade bin and reference comparison area to support workflows, and replaces the Media Panel in the Effects environment.
A new video preview mode, the Viewing Area shares artist viewports, including storyboard, manager, and schematic, to SDI or HDMI preview monitors. In broadcast mode, Gmasks can now be observed in the viewing area during editing along with any other tools you directly manipulate.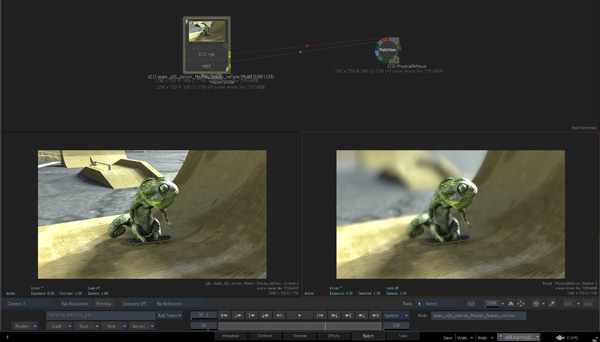 New GMask pre-made shapes with softness are available in the image and action nodes to help colourists, compositors and finishing VFX artists. You can apply uniform softness around the edge of a mask or vary the softness range for different parts of the mask using gradients, but having shapes pre-made with softness saves time. Gmasks are Flame's garbage masks, used when pulling keys to isolate particular areas of an image to include with, or exclude from, the opaque area of the matte.

For a closer look at Flame 2021 and discussion on the updates for artist workflows, Autodesk will be hosting a webinar on 28 April with Andy Milkis, Director of Visual Effects and Technology at LVLY and co-founder of the New York Flame User Group. Register to attend the free virtual event here. www.autodesk.com/flame