Corona Renderer Makes Cinema 4D Visualisations Fast and Interactive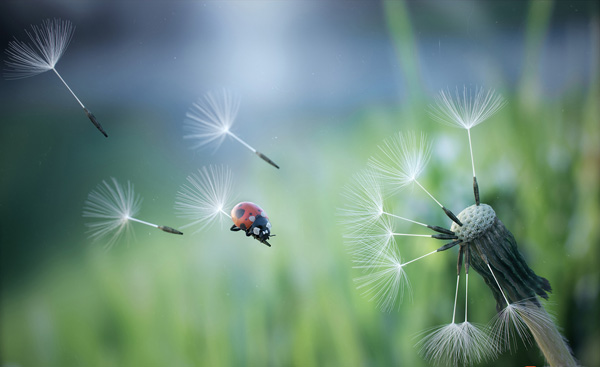 Image: Thobani Mlambo
Corona Renderer is now launched for Cinema 4D to simplify and speed up visualisation process for artists and designers producing photorealistic work in Cinema 4D. Developers at Render Legion have built a tight integration and tools specifically for Cinema 4D to make it easier to add the Corona Renderer to architecture or design-based workflows.
As a result, rendering is interactive – instead of test renders, artists receive immediate feedback as they modify geometry, lighting, camera location or materials, which shortens look development time. Each change appears in photoreal quality within the viewport, the Corona Virtual Frame Buffer (VFB) or Cinema 4D Picture Viewer. For distributed projects, Corona Renderer is compatible with Team Render.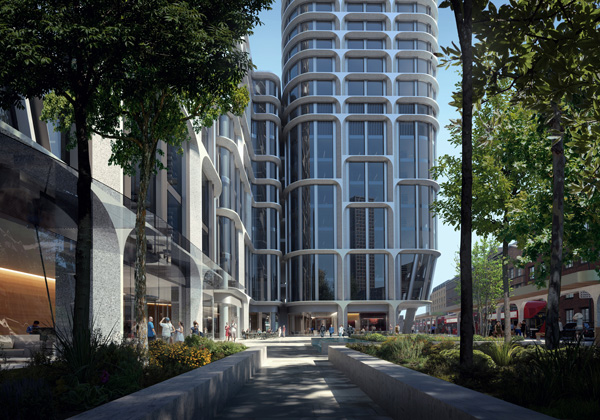 Image: slashcube.ch
The Interactive LightMix allows users to interactively adjust the warmth, colour or brightness of Corona Lights or light emitting materials before, during or after rendering. This allows subtle or extreme changes, such as turning day into night, with only one render.
As well as handling Corona Lights and materials that emit light, it also works with the Corona Sun and with environment lighting from Corona Sky or HDRI images. Denoising can be applied to each LightSelect pass individually, and by enabling it for all LightSelect passes, your final LightMix pass will be fully denoised.
Corona Renderer for Cinema 4D includes the Corona Node Material Editor, which is a way for artists to create, edit and reuse shaders between channels or materials. Users do not need to create a special material to use the Corona Node Material Editor. Any existing materials can be dropped into it, to work with them in a visual way. For example, you can use views to organise your materials by type, quality or other characteristics.
Image: Evan Alexander
The editor is a global or world view of all your materials and works with all Corona and many Cinema 4D material sets. It introduces the ability to spread changes across multiple materials at once. Note that the Cinema 4D node materials introduced in R20 do not work with the Corona Node Material Editor yet, as no API has been supplied for them.
The Corona editor also works with most shaders, including native Cinema 4D and Substance shaders. You can now connect one shader to as many channels and materials as necessary. Instead of splitting shaders or channels, changing one shader will affect all the channels and materials it is connected to. You can edit either in the Corona Node Material Editor, or in the native C4D material editors as preferred.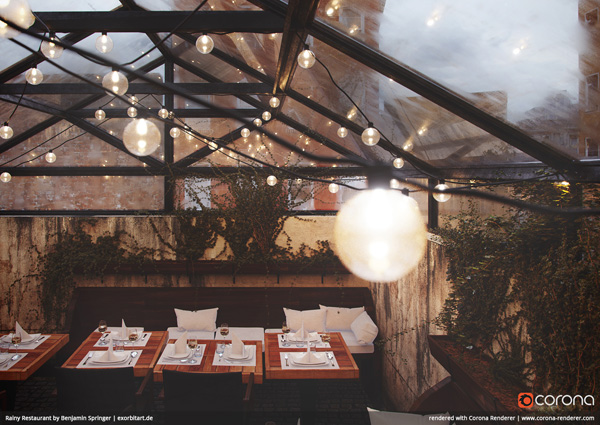 Image: Benjamin Springer
AI Denoising removes the need to wait for the render engine to calculate extra passes to clean up noise. Instead, denoising detects and cleans remaining noise intelligently. It has two options. One runs on the CPU and gives reliable, high quality results, but may take longer to run and can only be used on final renders. A second type is NVIDIA GPU denoising, which runs on the GPU if a compatible NVIDIA GPU is installed. It may be much faster than the CPU option, and can be used for interactive and final renders, but may introduce more artefacts. For final renders, you can blend between the raw render and the denoised version to preserve certain details and achieve a look. corona-renderer.com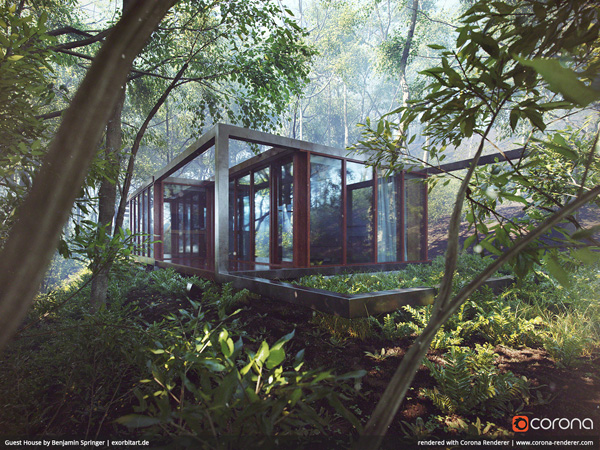 Image: Benjamin Springer