Substance Painter Updates Texturing Engine, Shaders and UX/UI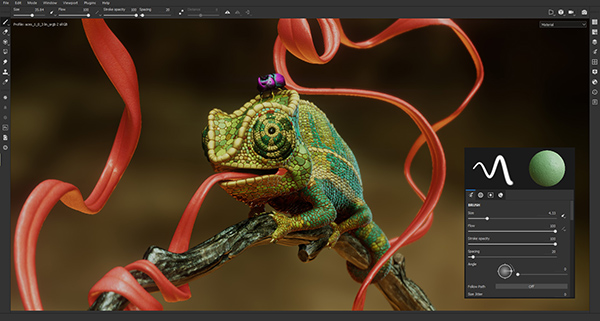 Allegorithmic Substance Painter's third update of 2018 completely overhauls its texturing engine, intending to improve performance and simultaneously lower the hardware requirements for applications from large-scale VFX scenes to mobile projects.
In order to handle large amounts of data without affecting performance, which is now a common requirement for VFX artists and others working with massive scenes, the Substance Painter engine has been rewritten to incorporate Sparse Virtual Textures (SVT), a method of simulating large textures that uses less texture memory. The new memory and management system will allow up to 300 tiles to run at once, bringing Substance Painter closer to its on-going, ultimate goal of supporting unlimited UV tiles.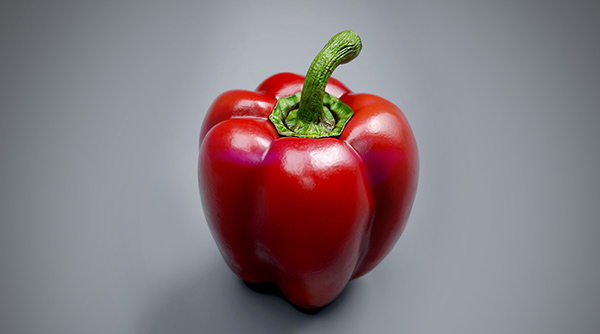 Furthermore, while the new engine can handle massive scenes, projects in a range of smaller and medium sizes can also expect to experience an increase in speed and ease of use.
New tools for mobile users in the Fall Update include a 2D viewport exporter designed to expand possibilities for mobile games. High-quality PBR shaders can now be baked into a single high-resolution texture, before final export into a game engine. Using dithering, artists will also be able to remove artefact or banding issues in 8-bit exports to make sure of solid normal maps at each stage of content processing.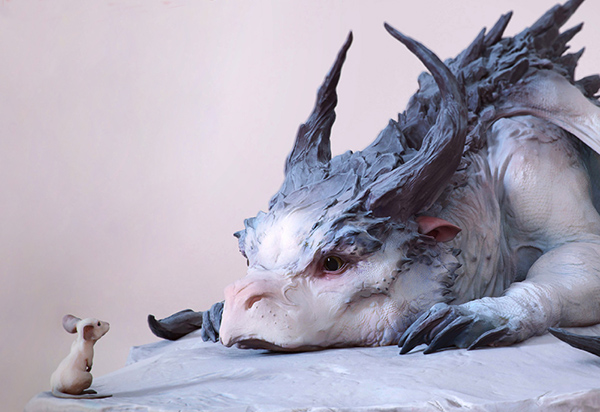 Substance Painter's updated Baked Lighting filter is capable of presenting environment maps that are near-perfect copies of a PBR shader. Environmental maps can now be rotated horizontally and vertically, and artists no longer have to manually account for painted details on the normal and height channels. New anisotropic patterns have also been added to create surfaces whose looks depend on the direction from which they are viewed. Anisotropic surfaces change in appearance as they rotate around their geometric normal, like velvet, hair, satin, brushed metal, and glossy reflections.
In the viewport, as well as this Anisotropic Shader, other improvements have been added such as mipmapping to avoid flickering on noisy surfaces. New temporal anti-aliasing methods result in smooth edges at all times including automatic smoothing of dithering effects caused by sub-surface scattering or transparency shaders. An updated Clearcoat Shader adds control over coating thickness and roughness - Iray parity with a new MDL shader is automatically applied when selected.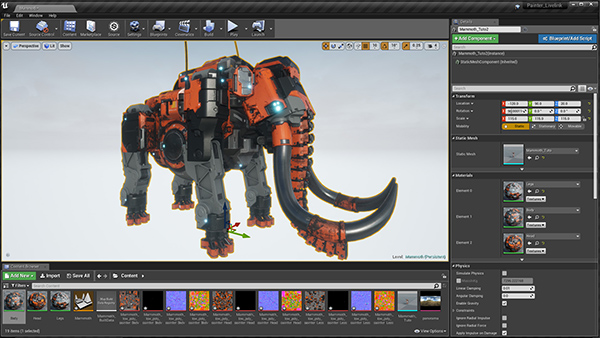 Regarding symmetry and layer stack updates, when deactivating layers you can click and drag multiple layers vertically through a stack. Also, a new colour swatch system in the Layer Stack UI and UX allows you to assign and differentiate folders and layers. Blending modes can be scrolled through by hand or mouse. You can now also move the axis freely using a 3D Gizmo or within the Symmetry panel. The Symmetry Plane now displays as an intersection.
The new update to Substance Painter is available now as an individual-license purchase or on subscription to Substance Indie or Pro plans. www.allegorithmic.com