Moonshine Adopts Atoms Crowd for Maya/Houdini Workflow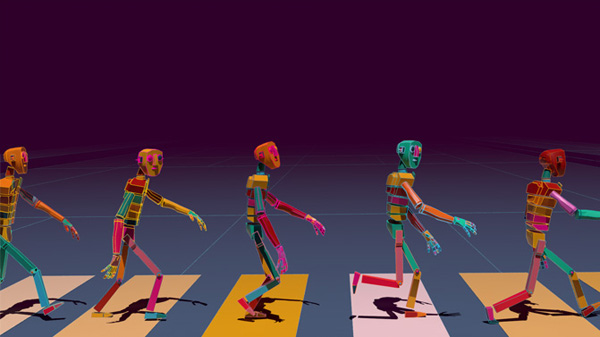 Atoms Crowd is a new crowd simulation framework, released in late 2017, that is skeleton-based, modular and customisable via C++ or Python. The software is integrated with Maya, Houdini and Katana but also works as a standalone application. It supports V-Ray, Renderman and Arnold renderers and will simulate most skeleton types, making no distinction between characters with varied numbers of legs.
Artist-Driven
The processes are artist-driven with several options for laying out shots before running simulations. The simulations are based entirely on the skeletons of the crowd agents, which improves the quality of the animation, and do not use particles, only displaying openGL in the viewport.
Each of Atoms Crowd's software integrations has the same hybrid workflow, which makes it possible to perform the tasks associated with your crowd simulation with different tools or with just one, rendering through a single renderer at the end either way. Customisation functions can be accessed with different approaches, for example, by adjusting nodes, building C++ plug-ins or writing Python scripts.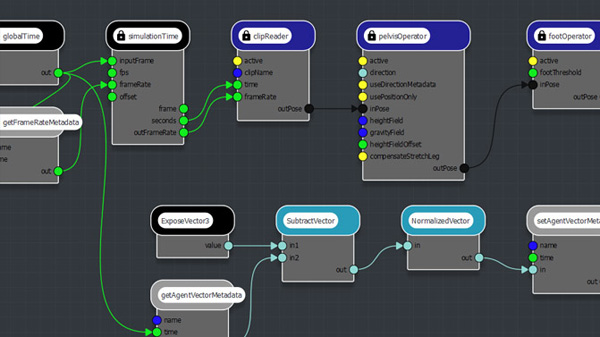 To help populate scenes rapidly, ToolChefs has also released a character bundle, Atoms Agents, containing six agent types that can be used immediately – four human types, a dog and a cat – with about 400 variations. Included are over 100 animation clips, mostly already wrapped in state machines and ready to use. The state machines isolate the animations and give the animator lots of control and chances to add animations, while leaving the code to the programmer.
Moonshine Animation
Among its initial customers is Moonshine Animation in Taipei, which carries out product animation, visual effects, motion design, virtual reality and pipeline R & D. Essential to their pipeline is their workflow between Maya and Houdini, looked after by their pipeline TD David Lai who also writes custom Python tools for the team.
Moonshine began using Atoms Crowd while creating a 30-second commercial for a Chinese game app. Within the background environment, set in ancient China, two armies do battle on a field in front of city wall. The spot's final shot is a fast camera dolly across the entire battlefield, flying through crowds of soldiers and props at top speed and revealing a wide array of poses.
As well as the speed of the camera, the scene presented the FX team with certain challenges. David Lai said, "In our studio, the FX team has mainly used Houdini for such scenes, handling crowd simulations in Maya. Scenes involving lots of people running or moving rapidly also call for effective interaction with the ground, like dust clouds or smoke, that we can customise and fine-tune.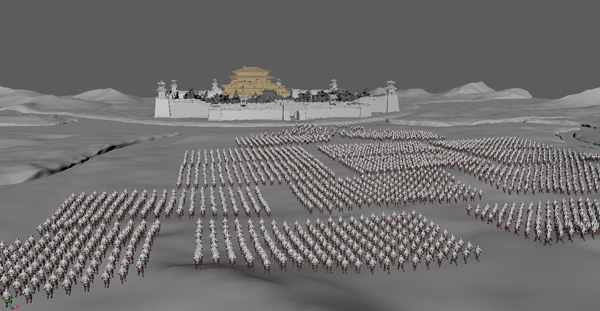 "Before using Atoms, if we wanted to add more FX, a level of detail was always lost due to the exchange of crowd simulation files between Maya and Houdini. Now that we have Atoms Crowd, not only can we pass the Atoms cache to work on the FX more easily, but we also have more control and can include more detailed behaviour in Houdini."
Aside from Atoms' straightforward integration with Houdini and Maya software itself, David said, "We use Python to do a lot of the pipeline integration. Atoms Crowd has a really good, clear API that makes our workflow easier to manage and quicker to maintain." atoms.toolchefs.com/atoms-crowd