NIM 2.5 Builds on Security and Project Customization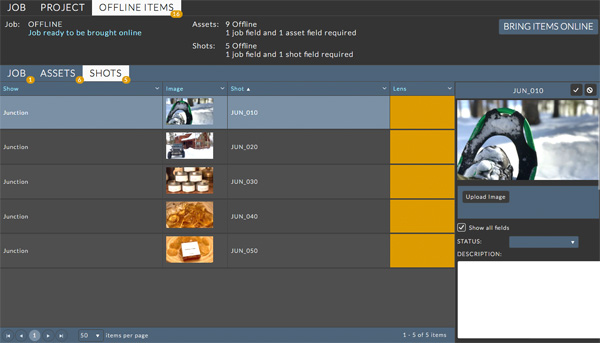 NIM studio, project and asset management software has now been released in version 2.5 with primary updates improving the strength of security and permissions, workflow tools and the level of customization users can apply to productions.
Studios can use NIM's browser based management to track the post-production pipeline from beginning to end. In contrast to cloud-based software, NIM is installed directly on a studio's network, securing data behind the studio firewall and enabling independent management. When users log in through a standard web browser, the detailed permission structure customizes the UI to present only relevant data to approved users. Functionality ranges from production asset management, shot tracking and creative review, to bidding, scheduling and job actualization inside of a simple UI.
NIM is a centralized point of entry for studios down to small groups of individual artists. It has a dashboard, tools for per-project structures and templates, online review tools for dailies, financial tracking, versioning and security. It also has third-party software integrations with most of the commonly used VFX applications.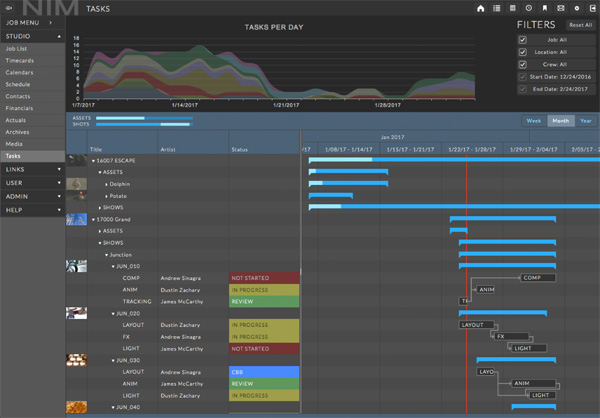 In version 2.5, a studio wide task view gives birds-eye, job-centric view of all tasks across all jobs and all artists – all at once. A new timecard approval section has a 4 stage approval process and email notification. Project Structures are more variable now, so that a project's folders can be defined by the items within them rather than static folder structures, allowing you to generate folders that read information directly from the job, asset or shot, which means a granular level or organization can depend on the object itself.
A new HTTPS/SSL option will secure connectivity for all communications and allows encrypted, permission controlled communication to the server for both browser and access to NIM's 3rd party connectors. Also, changes to the Security Groups give security access to jobs, assets, shots and custom fields on a per object basis. These can be applied to users, links, jobs, assets and shots, and may involve new API Keys respecting the security group for an individual. nim-labs.com