Digistor, supplier and systems integrator for the digital media industry, has upgraded its training facility with post-production suites featuring equipment from Apple and Eizo. Courses in editing, post-production and colour correction and grading are held at the newly equipped facility.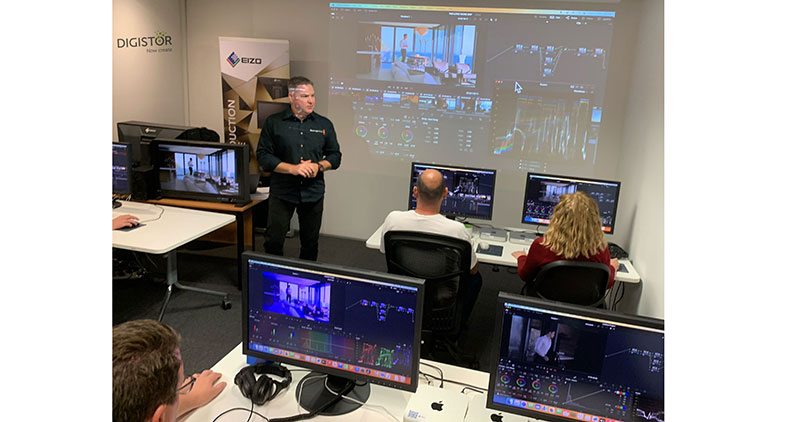 Certified Blackmagic Design Trainer, Brad Crawford, conducts Da Vinci Resolve Advanced Colour course at Digistor Training Centre
The upgraded training room now includes Apple Mac Minis and Mac Studio workstations, matched with Eizo's professional LCD monitors specially designed for editing and post. Digistor's training facility intends to enhance the learning environment and allow students to develop their skills on top-tier equipment. In particular, Digistor's training facility features the EIZO ColorEdge CG3146 True HDR reference monitor with true, calibrated colour correction capabilities.
"Eizo monitors have been a standard for professionals in editing, post-production and colour work for many years," said Siti Rohana, Business Development Manager at Eizo. "With their exceptional colour accuracy, uniformity and extensive colour spaces, Eizo monitors make it possible to achieve precise, consistent results."
Digistor's Training Facility runs comprehensive courses in professional software such as DaVinci Resolve, Avid Media Composer and Adobe Premiere and After Effects, led by experienced certified trainers. Students receive practical hands-on training and gain proficiency in key tools and techniques. Also, note that Digistor's Resolve courses include the opportunity to become certified in Resolve, enhancing career prospects and demonstrating mastery in this widely used software.
Beyond scheduled classroom training, Digistor also makes individual and team learning available through bespoke training tailored to match specific needs and goals. Digistor's flexible approach ensures a custom learning experience focussed on skill development and productivity.
Mark Richards, Marketing Manager of Digistor said, "With the integration of Apple Macs and Eizo monitors, our students have access to the tools and environment needed to succeed in the competitive digital media industry. Our courses, led by experienced trainers, are hands-on learning opportunities and the chance to become certified in key software, giving students a solid foundation for a their careers."
Digistor and Eizo will also develop and deliver HDR, Dolby Vision and Colour Calibration workshops to provide additional skills in these increasingly essential technology and workflow areas.
For more information about Digistor's Training Facility and available courses, please visit Digistor Training Facility. www.digistor.com.au