New Workshop to Present Colour Grading for Cinematographers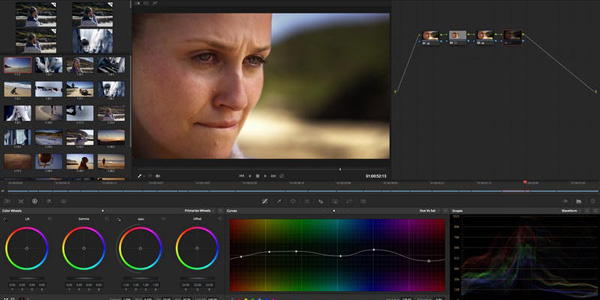 Cinematographer and colourist Ben Allan ACS CSI is holding a practical two-day workshop specifically for cinematographers who are keen to learn about colour grading. Combined with solid theory and colour science, the workshop will involve shooting test material and taking it through various colour workflows.
Ben recommends bringing your own laptop with the software you want to use, but high powered Mac machines with DaVinci Resolve and FCPX will also be available to use, along with a range of cameras such as the Alexa LF, Alexa Mini, Varicam and URSA Mini Pro. Participants will also be given test footage to practice with and a collection of custom LUTs not available anywhere else.
Day 1: Looks and LUTs
Participants will learn how to bring test footage into DaVinci Resolve, check and analyse it, modify existing LUTs, create custom looks and then export and use those as custom LUTs on set and for post production. This will include shooting test material on a variety of cameras and taking it through each stage of the grading process.
Day 2: Workflow and Image Processing
Learn how to understand what happens to your images between set and the colour grade. Ben will show how to make sure that quality is maintained through the grading and finishing process and how this influences your creative options in the grade. You will also have a chance to examine how to use ACES, CDLs, LUTs, PowerGrades and Printer Lights to assess and communicate between different facilities and understand the steps from production through post production. Participants will develop a thorough understanging of RAW vs LOG, codecs, compression, colour sub-sampling and file formats and how they actually affect the image from camera through to deliverables.
At the end of this course you will be confident with using DaVinci Resolve to import images in any format, put footage onto a timeline, check the exposure and color, work with different formats and colorspaces, apply and experiment with looks, prepare and transcode showreel material and be ready to have detailed technical discussions with colourists, editors and producers and directors about any aspect of the colour pipeline.
This course assumes a professional level understanding of cinematography, and includes camera assistants and operators. Previous grading experience is not required.
A light lunch will be provided as part of the ticket price.
Date and Time
Thursday, 2 August 2018 9.30am to
Friday, 3 August 2018 5.00pm
Location - View Map
ACS HQ
Level 2, 26 Ridge St
North Sydney NSW 2060
Ben Allan ACS CSI is most likely the first person to gain qualifications as both a cinematographer and colourist. He has won numerous awards for his work shooting film and digital and has over 20 years experience as a cinematographer. Ben has also been colour grading professionally for over 15 years. In the year 2001 he created the first successful LOG curve for a digital cinema camera and in 2005 created The Grading Sweet, an award winning set of colour grading plugins sold in over 45 countries around the world. He recently won a Golden Tripod at the ACS National Awards for 'Wild Squad Adventures', which he shot and graded for the world's widest curved cinema screen at Taronga Zoo.