Digistor and Editshare Present the Future of Content Production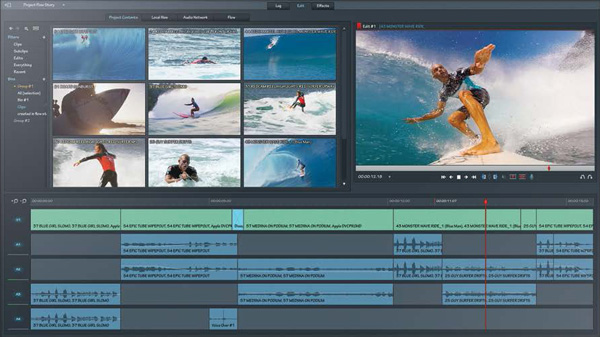 If you are interested in efficient editorial and finishing workflows, managing increasing volumes of media for 4K/UHD and future formats, or trying to understand the realities of cloud-based tools and workflows, this event will cover the key issues affecting facilities today and in the future.
Join Digistor, EditShare and technology partners to learn about the changes in digital media production, management and techniques, and how to navigate the workflow and business challenges.
Comprehensive storage - a file system and hardware architecture creating a versatile platform to handle your media storage.
Why every post and production facility needs asset management and how automation works to streamline your workflows.
Shifting to the Cloud with cost-effective, secure hybrid systems for remote collaboration.
At this event, attendees will learn how to -
Integrate Avid, Adobe and sophisticated finishing tools into collaborative media production workflows.
Understand the requirements for high-speed storage capable of linear scaling in today's high-demand video environments.
Think in new ways about the benefits of designing systems around your team's highly customized workflow requirements.
Use hybrid cloud storage and delivery designs, and understand which aspects are most relevant for today's video professionals.
Design a workflow management system that will bridge divisions between your production departments and avoid complex islands of content.
Save time spent on repetitious tasks by using workflow automation tools.
Recognise the key requirements for a remote editing process that integrates with your actual editorial needs.
Create your own colour grading workflows that take advantage of the efficiencies of asset management and fast storage.
Who Should Attend
People responsible for planning, recommending or implementing effective strategies will improve their ability to create and/or manage media assets. This includes individuals working within broadcast, VFX and digital media as well as other industries needing to manage and process volumes of media. This event suits CTO/CIO-level managers, studio managers and broadcast production management.
Guest Presenters
AS well as Digistor specialists, a team of experts will present at the event.
Peter Lambert
Worldwide Sales Director, EditShare
Peter's career spans over 25 years, including being the first salesperson for Avid in the UK in 1992, then eight years as Country Manager, followed by leading Nucoda sales and working as VP of worldwide sales and marketing for Bright SAN storage. Peter's speciality is in high-end post storage, and is an expert on high-bandwidth enterprise file system and storage for today's TV and film resolution workflows. Peter now manages the sales team's activities for all EditShare offices globally, and attends many trade shows and customer site visits worldwide.
Paul Hayes
Sales Manager Asia, EditShare
Paul has been involved in the broadcast television production industry for over 25 years with the last 15 years in sales and marketing of specialist broadcast and professional video production equipment. Paul focuses on sales channel development, workflow, and design of high-end television post-production storage. Paul's experience in real-world processes and digital systems for the film and TV post market is integral to EditShare's Asia region expansion.
Warren Eagles
Freelance Colourist
Warren has had an extensive career grading feature films, TVCs and documentaries spanning over 25 years. Warren is also a founding member and trainer for the International Colorist Association (ICA), and travels the world educating creative people on colour correction techniques. Warren's insights into post-production colour workflow are a valuable resource for many professionals worldwide.
TO REGISTER
Eventbrite - Sydney
Thu 9 Mar 2017
Digistor Customer Centre
5-7 Cleg Street Artarmon NSW 2064
Eventbrite - Melbourne
Wed 15 Mar 2017
Punthill South Yarra Grand
7 Yarra Street South Yarra VIC 3141
Available Sessions:
Morning - 8:30am to 11:00am - includes breakfast refreshments.
Afternoon - 2:00pm to 4:30pm
Check-in 30 minutes prior to each session
Cost
There is no charge for attendance, but places are limited and attendance will be restricted to industry professionals.
For more information, contact Digistor. www.digistor.com.au