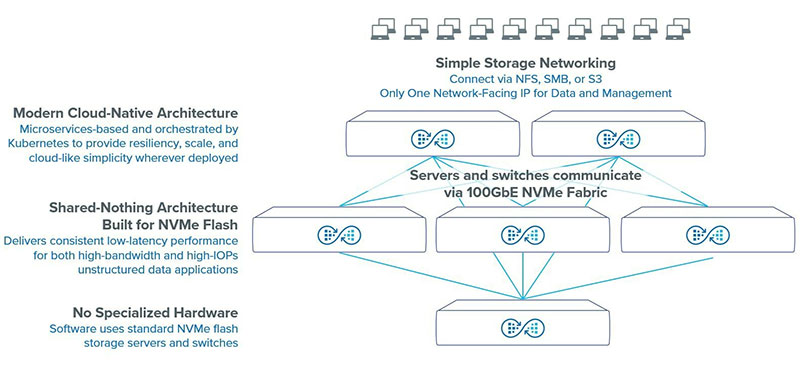 Quantum Myriad is an all-flash, scale-out file and object storage software platform for the enterprise. Through its straightforward, cloud-native architecture, Myriad can be adapted to on-going storage needs, and overcomes the limitations of hardware-centric designs.
For example, currently available all-flash file and object storage systems may still rely on specialised hardware that won't run natively in the cloud. Myriad solves such challenges with a new shared-nothing architecture designed for the modern flash systems to deliver consistent low-latency performance that can scale. A distributed, shared-nothing system consists of multiple nodes that do not share resources such as memory, CPUs and network buffering. Each, complete requests is serviced by a single node, avoiding contention between the nodes.
The Myriad software operates on standard high-volume flash storage servers allowing IT teams to adopt new hardware and storage infrastructure for future needs. With Myriad, enterprises can replace legacy disk-based storage systems with a software-defined, all-flash platform with greater performance, scale and efficiency in terms of power and real estate.
Myriad targets unstructured data applications and suits emerging use cases that require more performance and more scale, including AI and machine learning, modern data lakes, VFX and animation, and other high-bandwidth and high IOPs applications.
It uses familiar cloud methods like microservices and Kubernetes container design for resiliance and high-availability, and to make working in the cloud simpler for users. Inline data deduplication and compression help to reduce the cost of flash storage and improve data efficiency. Inline metadata tagging helps users in various ways, including accelerating AI/ML data processing, generating real-time data analytics, creating data lakes based on tags, and automating data pipelines and workflows.
Data security and ransomware recovery are handled with built-in snapshots, recovery and rollback capabilities. Users can monitor system health, performance and capacity trending from a secure online portal by connecting to Quantum cloud-based AI Operations software.
Automation
To support in-service upgrades, the self-healing, self-balancing software automatically rebuilds and repairs data in the background while also rebalancing data as the storage cluster expands, shrinks and changes. Detection, deployment and configuration of storage nodes within a cluster are automated as well, to support scaling without user intervention. Networking management of the internal RDMA fabric are also automated, so that managing even a large Myriad cluster requires no networking expertise.
Myriad is available now for early access customers and is planned for general availability in the third quarter of this year. www.quantum.com