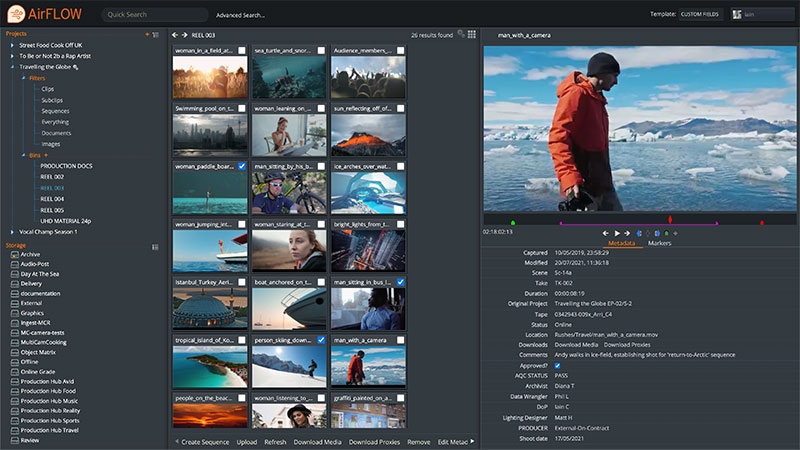 EditShare AirFLOW
BRT is the broadcaster for Ba Ria - Vung Tau Province in south-east Vietnam, where production and transmission demands have been increasing rapidly and putting pressure on the facility's storage system. The company grew interested in automating their media management and quality control functionality to accelerate workflow performance.
For several years, BRT has been using EditShare storage, which they have now extended with platforms for archiving and increased automation, and four further 160TB EditShare EFS-300 storage nodes to add capacity for production.
The new installation calls on functionality in EditShare FLOW media management and workflow software that gives BRT­ the ability to manage remote log-ins and to automate content flows, from production through to delivery. For example, new material arriving at the station must pass local conformance checks and quality control. Using EditShare's AirFLOW and FLOW Automation, these can now be performed remotely if required.
FLOW Automation orchestrates workflows and takes over repetitive tasks like copying, moving, deleting, transcoding and organising projects or media spaces. Such processes can be triggered by user actions, or at regularly scheduled times. FLOW's automated transcoding supports over 550 deliverables and, following QC, content can be delivered to any location.
AirFLOW makes FLOW's capabilities available to secure multi-team, multi-location productions through a web-based interface. Collaborators located anywhere can use the UI to search, log, organise and play media from inside projects, folders and sequences.
The need to manage increasing amounts of content at BRT, completed and in production, has also made it important to add archiving capabilities. Therefore the storage extension includes EditShare ARK, comprising LTO-8 tape drives and associated software to set up automated archiving that closely follows business rules, and fast recovery when necessary.
Ark extends FLOW by managing and securing assets away from online production storage. BRT can make short-term backups of media and project files, temporarily park projects or build a permanent tape archive. ARK's software for managing LTO tape libraries allows users to create a series of tape pools, and copy or migrate media and related files from online to offline storage, verify backed up data, and receive notifications when transfers are complete.

EditShare ARK
"EditShare has proven to be a storage platform that is well suited to the type of operations we would like to adopt, helping us to work more proactively and flexibly during production, playout and storage management. We particularly like the system's flexible user permissions" said Mr. Le An Thi – Technical Manager at Ba Ria - Vung Tau Radio and Television.
"As our production and broadcast demands have grown, we have recognised that we need to adopt more automation to reduce the amount of manual work we do, while also ensuring that we maintain our high standards. After researching the various products in the marketplace, we fairly quickly recognised EditShare as our best option. They have been able to supply a complete system, from ingest to storage to playout, including the facilities we need for file quality, transcoding and censorship."
Editshare's partner Danmon Asia, with headquarters in Hanoi, Vietnam, designed the system in conjunction with application engineers from EditShare. www.editshare.com