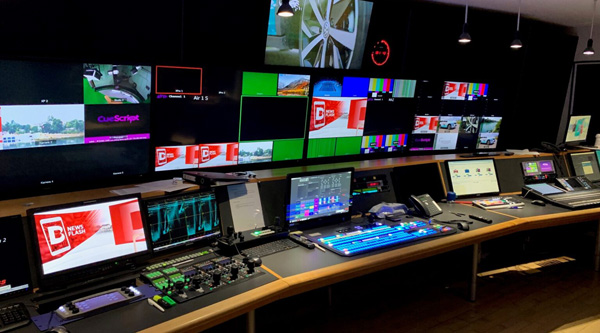 Telebasel, Switzerland's oldest private broadcaster, has undergone a complete overhaul, and built a new infrastructure to help them address the dynamic, complex nature of today's content production, broadcast and viewing. Media producers are adopting new production workflows, for example, and making diverse options for viewing available to consumers. Delivery goes beyond cable and satellite and includes OTT streaming, requiring video in new formats like HDR and 4K.
Telebasel's new approach to broadcast depends on an open system that splits workflows into different, functional layers to allow flexibility for growth. Modern equipment has been chosen specifically to create an agile platform that keeps media creation, management and distribution relatively simple. Among the broadcaster's goals was to improve cross-department collaboration, and to give its Adobe Premiere Pro users a familiar, but more efficient, experience.
Channel Integration at Telebasel
Telebasel's programming is both diverse and integrated. A fundamental component, called the Newsblock, is a format for live news shows in which news stories are developed and moderated in-house. The news packages need to be visually engaging and contain the latest information. As well as live news, Telebasel produces lifestyle shows and entertainment programs that run on a 24/7 loop, as well as digital and social channels that need to be synchronised with the programming while engaging at different levels with audiences.
"Our material needs to remain flexible and adaptable, right up to the point of broadcast," said Pascal Jacot, head of technology at Telebasel. "It's important for us to be able to exchange content between our channels and react quickly to developing stories. We also need to include reactions from the audience in the form of video clips."
Telebasel decided to aim for a system that would integrate its digital, social and linear channels under one media production and distribution workflow. Off-the-shelf products weren't found to be suitable because what was needed were deeper level integrations that would make complex tasks simpler, and also because Telebasel wanted to be able to interact with audiences, customers and external media outlets.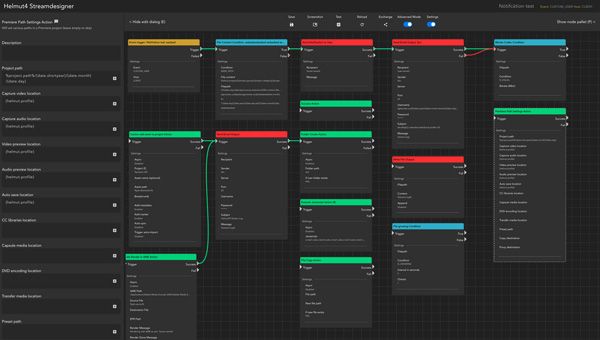 Customising a node-based workflow in Helmut's Streamdesigner software.
To connect the channels and simplify its workflows, Telebasel chose centralised storage from EditShare with Helmut workflow software, developed by Moovit for teams using Adobe applications. Based on Premiere Pro, the new workflow is built on a high-performance, EditShare EFS shared storage environment.
Optimising Processes
With a storage system in place, the company optimised their media production processes using a combination of EditShare's media asset management software, FLOW, and Moovit's Helmut workgroup administration tools. EditShare EFS storage and the FLOW MAM have been directly integrated with Helmut's Streamdesigner software and can be used together to set up project-based workflows for Adobe workgroups. The team also re-evaluated various manual steps or complex procedures – commonly used during the sharing, creation, and distribution of content – and either automated, simplified or removed them.
Helmut4's source code is, in fact, not completely fixed, but can be adapted by the user to expand Helmut's range of functions according to requirements, and to connect conditions, actions and outputs to existing events in a node-based view.
The wide scope of Premiere Pro's editing functionality tends to create administrative challenges, particularly in large-scale production environments. HelmutFX gives users an overview, working in the background to organise search and management processes for project files. In other words, instead of adapting workflows to fit the software, the user adapts the software to fit the workflow, starting with a small number of customisable functions.
The project structures Helmut4 creates are made available in a database so that Premiere Pro projects can be indexed including their folder structures, metadata, assets and sequences, and synchronised with third-party systems, without opening Premiere itself. Helmut also has an I/O and sequence rendering application, and another tool for neatly consolidating, archiving or deleting projects and their assets as required – manually or automatically.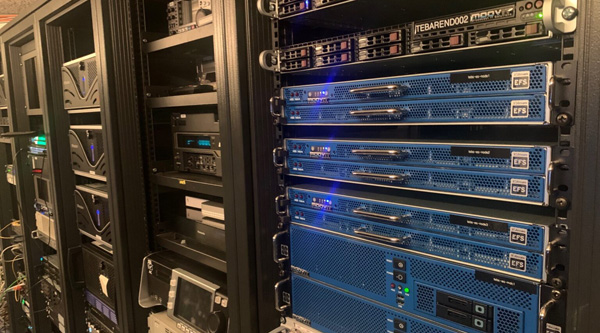 Open and Interchangeable
Open APIs from EditShare and MoovIT enabled Telebasel to integrate its channel workflows and also customise them. The assignments and administrative structures are clearly defined, and meanwhile their collaborative and technical processes are automated, finely tuned to give the most useful results.
Telebasel's Adobe editing process is more open, collaborative and interchangeable now. With content centralised, Telebasel editors can view and edit video directly from their desks or remote external locations. Material is processed in real time while editors are accessing proxies in FLOW and Helmut, synchronising the data for the high-res cuts in the background. Once editing is complete, Helmut automatically renders and adds clips to the channel's schedule.
All the media is stored centrally with rich metadata on EFS, where administrators can control assets at scale. "The centralised management was crucial to the entire system," Pascal Jacot said. "The new workflows have helped us to quickly integrate live reports and news reports into the newly adapted transmission formats."
The Telebasel rollout also makes a template for other organisations, of any size, looking to deploy integrated centralised storage, under-the-hood administration and orchestration, and collaborative media and project management for Adobe workflows. editshare.com