University of Portland Pilots Level the Field with EditShare Storage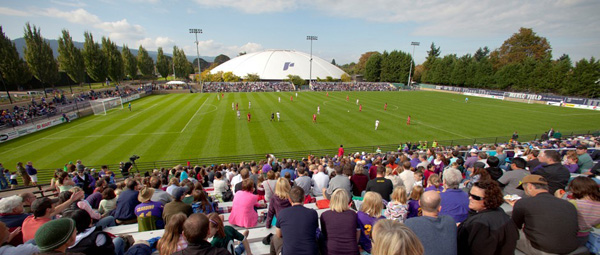 The University of Portland (UP) Athletics Department, also known as The Portland Pilots, produces video content of the University's sports competitions and games, numbering more than 100 events per year. Sports have become an essential part of life at the university, which is well known for moving its soccer players on to professional and national teams, and is ranked 7th in the country for division 1 men's soccer.
Production now involves content capture for men and women's soccer, volleyball, basketball, tennis, cross country, track & field, baseball and rowing. The Pilots also create a monthly TV show profiling the student athletes along with notable highlights and results. Faced with a surge in production and a migration to higher quality recording formats, they soon needed to think about managing the massive amounts of content their work was generating, and began to look for a scalable, responsive storage environment, engineered for video production workflows.
With up to five editors working on projects at a given time, the UP Athletics Department realised they needed a system with enough functionality to support a collaborative workflow, and invested in new storage infrastructure, EditShare XStream EFS single node shared storage.
Updating and Upgrading
Before this upgrade, the Department had been using a RAID set-up connecting three editing stations, but when three editors tried to work simultaneously, the system would slow to the point of becoming inoperable, making the team inefficient. The decentralised storage structure also meant that multiple drives were located around the department, harbouring footage that had been offloaded from the system to create more room for incoming projects. Locating specific, offloaded project files became time-consuming and uncertain.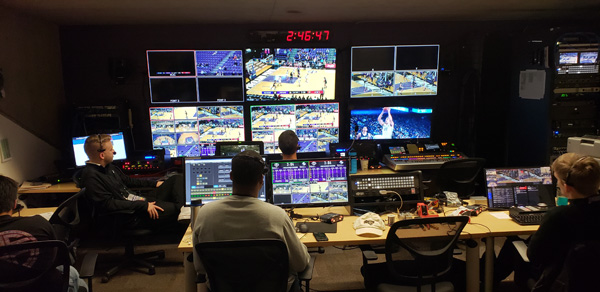 "For the last four years we relied on our clunky RAID system, which required annual offloading at the end of the year to make room for new content coming in. Our entire library of content was stored on a travel hard drive without any system in place for backing it up," said José Nevarez, assistant athletic director, broadcast operations, University of Portland. "It got to a point where the amount of footage we were actively working with was increasing every year as well. A potential drive failure meant losing content that had cost thousands of dollars to produce and would have been a heavy financial blow. Implementing centralised storage became a priority for us."
Initially, investing in shared storage seemed looked as if it would be too expensive, but purchasing EditShare XStream EFS single node platforms proved to be an affordable alternative. José said, "We considered how many terabytes a year we produce and how many terabytes the EFS single nodes were capable of supporting. When we also broke down the dollar amount that we were spending annually on new external hard drives and factored in the amount of time and money we were losing to offloading content, making a major new storage purchase started making sense financially."
As well as affordability, XStream EFS had enough power to integrate a fourth editing station as part of the Athletics Department's post production workflow. Previously, editors were confined to three work stations, and now are able to output more content with greater efficiency.
Student Production Experience
Since the University of Portland does not offer video production or journalism classes, the Athletics Department enlists students to help with sports production and content creation as an opportunity to get hands on experience and exposure to a potential career field. The students also contribute significantly to the Athletics Department's total content output and help turn projects around more quickly. However, with only two full time post production staff on board, Jose needed a way to give students access to the network while controlling access to sensitive materials.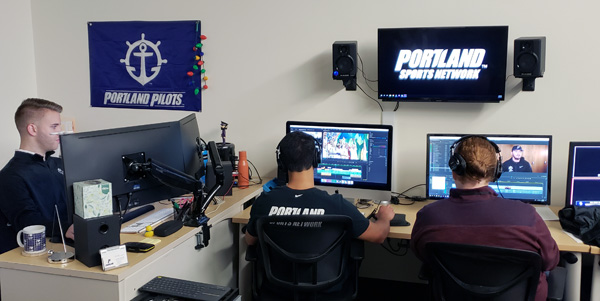 "A lot of students work with us to help get our content out the door, so having some control over what they can see and interact with, as well as being able to track what they're doing, is extremely useful for us," he remarked. "Since the students and full time staff often have different schedules, and we can't have them in the office on their own, we needed to figure out how they could continue working on projects, even while they weren't physically there. On the EditShare system, they can access projects anywhere on campus as long as they have access to our network. Many of them edit in their dorm rooms or in the library and they can work as if they were sitting right in the office editing."
Pushing Out to Broadcast
Jose and his team also use the EditShare platform to quickly package and push out content to local news stations. He said, "After big games or wins, we send two minute highlight reels out as quickly as possible to local news stations to try and make the evening news. With editors working together on all of the workstations, the EditShare system allows us to do this on an incredibly fast turn. The games usually wrap around 9pm and we're able to submit in time to be eligible for the ten o'clock news."
Looking ahead, Jose plans to integrate Flow media asset management for ingest and automatic metadata tagging for the UP Athletics Department. "Because we ingest so much footage every weekend, being able to carry out logging and metadata tagging is going to make our workflow so much easier. We waste an incredible amount of time searching for footage on the computer. We're really excited about leaving this process behind and using a tool that was actually designed to do it efficiently.
"The EditShare platform has changed our approach and workflow, and its scalability means that we have a way to handle future growth. Since there are several other video departments across campus, we're anticipating that our experiene with EditShare will influence them and lead to a university-wide implementation of the platform." www.editshare.com