BitCine Speeds Pre-release Content Delivery with Aspera on Cloud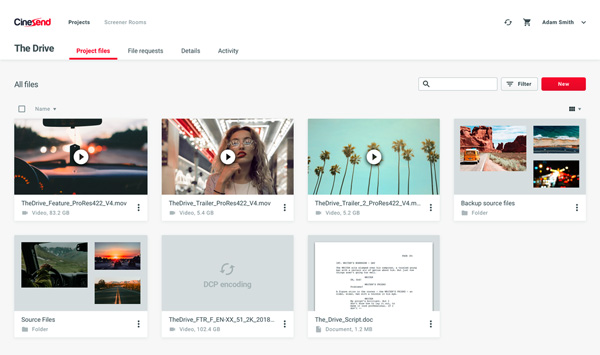 CineSend is a management and delivery service for pre-release film and television content. Designed as a platform with built-in digital rights management and piracy detection, distributors, producers and filmmakers use CineSend's transfer functions to deliver pre-release DCPs or broadcast files to collaborators and exhibitors at cinemas and film festivals.
The service is run and developed by BitCine in Toronto, Canada, who originally intended to build a fibre network between cinemas in Canada. But digital delivery has been slow to gain acceptance, and cinemas continued to mainly use hard disk drives to deliver titles. In 2014, BitCine decided to start developing CineSend as a secured online front end for producers and distributors to use to upload and access files in different ways.
The heart of the service is a fast, reliable and, above all, secure transfer system. Colin Carter, founder and CEO of BitCine said, "We tried to build our own system after attempting, without success, to use various proprietary products. But these lacked the ability to scale sufficiently and were not reliable enough. We also needed a transfer interface that was going to be easy for everyone to use and performed consistently and predictably."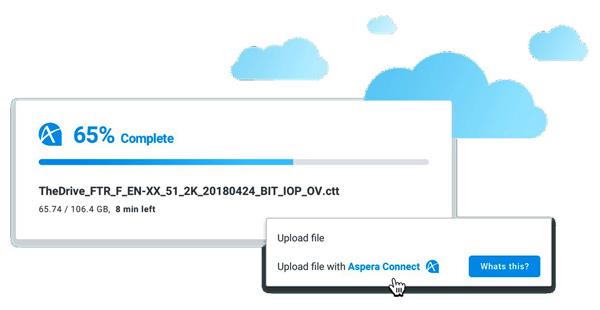 The transfer system that has ultimately worked for CineSend is Aspera – specifically, IBM Aspera on Cloud, which is a hosted service made to move all sizes and types of files and data sets across a hybrid cloud environment. It uses Aspera's high speed FASP file transfer protocal and integrates reporting functionality and a straightforward interface. It also makes only the transfer service available to clients without requiring them to download any software.
The core of BitCine's customer base is distributors, who set up CineSend accounts they use to receive films from producers. They can send personalised upload links to filmmakers, which means their accounts are left untouched. For film festivals, another group of CineSend clients, the system works in the reverse direction, that is, a distributor or filmmaker can enter films by sending a download link to a festival.
"Clients sign up and create their account for free. Interacting through Aspera on Cloud, organisations access and share data stored between multiple clouds and on-premises data centres. Internal and external users can then collaborate over the data in a secure environment that controls access. One advantage of Aspera has been the fact that it is a recognised, standard industry service. Many of BitCine's clients and potential clients were already using it," Colin said.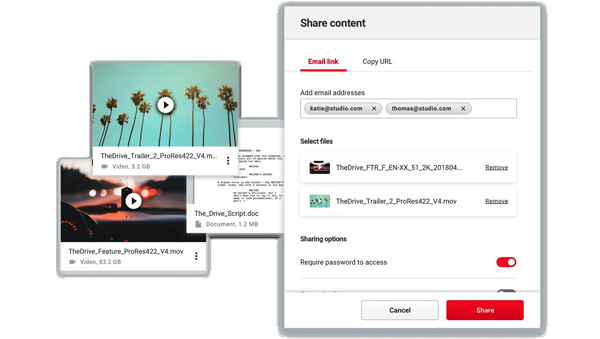 BitCine uses Aspera's APIs to extend web and mobile applications to include fast file transfer, and also uses Aspera Connect, a self-installing app that runs high-speed uploads and downloads via the Aspera High-Speed Transfer Server. Although it has a very light system footprint, Connect integrates all of Aspera's transport functionality in a small package allowing control over the transfer parameters.

The client is able to authorise people or groups of users as recipients, and designate external users to include in package delivery and content submission requests. DCPs need to be transferred as a folder holding a large number of small files all of which have to arrive in the original folder, together and correctly named. Because some transfer processes can corrupt DCP folders, CineSend's processing includes DCP protection to prevent the folder from breaking.
From BitCine's point of view, it's important that Aspera on Cloud makes the transfer process convenient for individuals using a client's account as well. They can use drag-and-drop to send and share data, for instance, and monitor the progress of transfers. Aspera can also pause a partial transfer without losing data, which allows clients to stop and resume send actions and manages Internet drop-outs. When the transfer is complete, the files will be shown in the account. www.ibm.com/cloud/aspera