Empress eMAM 5.0 Integrates AI and Expands Storage and Transcode Workflows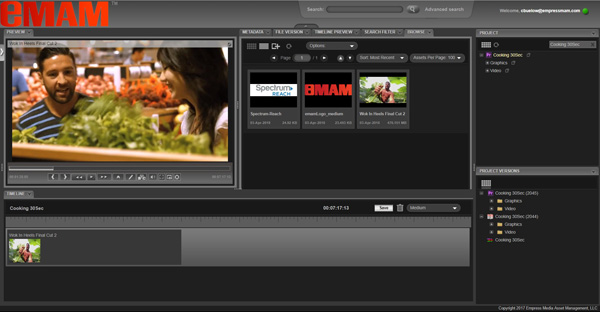 Empress eMAM media asset management platform, now in version 5.0, integrates artificial intelligence to automate transcription and recognition of faces, brands, key words and other attributes, and has new options for transcoding, storage and archive tasks. It also integrates the Marquis Medway Engine Web Service (MEWS) to move media used in Avid workflows, increases its integration with Adobe Creative Suite CC and has an expanded web interface. eMAM 5.0 updates its media management and processing workflows by implementing .Net Framework 4.5 to improve performance. .Net Framework supports language interoperability across several programming languages so that each language can use code written in other languages.
eMAM takes advantage of integrations with six different AI engines that each give various options to meet specific requirements for enhancing users' archives or tagging current content. These AI engines include Amazon Rekognition, Microsoft Video Indexer, IBM Watson Video Enrichment and Speech to Text, Microfocus IDOL, VoiceBase and Avid Dialogue Search.
Steve Baird from Intraware Australia, Master Distributor for ANZ and SE Asia, is looking forward to seeing how local customers apply the new AI functions in their workflows. "It's still early days for AI, but the promise of smarter and more efficient ways to capture and utilise content-specific metadata is very exciting for everyone endeavouring to make the most of the value in their video content. We have been working with Empress for over five years now in our region and continue to be impressed by the development of the product and the way in which Empress engages with customers on its future development."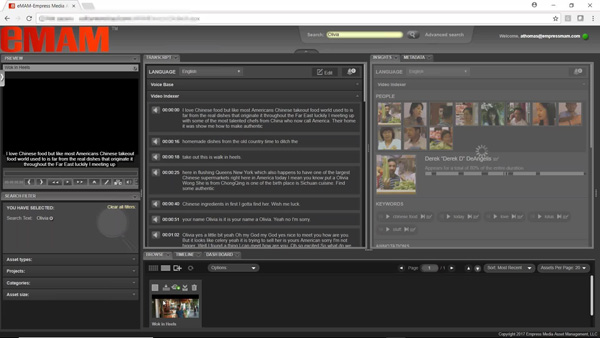 Empress has increased the number and diversity of storage products that are interoperable with eMAM, which extends its storage, archive and transcoding applications. The new storage and archive options include Amazon Glacier, Dell ECS, IBM COS, NetApp Storage Grid, Backblaze B2, Object Matrix and Cloudian. For transcoding, Drastic Net X-Copy and Net-X-Proxy are now supported, and eMAM now allows ingest job management using the AWS Lambda system, which carries out transcoding on demand through AWS Media Convert and Elastic Transcoder.
The MEWS-eMAM integration allows stand-alone Avid Media Composer users to transfer media from eMAM in and out of their workstation's local storage. The content will be re-wrapped during the transfer into Avid's MXF Op-Atom wrapper and transcoded if required. Completed sequences can be exported by the editors as an AAF. During production, editors can move finished media back to eMAM via MEWS. Media is either rewrapped or transcoded and then indexed into the eMAM system for processing.
EMAM's direct integration with Adobe Premiere Pro CC is augmented via a built-in extension panel, now also available in InDesign CC and After Effects CC. Editors can, for example, search and preview proxy media managed by eMAM in the cloud. They can localise media for mezzanine or full resolution editing. Finished sequences can be exported, with media, to eMAM for review and approval by colleagues, email and social media sharing, digital delivery and archiving.
Non-technical staff can use eMAM to create projects, add media, mark, subclip and rough-cut edit directly from their tablet or through web interfaces. The system uses Adobe Media Encoder, integrated with Adobe Premiere Pro, to set up transcoding on demand in the cloud between any of a large number of supported codecs and formats. Organizations can now use local proxy-mezzanine edits on workstations, leaving the final conform with the native resolution content to be done in the cloud. www.empressmam.com