Quantum Builds Scale-out NAS for IP-Based Media Workflows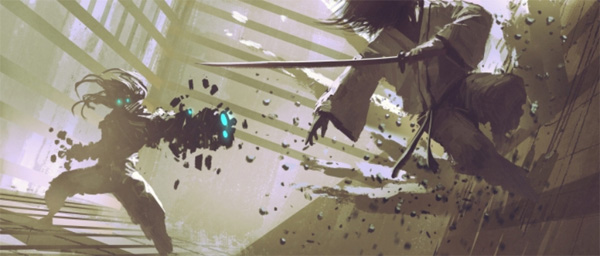 Quantum's new Xcellis Scale-out NAS is a high performance, scalable storage system in an Ethernet-based appliance, compatible with multiple protocols and clients. Powered by the company's StorNext shared storage and data and metadata management platform, it is built to support modern collaborative content creation workflows and ease facilities' transition to an IP-based infrastructure.
High-resolution, high-volume media workflows such as collaborative 4K editing and visual effects creation demand greater performance and scalability than usual from the underlying storage infrastructure. To keep production going, content creators generally use high-throughput SAN systems because NAS products, although less expensive, lack adequate performance. The Xcellis Scale-out NAS has been able to overcome performance and scalability barriers within all-IP workflows at an affordable price. Also, for more flexibility, Quantum makes it possible to configure an Xcellis system with both scale-out SAN and NAS.
Xcellis systems have a converged architecture that saves space and power, continuous scaling of performance and capacity, and unified access to content. According to Quantum, through these characteristics, Xcellis systems can support productivity in collaborative media environments by integrating the most important components of workflow storage into a single, manageable hardware system.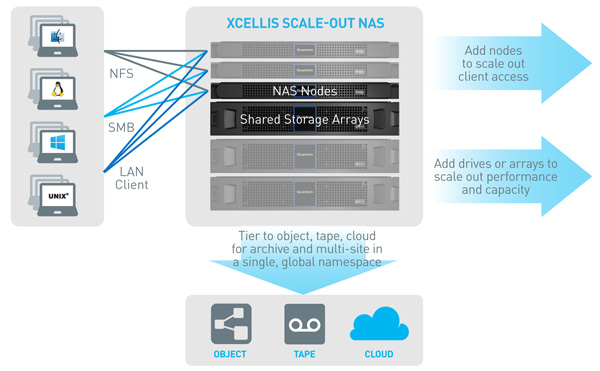 An Xcellis cluster can scale performance and capacity together or independently to reach hundreds of petabytes in capacity and more than a terabyte per second in performance. When deployed as part of a multitier StorNext infrastructure - which can include object, tape and cloud storage - Xcellis Scale-out NAS can cost substantially less than an enterprise-only NAS system with the same capacity.
StorNext software establishes automatic tiering between flash, disk, tape, object storage and public cloud. Copies of files can be created for content distribution, collaboration, data protection and disaster recovery.
Xcellis is unusual as a storage appliance that can integrate artificial intelligence (AI) capabilities, which can be used to extract more value from assets through automated metadata creation. The system can actively interrogate data across multiple types to uncover events, objects, faces, words and sentiments, automatically generating new, custom metadata that unlocks additional possibilities for the use of stored assets.

Xcellis Scale-out NAS will be generally available in December 2017 with entry configurations and those utilising tiering starting at under US$100 per terabyte (raw). www.quantum.com