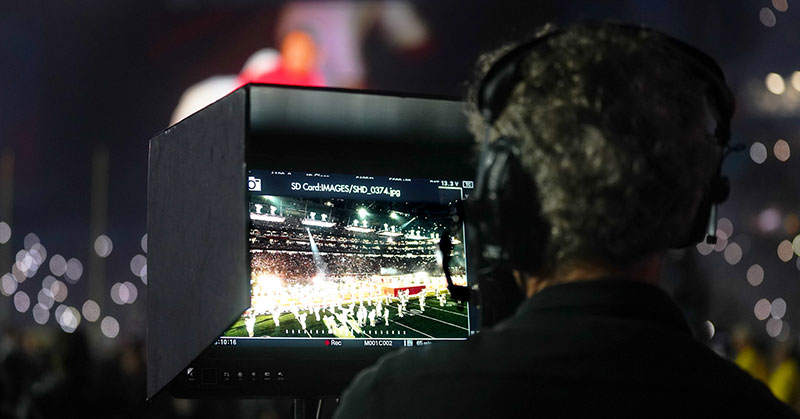 Funicular Goats launched in 2019 to specialise in multi-camera productions, and soon earned a reputation for their cinematic live event, broadcast and streaming projects. Co-founders Morgan Kellum, James Coker and Aaron Cooke handle work ranging from big-name concert productions and the annual big game halftime show, to comedy specials.
Their flexible, reliable brand of of technical management owes largely to the proven cinematic multi-camera workflow they have developed to use as a starting point. It includes all the standard gear for moving signals throughout the chain and live grading.
Typically, producers contact Funicular Goats directly regarding projects, but the company also receives inquiries from technical managers, directors and DPs. Its team works with the client's team and stakeholders to methodically plan the workflow design and associated devices and capabilities.
Live Grading
Nearly any project will ultimately involve varied combinations of cameras, communications, the engineering fly pack, cameras plus wireless camera systems, digital, broadcast or satellite transmission, fibre infrastructure and on-set monitoring. Projects average 10 to 20 cameras per show, but the team has worked on projects involving more than 30 cameras.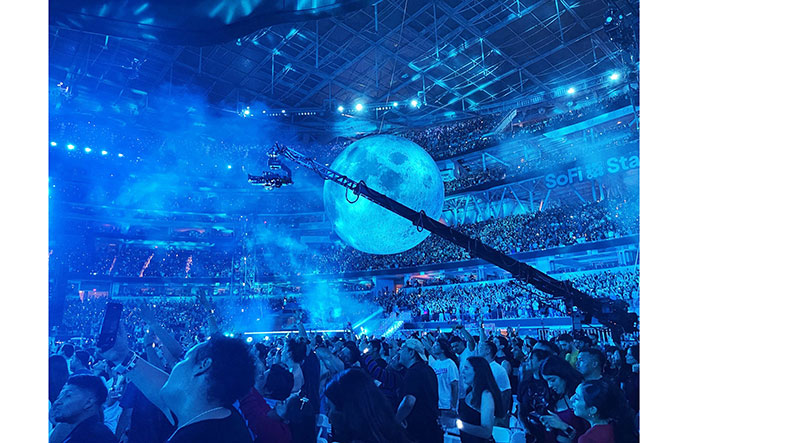 Funicular Goats finds that nearly every project demands live grading, calling for AJA FS-HDR real-time HDR/WCG converters to use on set. Running a camera log feed through the FS-HDR allows the team to achieve a more comprehensive range of RGB colours to build a better look than using an RCP camera control alone.
"Productions are often looking for ways to execute their projects but aren't certain how to do it, so they lean on us. We advise them on how to make it happen and help them achieve the look they're aiming for in the most efficient way," said Morgan. "We have a comfortable history of doing shows in certain ways and using specific tools, like FS-HDR for live colour grading and frame sync, so we'll rely on that – up to a point. But we also figure out how to modify the workflow and our fly packs and fibre systems to suit each client's specific needs."
SDR/HDR
Most projects still require SDR delivery, but Funicular Goats is seeing HDR requests grow, especially for concert productions and larger scale event broadcasts. In those cases, FS-HDR has become an adaptable tool for the team. James said, "We love FS-HDR, from its redundant power to its reliable predictability. It has great features, for embedding and frame syncing to live grading. It can do it all."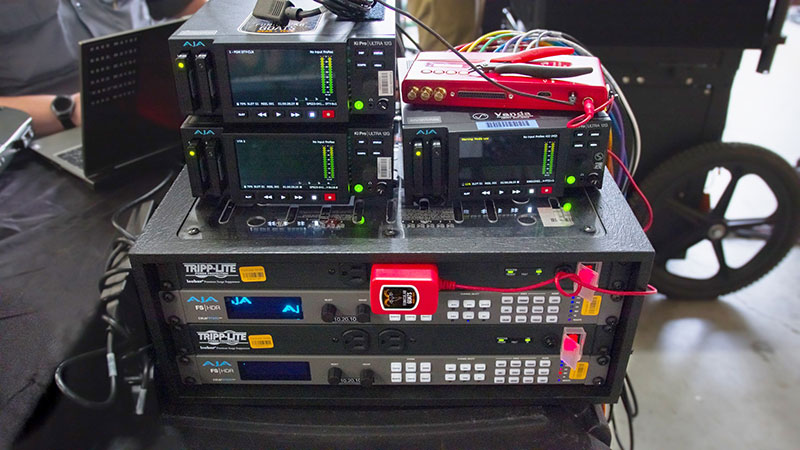 FS-HDR also supports conversion requirements. For instance, the team may need to use it to help step down a 12G-SDI or 6G-SDI feed from a cinema camera to 1080 for viewing, as well as for grading and recording. The device also performs frame rate conversion, which the team will leverage when moving from 24p to a broadcast standard for a truck workflow.
For example, they might bring back a log feed at 23.98p that will hit their distribution amplifier (DA), replicating the signal for different purposes, and feed into a switcher where they cut 23p. Out of the DA, the same feed might also go to the FS-HDR, where they can then go to a 29.9p output, and elsewhere with it to a line cut of the selected cameras, cutting 29.97p for broadcast.
Recording and Re-purposing
As well as live grading, recording is essential to Funicular Goats' workflow designs. The team often completes 4K recordings with a cinema camera, with a 1080 workflow out for a reference line for more flexibility. If delivering a 1080 project, they'll record the loaded or colour corrected 1080 files to a AJA Ki Pro Ultra 12G, which records and plays back ProRes and DNx. This approach ensures they have a master finish of the project as well as the 4K log footage to work with.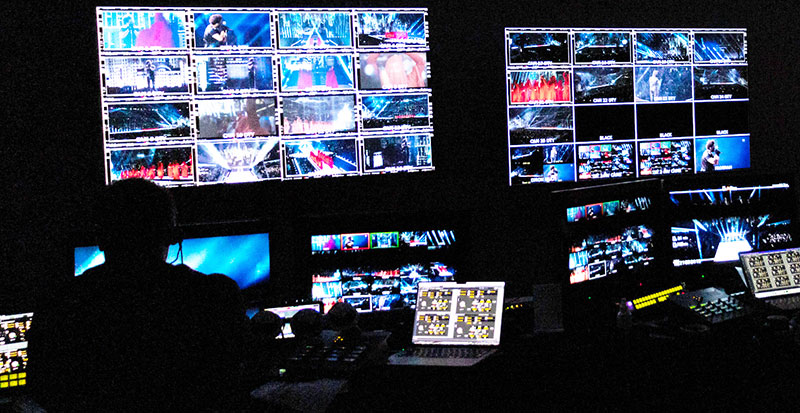 If footage is already colour corrected, Funicular Goats can take care of online cleanup with those files, and use them for editing as well. They may opt to use Ki Pro Ultra 12G as a quad HD recorder for four 1080 feeds on one project, or for backup 1080 recordings, isolated feeds from the different cameras. On other projects they will use the device to create multiple copies of a program or multiple views. Sometimes, they'll even send a 6G-SDI or 12G-SDI feed into the Ki Pro Ultra 12G.
When they need to hand off thumb drives with H.264 recordings after an event, they often use AJA Ki Pro GO. Morgan said, "The Ki Pros are so flexible and give us a lot of options and provide a cost-effective way to record in different codecs and formats. We get edit-ready files that we can have our downloader dump onto a drive to be shared with production," said Morgan.
Halftime Show
They have been using the Ki Pro Ultra 12G and FS-HDR on nearly every show, as they have been extremely reliable. One of their more memorable productions in 2023 was the big game halftime show, when Funicular Goats captured 29.97p from Sony VENICE 2 cameras. The feeds were sent to its production truck where an AJA KUMO 3232-12G router was on board.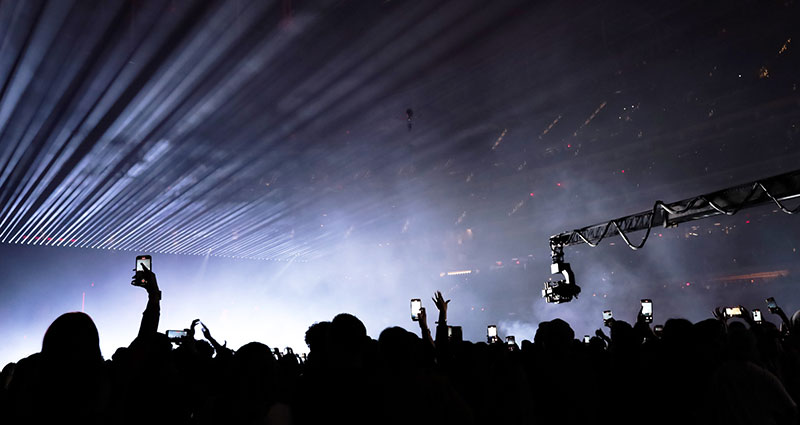 The feeds reached their distribution amplifiers first, and were then sent through the router and Funicular Goats' 12 FS-HDRs, as well as through 16 additional FS-HDRs on site, and then into the switcher and out for broadcast distribution. The FS-HDRs enabled the DIT crew to work with the log and HDR feeds and pass them back and forth, and also supported frame syncing to lock all feeds with the main program audio.
Morgan commented, "Our dedication to the technical workflow and craft shines through in the look and feel of projects. What excites me about coming to work each day are the great team of people I work with and the fact that I get to play a part in influencing the look and feel of these projects. Getting to play with the gear from AJA gear often is a bonus." www.aja.com