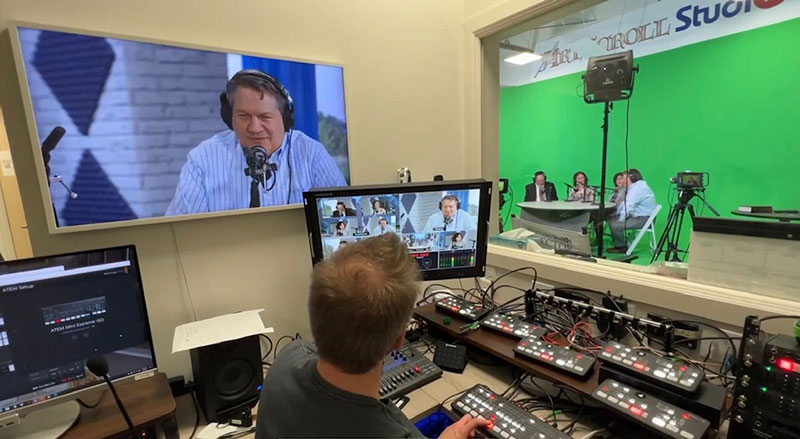 Kolrom Multimedia is a team of production and post specialists with many talents, working from studios in Baltimore and New Jersey in the US. They deliver comprehensive services for films, documentaries, animated productions, educational videos, commercials and other varied projects.
Recently, the company's green screen studios have become a location for hosting multicam virtual events and live streams, including talk shows, telethons and lectures, as well as for virtual production, music videos and VFX work.
The Affordable Difference
"The majority of our clientele are nonprofit organisations looking for cost effective ways to promote their programs, messaging and fundraising," said CJ Kramer, Kolrom's founder and president. "Now that the new Ultimatte 12 models have become much more affordable, it has made a huge difference not only for us, but also our clients because we can perform very high quality green screen work without having to increase our prices."

Earlier on, having invested in a range of the ATEM live production switchers, Kramer and his team had been using a combination of them to key out each camera, and taking those feeds into the ATEM Mini Extreme ISO for switching. "When the pandemic took effect and so many projects turned to live streaming and virtual events, ATEM Mini saved the day. However, while the ATEM Mini's support for virtual sets with macros meant it worked for us, we knew Ultimatte would really give us the most accurate keying results," he said.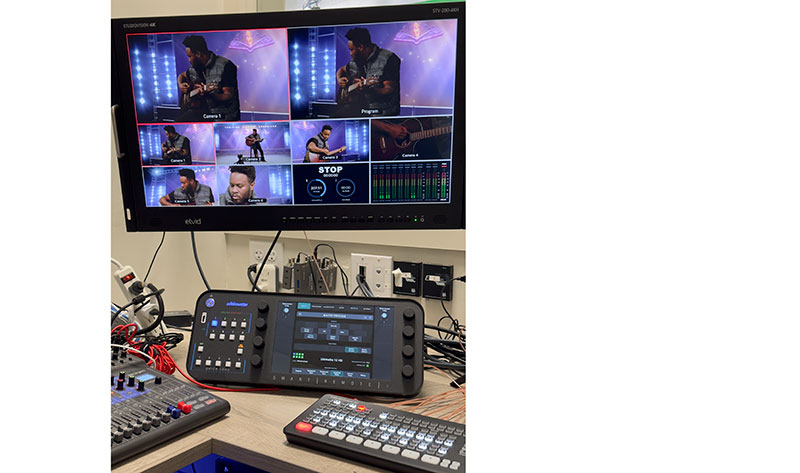 Ultimatte Smart Remote 4

"We had been wanting to work with Ultimatte for some time, and now the new pricing has made it possible to have one for each camera in a project. The fact that the key is cleaner and handles the irregularities of elements like hair and edges better makes all the sets feel more organic and realistic. It also allows us to focus on the other aspects of the production and spend less time fighting with the key."
Analogue Plus Digital
Kramer and his team also use the Ultimatte Smart Remote 4 to control up to eight of the Ultimatte 12 units at the same time. This device has a 10.1 inch touchscreen for navigating menus and controls, along with physical buttons, which the team expecially like. The new Ultimatte Software Control app is also very convenient when bringing in various types of media because it has already been loaded onto the PC holding the virtual set files. "This means we can bounce directly back and forth between the software and hardware and work faster," he said.

Kolrom Multimedia's production equipment includes five Blackmagic Studio Camera 4K Pros and five Blackmagic Pocket Cinema Camera 4K digital film cameras. Some of his producers own their own Blackmagic Design cameras as well. They use HyperDeck Studio HD Mini and HyperDeck Studio 4K Pro recorders to play back animated backgrounds for live keys.
They still work regularly with remote clients who may want to view a real time production. Kolrom can do this via Zoom, using the Blackmagic Web Presenter HD streaming system to set up live streaming, and a Blackmagic Audio Monitor 12G is used for audio monitoring to keep the audio qualiy very high. This device, built with wide range speakers and a class D amplifier, is actually both an audio and video monitor with 12G‑SDI input up to 60p and balanced XLR analogue audio, AES/EBU digital audio and consumer level HiFi audio inputs.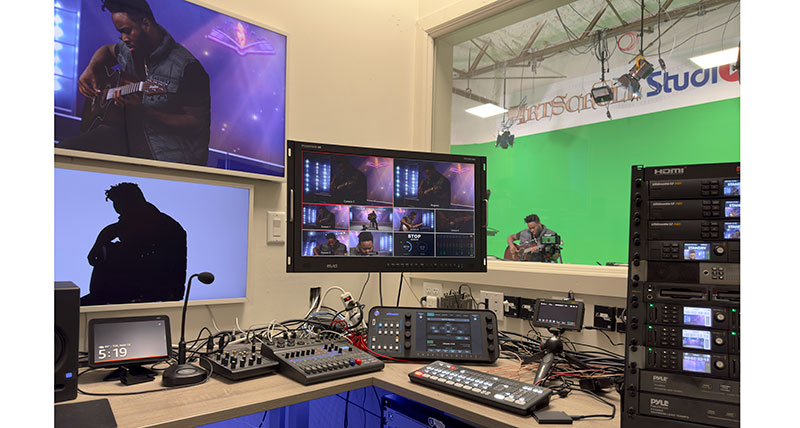 Streaming Bridge
Also, when working with outside producers, sometimes internationally, they will use an ATEM Streaming Bridge converter to pipe in interviews for talk shows and other programming. Streaming Bridge is a relatively simple way to use an ATEM Mini Pro as a remote broadcast studio. It receives a H.264 stream from the ATEM Mini Pro and converts it back to SDI and HDMI video, which can be sent over internet -- using H.264 codecs preserves quality and keeps data rates very low. If necessary, setup files can be emailed to remote ATEM Mini Pro studios.
Kramer said, "While the ATEM Mini models made live streaming and green screen-based live production more practical and accessible, the new Ultimatte 12 models have given us an edge when it comes to broadcast grade keying of live virtual environments. Not only is virtual production within reach now, but tools like Ultimatte are closing the divide between film and live production. It's a tool that allows producers to do so much." www.blackmagicdesign.com