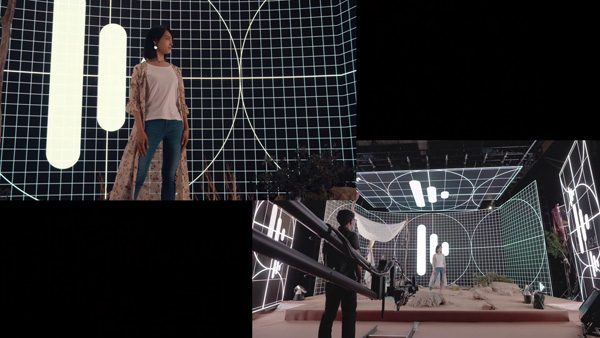 New virtual production facility Hibino VFX Studio in Tokyo, is operating one of the first in-camera virtual production services in Japan.
Hibino performs live production services such as planning, renting and operating audio and visual systems for live concerts and events, and importing and selling AV equipment. Its new Hibino VFX Studio takes advantage of the company's experience working with LED screens and combines it with in-camera VFX shooting and other new virtual production techniques to create an up to date, competitive virtual production studio in Japan.
LED Screens in the Stockroom
Hibino's Studio Producer Takanori Higashida said, "Our department usually specialises in live production, like concerts and live events. But due to Covid-19, that side of our business stopped, leaving us with a quantity of LED screens sitting in our stockroom. We then found a purpose for them in virtual production. We started undertaking XR live streaming projects using the LEDs and then developed a complete service by building this in-camera VFX studio."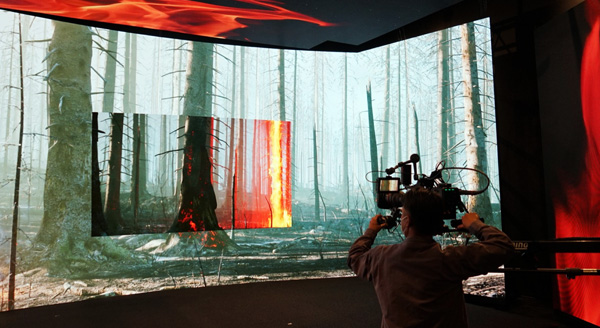 With their live production background, Hibino has a strength that the other studios may not have. "Other virtual production studios are complete within their location, which means they never think about taking their virtual production system to other places. Hibino, on the other hand, has always brought all of our gear out and set up a temporary system for live events. So, if a customer needs a larger scale shooting scenario than our studio here can accommodate, we can bring our system as well as the LED screens to bigger studios for long term productions, which is our aim for this business. I encourage customers to experience our studio's capabilities and use the system for bigger scale production," Higashida said.
In the new studio, ROE Visual's high resolution LED screens are installed around the top, front and sides of the stage, with Blackmagic Design URSA Mini Pro 4.6K G2 cameras used to capture virtual images. A RedSpy camera tracking system mounted onto each camera sends the its positional information and zoom and focus information from lens to a disguise media server, which detects where the camera is located in the virtual space and its point of view. From there, the studio uses Unreal Engine to render the 3D CG background in real time.
12G and Optical Fibre Infrastructure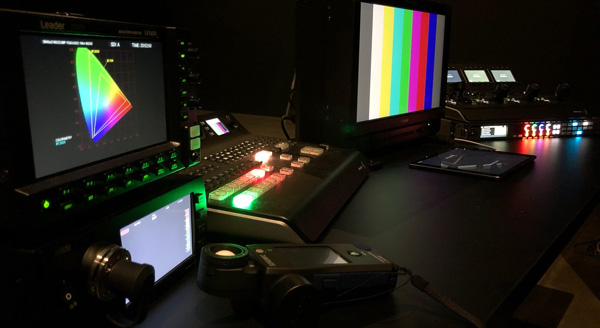 The studio is built around a 12G and optical fibre Blackmagic infrastructure and includes switchers, routers, monitors and converters, with DaVinci Resolve Studio for post production. Camera output from the URSA Mini Pro 4.6K G2 is sent to a Blackmagic Design Smart Videohub 40x40 router via an ATEM Television Studio 4K production switcher. Feeds are then sent to various monitors, including Video Assist 12G HDR and SmartView 4K, and are colour corrected in real time using an ATEM Camera Control Panel. These devices require a number of conversions including a Blackmagic Studio Fibre Converter, Camera Fibre Converter and Teranex Mini SDI to HDMI 12G converters.
"One reason we chose the URSA Mini Pro 4.6K G2 is that we needed a camera that supported native 24p/30p/60p in order for it to be compatible with our virtual system. Also, the camera supports various lens mounts – customers wanting a particular look or to match other footage can bring any lenses they like. As RedSpy's camera tracking system supports various cameras and lenses, customers sometimes bring their own cameras," said Shigenori Kikuch, the Studio Producer of Hibino.
Kikuch remarked that virtual production and an in-camera VFX workflow reduces production costs and shortens the post production process, but also benefits the aesthetics of the shoot. "By screening background images on the LEDs, we can create any lighting effect we like. When shooting on a green screen stage, we have to light the whole set evenly, which makes it hard to be creative with the lighting. Using LEDs in virtual production also produces beautiful reflections in the images and clarity of transparent objects, and unlike green screen shooting, actors don't have to act while relying entirely on their imaginations for background cues," he said.
New Tricks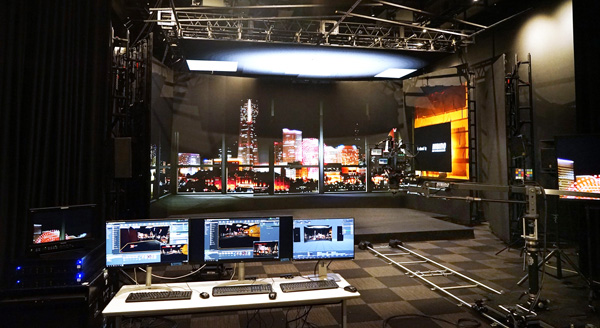 Though Hibino has years of live production experience, studio production is still a new area for the company. Building up the new infrastructure based on Blackmagic Design products has made the transition somewhat easier for Tatsuyuki Kobayashi, Hibino's Video Engineer. He said, "The camera menu is simple enough for non-camera operators to use fairly easily, and it helps that Blackmagic's UI is similar or the same throughout its product line. Considering our crane's loading limits, it is also fortunate that the G2 is a lightweight camera because we have to mount the camera tracking sensor on the crane head along with the camera body."
"We have a lot to experience for the first time in this in-camera VFX production environment. Using the equipment from the same manufacturer makes trouble-shooting easier since the tech supportare already familiar with many of the products in our workflow," Kobayashi said. www.blackmagicdesign.com