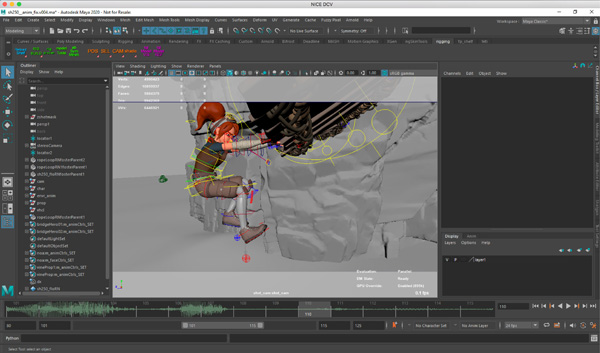 AWS is taking further advantage of its diverse system of cloud capacity, capabilities and expertise to launch two new services developed for organisations that want to operate in an untethered fashion, and increase the agility of their operations. Advantages of the AWS cloud include scalability, flexibility regarding location of staff and paying for compute power, storage and services per use – among others.
Amazon Nimble Studio is a new service developed for users to set up a functioning content production studio within a few hours. AWS for Media & Entertainment makes it easier for users to find, set up and deploy the many purpose-built AWS capabilities and partner tools.
Amazon Nimble Studio
Amazon Nimble Studio gives users elasticity that allows almost limitless scalability and access to rendering on demand. Once on board, the studio can collaborate with artists from around the world, and allow artists access to virtual workstations, high-speed storage and scalable rendering across the AWS global infrastructure. Using Amazon Nimble Studio does not involve an upfront commitment or fees – users pay only for the underlying AWS services used.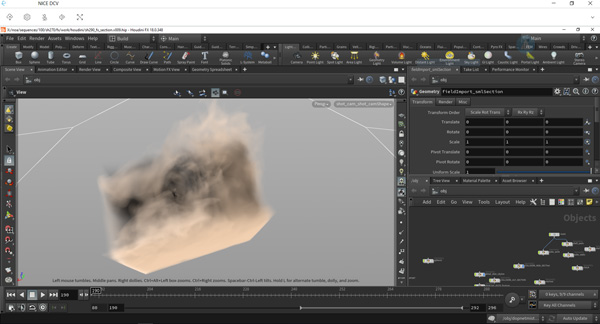 Traditionally, a studio's teams work on local high-performance workstations connected to shared file storage systems over low-latency, on-premises networks. When the studio tries to increase output and VFX and animation rendering to meet greater demand for content and experiences, it may risk over-provisioning compute, networking and storage infrastructures for peak capacity. The resulting situation can prove expensive, difficult to manage and hard to scale.
For example, according to AWS, a typical animated feature film today generates 730 TB of data and up to half a billion files, requiring more than 150 million core compute hours and coordination from hundreds of artists and engineers. If the production studio has onboarded external talent, they will also require high-powered workstations, specialised software and high-speed storage and networking. If these constraints lead to too many production delays and increased expenses, the studio may have to forfeit its opportunity.
Getting Started
Via Amazon Nimble Studio, such users can create a new content production studio within hours instead of weeks. Their talent then has immediate access to high performance workstations powered by Amazon Elastic Compute Cloud (EC2) G4dn instances with NVIDIA GPUs, shared file storage from Amazon FSx, and low-latency streaming via the AWS global network.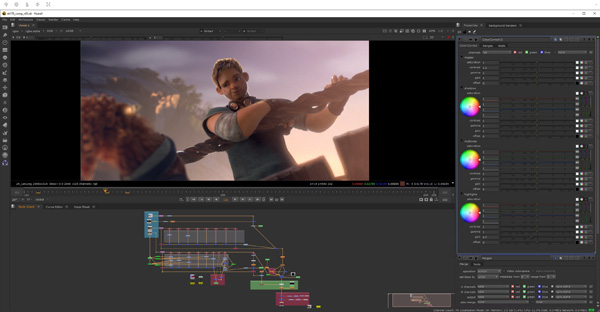 The cloud-based studios can be started with quite limited resources if necessary, after which the user can scale them up when rendering demands peak, and shrink them back down once projects are completed. Artists can be supplied with access to just the right amount of high performance infrastructure for only as long as needed – procuring, setting up and local networking are not required.
The Nimble Studio service supports both Windows and Linux. If the studio uses custom applications, it may bring software into the service environment via Amazon Machine Images (AMIs) to help migrate the tools from on-premises to cloud infrastructure. Within this same environment, AWS Thinkbox Deadline render management application functions as a core capability.
The following studios are examples of different organisations that have made use of Amazon Nimble Studio. Scalability and the option to hire and work with artists located anywhere were the main attractions for them.
Amazon Nimble Studio in Action
Anjekumi connects gamers and enables them to play games from anywhere in the world on devices. "Amazon Nimble Studio solves some key issues in our production pipeline," said Kurt Rauer, CEO, Anjekumi. "Our business is global by nature and with this service we are able to engage external staff at any location without the associated set-up work."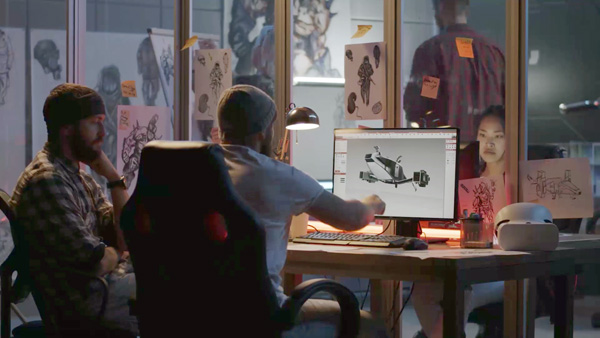 Dina Ibrahim, Executive Director at San Francisco State University said, "AWS serves as a path forward for our creative programs, as we are looking to moving more of our education experience to the cloud in the near future. Approaches like Amazon Nimble Studio give students easier, hands-on access to up-to-date content creation tools, which better positions them for careers."
"We believe the future of production is dispersed teams and agile studios. Geographical access to a ready pool of talent is no longer an obstacle to creativity, and is very significant for us," said James Bennett, Founder and Director of VFX & Animation, Shomen Productions, a virtual animation and VFX studio that creates branded content. "A system like Amazon Nimble Studio allows your team to scale production resources at will and collaborate with creatives across the world as easily as if they where sitting next to you."
So far, Amazon Nimble Studio is available in six AWS Regions and AWS Local Zones across the US, Canada, Europe (London) and Asia Pacific (Sydney). Further regional support is expected soon.
AWS for Media & Entertainment – Cloud-Ready Tools
Amazon Nimble Studio is a part of the other new initiative that AWS has launched, AWS for Media & Entertainment, which makes it easier for users to find, set up and deploy purpose-built AWS capabilities and partner tools. The new Nimble Studio tools are among the services available through this initiative. A number of external companies' applications built for access through AWS will be available as well.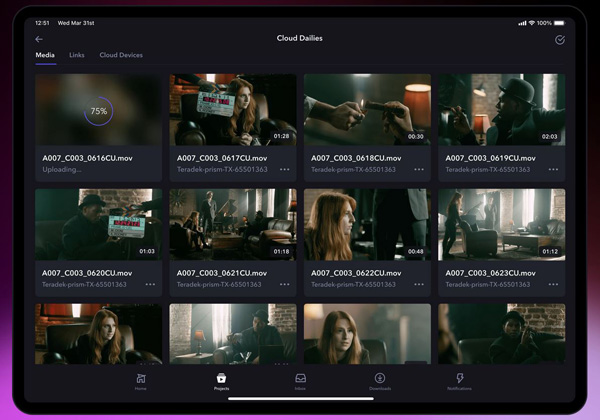 Frame.io Camera to Cloud
For example, Frame.io's software gives productions on set, on the road or working from home or a studio, realtime collaborative review and approval tools with frame accurate commenting and integrated messaging. The features are centralised in an interface, taking the place of feedback via email or spreadsheets to track changes and notes.
Frame.io Camera to Cloud application securely publishes footage to the cloud so producers, studios, agencies or editors can receive and monitor camera files straightaway, as the shoot proceeds. The Frame.io system centralises the assets in the cloud.
Extending Frame.io into workflows is made possible through Webhooks and Custom Actions, tools that work best on AWS Lambda, a serverless compute service that runs code without provisioning servers. These features may be used to connect to project management systems, on-premises storage and video play-out servers.
Data Management, Graphics, Editorial, Storage
Qumulo also makes its high-performance file data management available via AWS, accessible to Amazon Nimble Studio users. Workflows can be conducted at massive scale and performance across almost all aspect of the media and entertainment data lifecycle on AWS global infrastructure at petabyte scale, with real-time visibility, predictive caching and a comprehensive API. Qumulo's agnostic file storage software was developed to make systems simple to manage in the cloud.
Various media producers that use Vizrt's all-software broadcast graphics tools, also use AWS services for live production and content management workflows, combining software, computing and networks. In particular, users can tailor Vizrt's new Flexible Access plans, developed for adaptability and customer control, to suit their organisations and customers.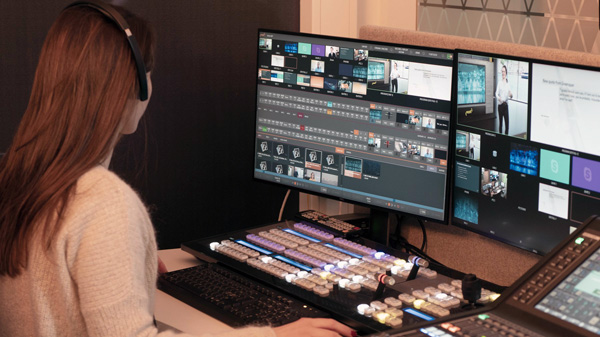 One of these plans is the Vizrt Production Control suite, which uses IP connectivity to access, and interchange with sources from, any location across the network in real time, operating remotely from any compatible desktop or mobile device, or in virtual environments.
Currently, companies are using Vizrt Production Control for complete, regular live show production and for corporate live events, while staff and stakeholders participate from various locations. The system is deployed using AWS for CPU and processing to produce the programming. Vizrt's content management software Viz One can incorporate cloud-based elements as well, for example, for remote archive storage or remotely accessing content for editing.
Also running on AWS, EditShare has EFSv, a platform teams can use to migrate their production environments to AWS using familiar production tools such as Premiere Pro and Blackmagic Design DaVinci Resolve. The platform is supported by EditShare FLOW media management software and facilitates collaborative editorial and archive workflows in the cloud. Its APIs help users develop automated storage workflows and integrate other systems. aws.amazon.com