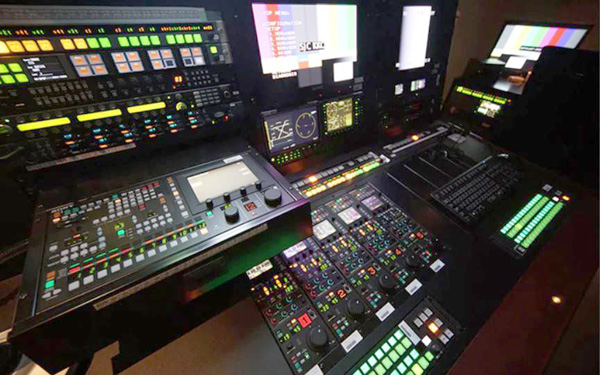 Satellite communication and multi-channel pay-TV company SKY Perfect JSAT Corporation delivers broadcasting services via satellite including TV programs ranging from, sports and entertainment to movies and music to its subscribers.
SKY Perfect JSAT has upgraded the video production equipment in Studio 3 of the Sky Perfect Tokyo Media Centre to produce in 4K HDR, and from February 2018 began 4K production and simultaneous 4K/HD live broadcasts, mainly sports and entertainment programmes such as the football news show 'Sukasaka! Live' and the variety programme 'BAZOOKA!!!'.
Six studio control rooms operate at SKY Perfect's Tokyo Media Centre. Three of these serve as remote hubs dedicated to relay production while the other three, which are the subject of this project, are control rooms linked to studios. The upgrade work focussed on HDR production for 4K broadcasts. They currently broadcast in 4K over three channels on the SKY Perfect! Premium Service.
Planned Transition
The project was to be the first refresh their equipment had undergone in the ten years since they had relocated to Tokyo in 2009, and they also regarded the work on the current HD control rooms as an opportunity to plan a transition to 4K HDR.
The system's configuration centres on a 4K 4 M/E Sony XVS-8000 switcher with four permanent multi-format portable HDC-4300 cameras, and has a total capacity of six cameras.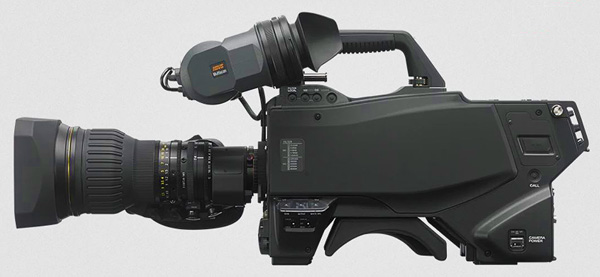 HDC-4300 camera
According to the design, each of the four permanent cameras is fitted to a Sony HDCU-2500 Camera Control Unit and BPU-4000 Baseband Processor Unit. If a fifth camera is used it can be operated as-is, and a further CCU and BPU is available for a sixth camera. Within a narrow time frame of one month, Sony conducted all of the on-site construction, which involved keeping essential pre-existing equipment and wiring intact, as well as the operational testing.
The studio control room design was intended to cater mainly for 4K production, but SKY Perfect still needed to be able to handle HD production, which had been the mainstay up until now. The company also needed to consider means of distribution other than broadcast, and aimed for a flexible system that could handle SDR and HDR production, as well as HLG, PQ, ITU-R BT.709 and BT.2020 colour spaces.
Efficiency Plus Image Quality
To manage all these demands within a single control room, they identified the fundamental concepts underpinning the entire system configuration. They decided on a simple design in which the control room would always operate in 4K, with the assumption that any HD programmes would be downscaled into HD in the final stages of production.
This would make all of the equipment more useful in the longer term and control the overall cost. Due to the planning time, 12G-SDI and IP were passed up in favour of a 3D-SGI base, but to actually make this environment work, they closely reviewed the signals that needed to be monitored at 4K image quality and resolution, and used a single 2SI (two-sample interleave) 3G-SDI connection to review all of the other 4K video signals directly in HD for monitoring.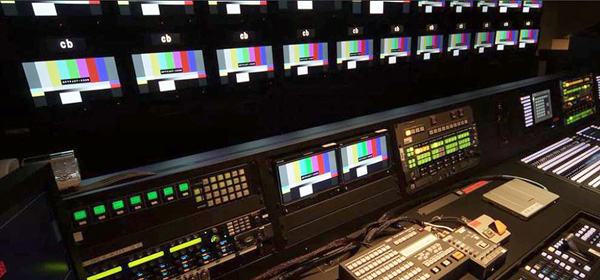 In theory, this would produce jaggies, or artefacts, but as it was not a problem in practice, this was the method the company applied. 2SI is a type of quad link, comprised of four 3Gb/s HD-SDI links that each transmit a quarter of the video stream. Each quarter shows the same image at 1920 x 1080 resolution, but focusses on certain pixels of the image. The four quarter-images are then combined to create a 3840x2160 image, still using the existing 3G existing infrastructure and equipment.
Identical Operation
Perhaps the biggest challenge was putting together a system that was capable of broadcasting live, and simultaneously in 4K HDR, 4K SDR and HD SDR.
As the company does not have an in-house operational engineering team, instead using external engineers for operations, the system needed to be operated in the same way as the existing HD control room, in an environment that allows inexperienced operators to accurately monitor signals in any situation. Sony helped them automate certain parts of the process to save operator time and avoid errors. A batch-configuration feature for all functions was set up, for example, with automatic LUT switching for each 4K monitor during 4K HDR operation, and automatic linking of 4K/HD monitors during simultaneous 4K/HD production.
Operating the system in a new format took practice, similar to the transition from SD to HD, but so far no confusion or problems have arisen concerning the new workflows, and they have achieved the familiar operational feel that they wanted from the beginning.
HDR Ready
SKY Perfect said they are often asked whether they have felt a true need to become HDR-capable in the studio as well as external locations. All their testing so far has concluded that in fact, even for studio programmes, HDR looks significantly different.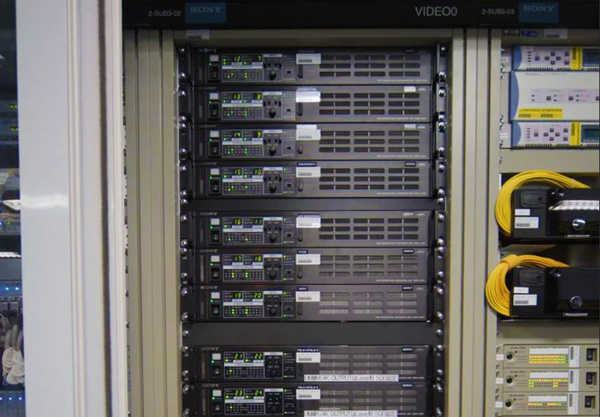 Control room storage.
As the productions are largely sports and live programming, they wanted to be able to produce consistent HDR content, whenever it was being used. Furthermore, as most of the core Sony 4K equipment is HDR-capable anyway, and it was possible to become HDR-capable without much additional investment, they decided to upgrade with a HDR-capable studio control room.
This means they can operate the control room using either SDR (BT.709) or HDR, but are now focusing on SDR operation because they are familiar with it. Once they have more experience with HDR, they plan to more actively produce HDR programmes, and are also hoping that broadcasters on other channels will use it as well.
Without the Sony HDRC-4000 HDR Production Converter Units in particular, SKY Perfect feels that productions in multiple resolutions and colour spaces, and simultaneous 4K/HD-broadcasting, would have been far more difficult. At this stage, 4K broadcasts often use HD source material, nevertheless, they are particularly satisfied with the quality of the upscaled image that the HDRC-4000 produces. They are now looking forward to the upcoming software applications and updates that will further support their new operations in the future. pro.sony