AJA and SKAARHOJ Integrate AJA FS Devices with Rack Control Duo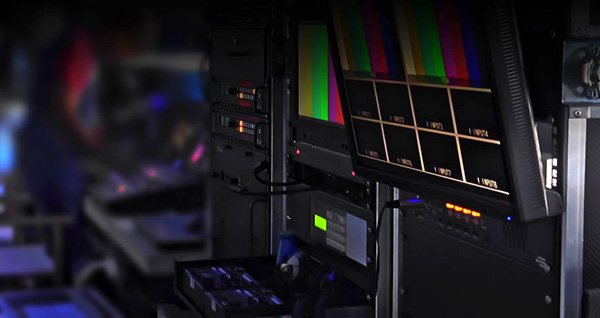 AJA and SKAARHOJ have combined their expertise to integrate control of AJA's FS line of frame synchronisers and converters with SKAARHOJ's new Rack Control Duo broadcast controller, making RGB colour correction and other parameter adjustments much simpler and faster during live production across one or many FS devices and channels.
Developed in partnership with broadcast services provider NEP, Rack Control Duo supports AJA's FS-HDR, FS4, FS2 and FS1 devices and is capable of ganging control of multiple FS products and processing channels together, making set-up and on-the-fly adjustments faster and easier for operators and engineers with a single tactile hardware control panel.
SKAARHOJ in Denmark specialises in universal broadcast control panels, manufactured to give each customer the exact form factor they need. The result is flexible hardware platforms that support the continuously changing control needs of live content producers. They can integrate control of hardware or software in their infrastructure, and retain tactile control so their eyes can stay on content creation tasks.

SKAARHOJ's new Rack Control Duo
Made for OB trucks, concerts, sporting events, corporate AV and other production environments involving multiple source signals, Rack Control Duo's tactile knobs and buttons allow simultaneous adjustments across multiple AJA frame synchronizers. It supports up to 20 channels from different FS devices that can be grouped together for ganged adjustments, and has 30 programmable four-way buttons, 12 encoders and an Ethernet port with PoE. The ability to make simultaneous RGB corrections across FS units means operators can conform colour for multiple sources to achieve the desired final look.
Operators can also use the panel to recall and implement presets from previous setups across one or more FS devices. When used in conjunction with FS-HDR real-time HDR/WCG converters, RGB colour corrections can be performed via Rack Control Duo prior to HDR to SDR or SDR to HDR transforms, which takes better advantage of AJA's FS-HDR v3.2 firmware update.
By simplifying real time HDR/WCG transformations, FS-HDR helps to maintain the look a production has designed – across SDR to HDR, HDR to HDR and HDR to SDR transformations for 4K and HD projects. A universal converter/frame synchronizer, FS-HDR meets HDR and WCG requirements of broadcast, OTT, production, post and live event AV environments, where low latency processing and colour fidelity are needed for workflows up to 4K. Developed in partnership with Colorfront, the FS-HDR's HDR/WCG functionality is powered by Colorfront Engine proprietary video processing algorithms.

AJA FS-HDR
NEP Chief Engineer and VP Dan Turk was a key contributor to the development of the Rack Control Duo to support live HDR colour correction and conversion for ten FS-HDR units during broadcasts of the halftime show at the 2020 North American football championship game.
"Controlling multiple FS-HDRs with Rack Control Duo gives you the live feel and quick response so that when you're on the air and need to make an on-the-fly colour adjustment to one of your camera sources, you can do it with the press of a button," he said. "Otherwise, you're using a mouse with a slider or clicking arrows on a keyboard, which slows operators down when fine-tuning signals during live broadcasts."
"Partnering with NEP on development and AJA to refine full integration of Rack Control Duo with FS frame syncs and converters has resulted in a completely new system that helps production professionals align colour and conversion across variable sources in demanding live production scenarios of all kinds," said Kasper Skårhøj, Founder, SKAARHOJ. "Collaborating with AJA has also made moving this system to market very quick." www.aja.com