Magewell's 12G-SDI 4K Card Bridges 4K Transport Gap for Video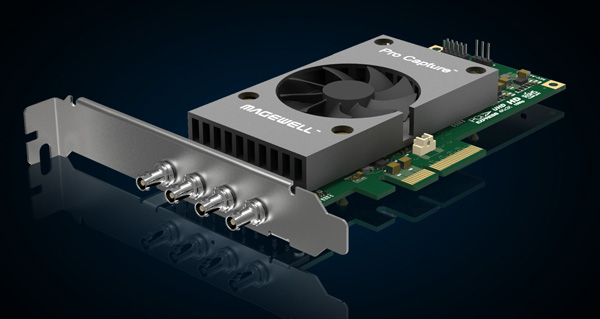 Magewell, video interface device developer, is launching a new 12G-SDI 4K model of PCIe video capture card in its Pro Capture line. The Pro Capture SDI 4K Plus captures 4K video at 60 fps over a single-link 12G-SDI, dual-link 6G-SDI or quad-link 3G-SDI connection, which gives users and systems integrators a high degree of flexibility in interface standards for 4K signal ingest.

Users that need to support 4K video workflows now are faced with several different interface standards for moving 4K content into their systems. Single-link, 12Gb/s SDI is one of the newer, more efficient connectivity standards for professional 4K transport, but a large proportion of existing equipment still needs quad-link or dual-link connectivity. With support for all three methods, the single-channel Pro Capture SDI 4K Plus card is compatible with the most recent and the earlier 4K architectures and systems.

By supporting the straightforward 12G-SDI infrastructure and remaining compatible with camera, broadcast and production gear that is not capable of single-link 12Gb/s connectivity, the card is useful to users whose video equipment may vary between projects, and for systems integrators or OEM developers who need to build versatile, future-proof systems.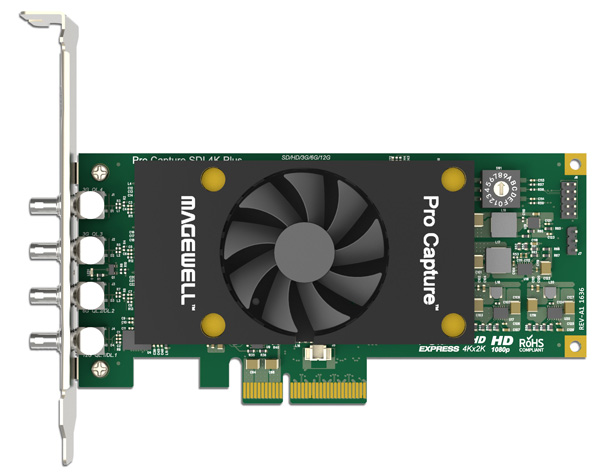 Magewell's new card supports resolutions up to 4096x2160 4K digital cinema specifications, including the 3840x2160 Ultra HD television standard. Input video – including SDI-embedded audio - can be fed out to several software applications simultaneously, with independent control of the resolution, frame rate and video processing settings for each one. 10-bit, FPGA-based video processing allows up/down/cross-conversion that preserves quality, image adjustments, graphic overlay and other tasks without over-subscribing the host system's CPU.

The design of the Pro Capture SDI 4K Plus is compact, measuring 139.7mm x 68.9mm (5.5in by 2.7in), and fits into a large choice of standard and specialized system chassis. Launching at InfoComm 2017, held 14-16 June in Orlando, Florida, it is due for release at mid-year 2017.

Magewell's universal Pro Capture drivers support Windows, Mac and Linux operating systems and are compatible with commonly used encoding, streaming, live production, collaboration, video conferencing, lecture capture, medical imaging and VR creation software. A wide-scope SDK is also available to third-party developers to directly integrate the Magewell cards' functionality into custom software and turnkey systems. www.magewell.com