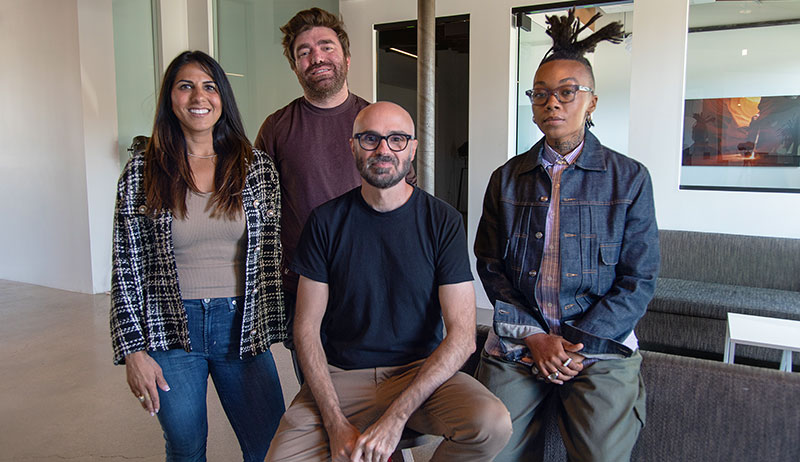 alter ego team in Santa Monica - (L - R) executive producer Pravina Sippy, colour assistant Corey Martinez, partner and colourist Eric Whipp and colourist Kya Lou.
alter ego, a Canadian commercial post-production facility, has opened an LA studio in Santa Monica. Leading the new location is alter ego partner and colourist Eric Whipp, working with colourist Kya Lou, colour assistant Corey Martinez and executive producer Pravina Sippy.
alter ego has grown steadily since its launch in 2007 and the team has been contemplating expansion for some time. "The post-pandemic world has made our industry receptive to working remotely, which makes it a good time to expand right now," said Greg Edgar, managing partner at alter ego.
The LA studio will deliver colour, VFX, finishing, CG and motion design services and, like the Toronto team, focusses mainly on commercials. They are able to give creative support on a variety of other content as well, including series and feature films.
The studio houses two new grading suites, each equipped with a Baselight TWO grading system and connected to alter ego's Toronto systems. This makes a total of eight suites across the company ready for HDR, SDR and P3 work.
"We opened alter ego with two Baselight suites over 16 years ago, and never looked back," said Eric. "It's a grading tool that suits us. We love the VFX capabilities and integration and it also keeps all of our suites synced with each other. These days, jobs always need pick-ups and last-minute changes, which we can do in either location. The new tools in Baselight 6.0 are terrific – specifically, X Grade. It's a very fluid method of controlling specific areas of the image without bad keys or noise. I felt the same way when I first used Base Grade in version 5.0."
A primary colour correction tool in the upcoming version 6.0 of Baselight, X Grade balances the colours in an image selectively, and works inside its own perceptual colour space. Colourists can make multiple localised complex corrections in a single layer, without having to create keys or mattes, and perform zonal transforms without relying on LUTs.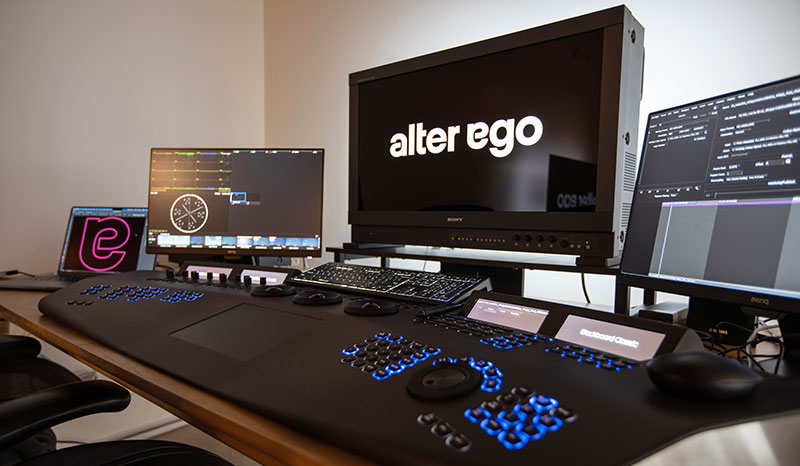 Joining the team on Baselight in Santa Monica is colourist Kya Lou. Her distinctive style can be seen in her work for Old Spice, Google and Calvin Klein. Eric commented, "She has a great sensibility and attention to detail with a level of polish and structure to her work that makes it stand out from other reels."
The company's expansion has also led to the addition of another talented colourist in Toronto, Ana Escorse. Ana won the music video award at the 2022 FilmLight Colour Awards for her work on Rachel Reis' 'Lovezinho'. Born and raised in Brazil, her sense of colour can be traced back to her early exposure and attraction to Brazilian Baroque art.
"Ana's rich, vibrant style is a great addition to our team," said Eric. "Diversity is important to us, too. We've been actively looking for female talent and growing our own talent. The industry has long been very male-driven and it's great to help change that." alter ego LA officially opened its doors on Wednesday 13 September, starting off with a variety of commercial projects and three feature length documentaries, and will soon begin work on the new feature film 'Furiosa'. www.filmlight.ltd.uk