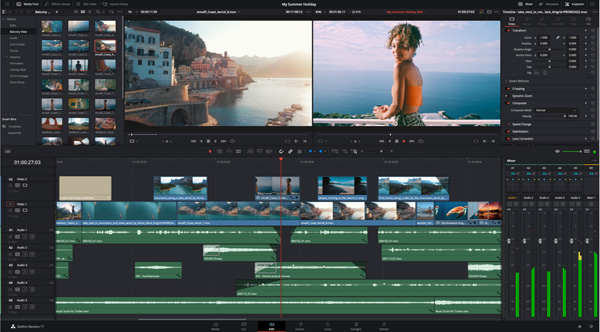 Blackmagic Design DaVinci Resolve 17 includes HDR grading tools and upgraded primary colour controls. The new Fairlight audio engine is built on Fairlight audio core and supports 2,000 audio tracks in real time.
Among the new tools for editors are a redesigned inspector panel, new bin sorting and metadata clip views, and compositions from the Fusion page are now interoperable on the Edit and Cut pages.
The DaVinci Resolve 17 public beta is available for download now from the Blackmagic Design website.
Colour Correction – Colour Page
Resolve 17's Colour page is updated with new HDR grading tools, redesigned primary controls and AI-based masking. Power Window drawing has been improved, and there are new split screen wipe options, improved scopes and support for 17-point 3D LUTs. A new Saturation vs Luma curve adds a filmic way of increasing and removing saturation by skewing the adjustment to increase saturation in the darker regions of the image more than the brighter areas, similar to the response of film negative.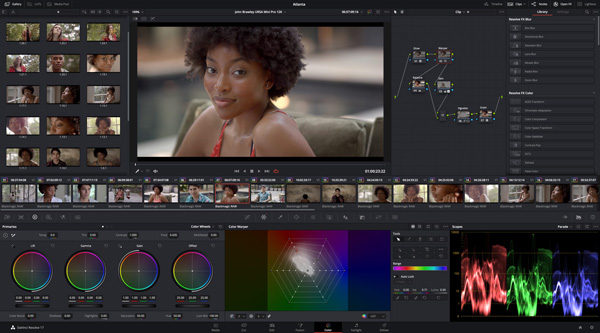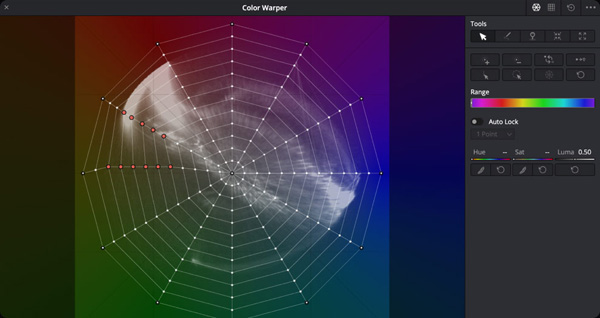 With the HDR grading palette, users can create colour wheels with custom roll off for specific tonal ranges, giving more scope for creative control over fine adjustments. The wheels include exposure and saturation controls for each zone. They are colour space aware to give perceptually uniform results.
The mesh based warping tool supports adjustment of two colour parameters at once. Colourists can adjust both hue and saturation, or chroma and luma. Adjustments are made by dragging control points, producing smooth falloff for clean, natural looking adjustments.
Using the DaVinci Neural Engine, Magic mask makes selecting and tracking people for targeted correction easier, automatically creating masks for an entire person or for specific features such as the face or arms. Matte finesse tools are included, with automatic tracking and the ability to add and remove strokes. The Neural Engine applies two AI techniques – machine learning, which develops systems that can learn from experience, and neural networks that are modelled on human neural networks to help the learning process. These techniques are useful for solving time-consuming complex, repetitive problems.
DaVinci Resolve colour management adds timeline colour space and gamma settings, DaVinci wide gamut and DaVinci intermediate, to create a universal internal working colour space. It is larger than the colour spaces that cameras can capture, or BT.2020, ARRI wide gamut and even ACES AP1, to prevent loss of image data from any source.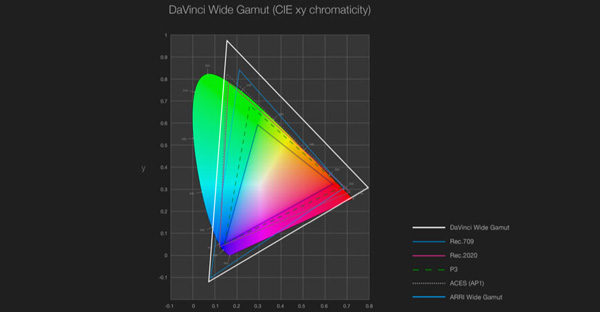 Audio – Fairlight Engine
Fairlight's mouse and keyboard edit selection tools are updated to help users work faster. Edit selection mode with new keyboard shortcuts exposes context-sensitive functionality that previously could not be accessed on the Fairlight Audio Editor. Blackmagic says that the intuitive, familiar nature of these tools will help editors switching over to Fairlight gain confidence quickly.
The new Fairlight Audio Core and FlexBus audio engine and bussing architecture bring support for 2,000 tracks. The low latency Fairlight Audio Core engine intelligently manages the workload over all CPU cores and threads, as well as the Fairlight Audio Accelerator card, which is optional hardware. Each of the 2,000 supported tracks have real time EQ (equalisation), dynamics and six plug-ins, all on one system.
FlexBus achieves its flexibility by using up to 26 channel-wide multi-purpose buses instead of fixed buses. Users can send tracks to buses, buses to tracks, and buses to buses, in as many cascade layers deep as needed to create very large scale sessions. In other words, you can route any element to any other element.
Previously, enabling such large projects with thousands of tracks on a single system required chase computers to be synced with a primary system. For support, DaVinci Resolve's multi user collaboration allows multiple sound editors work on the entire project at the same time.
The new transient analysis tool automatically detects individual words, beats or sound effects. Transient markers are displayed as vertical lines in the waveform that identify specific parts of a sound for editing, and users navigate between them using the arrow keys.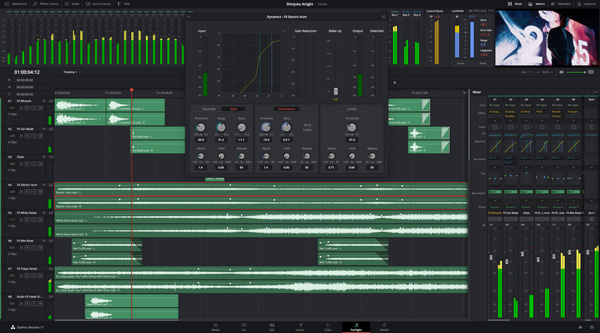 Editorial – Cut Page
For editors, a metadata slate view has been added with bin dividers, zoomed waveforms for audio trimming, smart reframing and other time saving tools. The Inspector, a panel on DaVinci Resolve's Cut, Edit, Media, Fairlight and Fusion Pages that allows you to manipulate many aspects of the media on the timeline, is now unified and more consistent.
The bin dividers in the Metadata slate view helps the editor sort and find clips based on scene, shot, camera and so on. When used with source tape, it is a fast way to move between scenes or groups of shots. Larger audio waveforms can now be referred to while trimming.
It's now possible to edit in 16:9 HD or Ultra HD, and create square or vertical versions for posting to Instagram and other apps. The DaVinci Neural Engine automatically identifies faces and repositions them inside the new frame instead of leaving it for users to do manually.
A multi column view and descriptive icons now make it easier to find the effect, transition or title you are looking for. To see a live preview in the viewer, users can also hover scrub the mouse across individual items.
Live production projects from ATEM Mini Pro ISO can be opened as a video edit. The sync bin with multiview allows fine tuning edits from the original live production or replacing shots. Editors can use the HD ISO recordings from ATEM, or relink to Blackmagic RAW camera files for finishing in Ultra HD.
Editorial – Edit Page
Through the edit page, editors can create managed, independent proxy media to improve system performance and make projects portable. Proxies can be as small as 1/16th resolution and saved as H.264, H.265, ProRes or DnxHR, generated internally or externally by third party tools.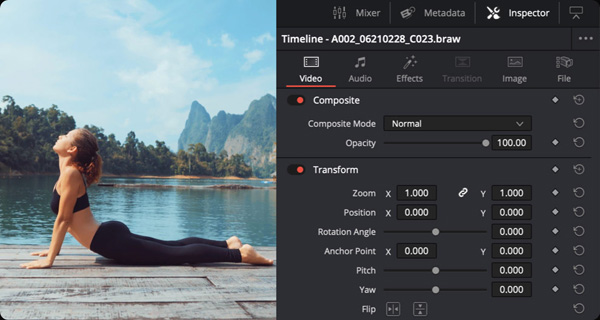 Inspector panel

Creating synchronised multicam clips is also improved by stacking clips on the timeline and using the new auto-align tool to sync based on timecode or waveform. Clips can also be moved manually into position to create a sync map. Timelines can be converted into a multicam clip or a compound clip.
New Resolve FX 3D, HSL and luma keyer plug-ins allow users to pull keys directly in the timeline on both the Edit and Cut pages. Alpha channels from Resolve FX and Open FX plug-ins are now supported, as are embedded alpha channels and external matte files, resulting in more compositing options.
With the render-in-place command, render files are generated for any portion of the timeline. Once rendered, the user can move, edit and trim without having to re-render. Unlike cache files, render files are easy to manage and portable.
The editor can use source-side adjustments to change a clip before editing it into the timeline. These might include adjusting RAW controls, adding a LUT, remapping audio tracks or changing the playback frame rate before editing a clip into the timeline.
Editors can now import and export individual timelines or bins as small files, small enough to email, which gives teams more ways to collaborate.
New support for native processing of interlaced timelines will help to result in higher quality compositing and titling for interlaced deliverables. DaVinci Neural Engine de-interlacing analyses motion between fields to reconstruct progressive frames, with real-time 3:2 pulldown removal.
Compositing – Fusion Page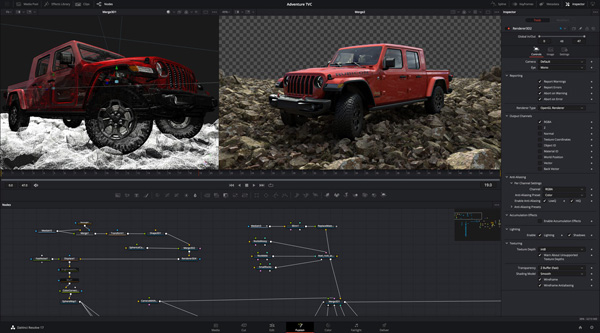 Compositions that artists create on the Fusion page can now be saved as templates and used on the Edit and Cut pages. Should the duration of an animation need to be changed in an edit, new animation curve modifiers can be used to automatically retime it. Audio playback with waveform display helps create precisely timed animations, sharing markers with the edit page. A number of GPU accelerated Resolve FX have been added to the Fusion page, including noise reduction and sharpening tools from the colour page.
New node view bookmarks make it easy to navigate large comps, the toolbar can be customised with their favourite tools, and vertical layouts are supported in the node editor.
Using new node tree bookmarks, editors can navigate quickly to any part of the node tree in a large composition, and vertical node tree layouts give more room to view the spline and keyframe editors when creating animations. Toolbars may be customised and switched, based on the current task.
Teams and Developers
Users now have greater format support on the media page, new delivery options and better metadata support with consistent timeline navigation across all of the pages. Editors can optimise their media across all projects on a system, and share smart bins. More GPU- and CPU-accelerated Resolve FX, smart filters and image scaling algorithms are available as well.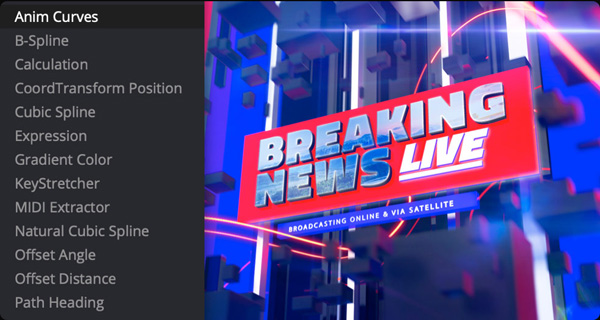 The multi-user collaboration tools available in DaVinci Resolve Studio, are now included in the free version of the software as well. Teams can keep multiple users working on the same project simultaneously, for free, in effect building their own post production studio. Support for growing files in the media pool allows editors to start editing while files are still being recorded – decoding support is included for QuickTime PNG, uncompressed RGB 8-bit and YUV 10-bit AVI, and Panasonic 8K Super Hi-Vision clips.
DaVinci Resolve 17 supports frame-based metadata from Blackmagic RAW, ARRI, RED and Sony camera files, plus decoding and rendering per-frame of EXR metadata. As well as the existing Python and LUA scripting, version 17 adds a new workflow integration API and an encoding API that third party developers may use to create integrated asset and workflow management for DaVinci Resolve, as well as encoder plug-ins for custom output options. www.blackmagicdesign.com