EditShare and Helmut Extend Automation and Control for Premiere Pro Workflows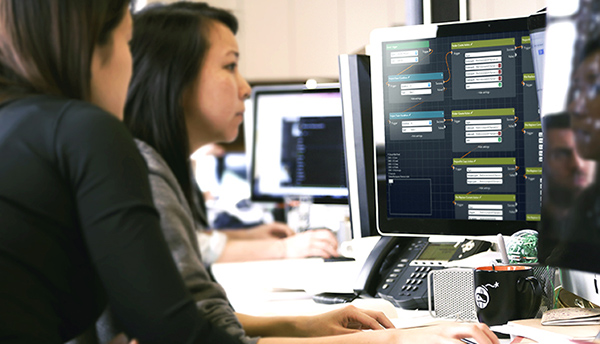 EditShare, networked shared storage specialist, and Helmut, a video management software developer for Adobe users, have been working together to integrate their software in order to develop efficient post production workflows.
HelmutFX co-ordinates administrative and organisational tasks between Adobe Premiere Pro, After Effects and Audition and the user's storage environment by adding an automation and control layer. As a result of the two companies' initial collaboration, EditShare's Flow media asset management system is integrated with HelmutFX software. The software communicates with all connected systems - ingest, archive, backup, MAM, PAM and so on – and is able to handle quite complex processes.
The basic Helmut installation manages Premiere projects, user profiles and preferences. From there, modules extend the tools to integrate with users' specific hardware and software - for example, with Flow MAM. Access privileges can be assigned in the usual way and workflows are managed through templates.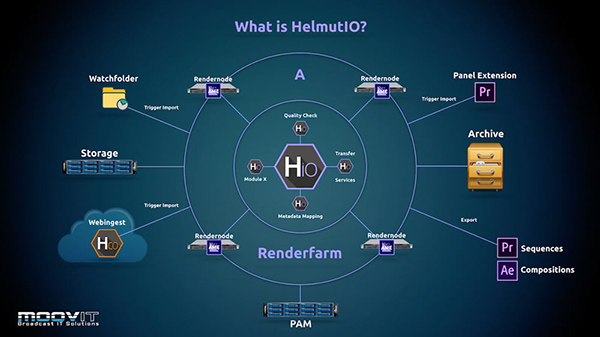 By integrating with EditShare Flow media asset management, the Helmut and Flow API architecture automates both the creative workflows and redundant technical work, optimising productions overall. Helmut uses a node-based approach to workflow configuration called Streams Engine to quickly set up functions like encoding, migration, render farm control and technical tasks for Premiere Pro based post workgroups.
HelmutFX works in the background while managing search and administrative processes for Premiere project files – sorting, distributing and backing up edited files automatically. Instead of having to adapt workflows to the software, HelmutFX is able to adapt to the existing workflow because the software is designed with a small number of functions that are used across all of the user's production environments.
The idea is to make setting up workflows, especially collaborative workflows between different teams using the same content, simpler, faster and more automatic, and therefore making post production operations less technical.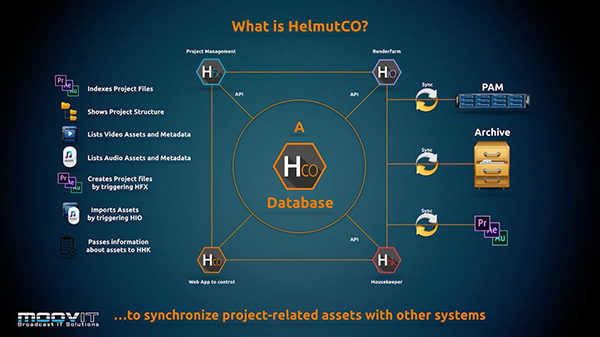 New Integrations for Faster Post
Now, further integrations and optimisations have been made between EditShare storage applications and three new Helmut tools - HelmutIO render farm control, Cosmo visualisation for indexed projects, and Housekeeper metadata-based automation for file movement. All of them were demonstrated at the IBC2019 show in Amsterdam last week 13-17 September.
HelmutIO is a new rendering workflow developed for Adobe Media Encoder that manages rendering resources on the network, identifying idle and unused CPUs or servers and automatically exporting and assigning clips and sequences from Premiere Pro and After Effects projects.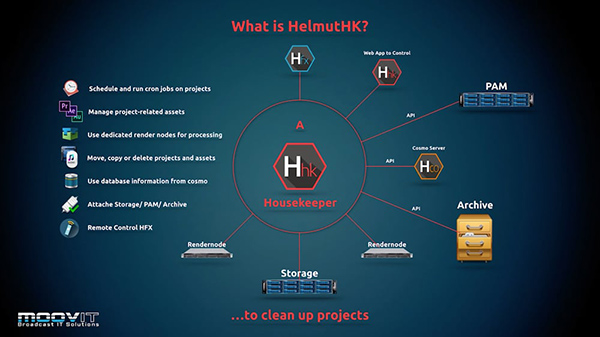 Cosmo indexes projects including folder structures, metadata, assets and sequences before making them available in a database. At the same time, this data is visualised in a dashboard used to identify and locate content. This supporting database is used to synchronise Premiere Pro projects and third-party systems without having to open Premiere itself.
Helmut Housekeeper, or HK, connects directly to Cosmo, utilizing the metadata it generates to delete, move, archive and manage projects and project-related assets. Tasks can be automated, performed manually or set to run at a specific time. HelmutHK can also distribute these tasks across HelmutIO's render nodes in situations where both Cosmo and HK are being used together. www.editshare.com