EditShare QScan Updates Simplify IMF and Dolby HDR Compliance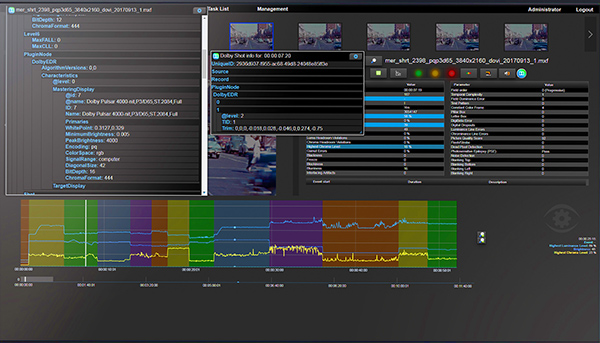 QScan Dolby Vision monitor
EditShare's automated quality control (AQC) application Qscan now has two new facilities for compliance testing of media prior to delivery – an IMF dashboard that visualises the contents of IMF packages, and HDR verification for post-production facilities that are certified for Dolby Vision mastering.
The new node-based IMF dashboard gives users a top-down view of their IMF packages. Because reading IMF bundle compositions is complex, the update makes it simpler and more affordable for production and post-production facilities to add IMF workflows to their services. The new facility was demonstrated at NAB 2019.
Howard Twine, Director of Software Strategy at EditShare said, "Early adopters of IMF compliance workflows face the cost of investing in and learning new to use new systems. QScan's IMF node-based dashboard is designed so that most media professionals can afford and use it fairly easily."
QScan automates compliance and delivery requirements with proprietary single-pass analysis processing, which can be applied at any point during the workflow and displays all of the critical information along a timeline with thumbnails. A visual breakdown of the data makes it simpler to identify where within the content problems may appear, and to resolve them sooner in the workflow.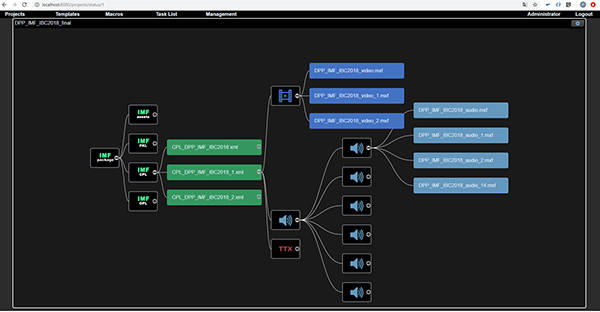 QScan IMF dashboard
Dolby Vision-certified mastering studios also now have HDR compliance testing within QScan software. Aiming to enhance depth and colour in video and improve their consumer experience across all devices, many major studios and streaming service providers now prefer Dolby Vision for HDR processing. Therefore, compliance for delivery of Dolby Vision HDR content has become more important.
QScan can detect the presence of the Dolby 'metafier', a command line metadata utility that is one of the Dolby Vision Professional Tools, which makes it easier for facilities to test Dolby Vision HDR content and view errors. It can check the XML metadata without accessing the image sequence, then validate and modify the XML if required.
Like most QC systems, QScan tests the integrity of all the metadata and essence files contained within an IMF bundle. But it is crucial for a user to understand the downstream workflow implications of an error found in one essence file in order to take advantage of the efficiency of IMF packages. As well as guiding users to compromised elements, the QScan IMF node view gives an expert view of the overall package.
Users can examine XML files like the Composition Playlist (CPL), for example, and quickly understand the structure of the package and how subsequent versions will look, without having to create a complete version and viewing the errors that are transferred to the output, saving time and money. In this way, the QScan node-based approach shortens the learning time required to adopt IMF across organisations that want to improve their versioning processes. www.editshare.com