Colorfront Shows 8K HDR and Dolby Atmos Support at NAB 2019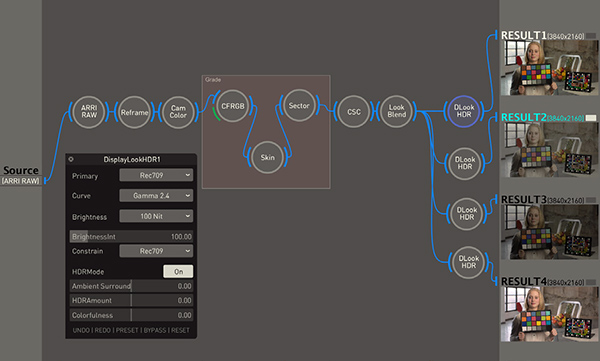 Colorfront Transkoder 2019
Colorfront showed new 8K HDR capabilities and updates across its product lines at NAB, and started a new collaboration with Pomfort to bring more efficient colour and HDR management on-set. They have also continued their technology partnership with AJA with new firmware development for the FS-HDR real-time HDR/WCG converter and frame synchroniser.
Colorfront demonstrated Transkoder 2019, which has a new HDR GUI, performing real-time decompression, de-Bayer and playback of R3D material from RED and Panavision DXL2 8K cameras with the RED MONSTRO 8K VV sensor. The video was displayed on a Samsung 82-inch Q900R QLED 8K Smart TV in HDR and in full 8K resolution (7680 X 4320). The de-Bayering process is optimised through the new NVIDIA GeForce RTX graphics cards with Turing GPU architecture, with 8K video output up to 60p using AJA Kona5 video cards. The NVIDIA cards are also available on Colorfront On-Set Dailies 2019, outlined below.
Commenting that 8K TV sets are becoming bigger and more affordable, and people are genuinely awestruck when they see 8K camera footage presented on an 8K HDR display, managing director Aron Jaszberenyi said that Colorfront is now working with several companies producing 8K HDR content. Transkoder's new 8K capabilities across on-set, post and mastering workflows show that 8K HDR is accessible now to a wider range of content creators.
Transkoder 2019 Supports Dolby and New Subtitling
Transkoder, Colorfront's transcoding software, handles UHD, HDR camera, colour and editorial/deliverables formats. It automates fast digital file conversion for studios and VFX facilities involved in motion picture and TV production, using commodity hardware to transcode, decode, convert, wrap and process almost any type of file to many different high-end file formats - faster-than-real-time.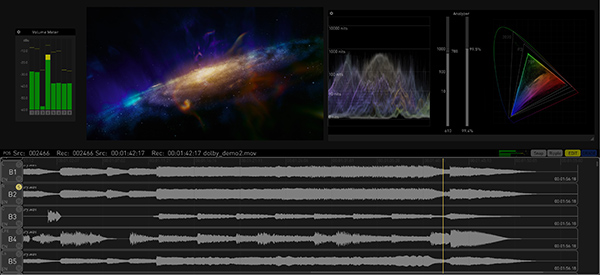 The Colorfront Engine that runs Transkoder has been re-engineered. The software also now has HDR GUI and 8K HDR workflows supporting recent camera and working editorial formats including Apple ProRes RAW, Blackmagic RAW, ARRI Alexa LF/Alexa Mini LF and Codex HDE (High Density Encoding) – which are also in the new 2019 versions of Colorfront On-Set Dailies and Express Dailies processing software.
Transkoder 2019's mastering tools have been expanded to support both Dolby Vision 4.0, and Dolby Atmos for home consumers with IMF and Immersive Audio Bitstream capabilities. The new Subtitle Engine 2.0 supports CineCanvas and IMSC 1.1 rendering. Both of these support a text-only profile, stored separately to save space, and a reliable burned-in image-only profile for subtitles. Together, these profiles simplify interoperability, consistent rendering and conversion to other subtitling formats, and ensures the preservation of content, timing, layout and styling.
Transkoder can now also package multiple subtitle language tracks into the timeline of an IMP, a package consisting of a packing list and all its assets. Further functionality supports fast audio QC, including Solo and Mute of individual tracks on the timeline, and a new render strategy for IMF packages enabling independent audio and video rendering.
 
Transkoder has recently been adopted by customers such as Sky, Pixelogic, The Picture Shop and Hulu. Andy Scade, SVP and general manager of Pixelogic's Worldwide Digital Cinema Services said that Colorfront systems are fundamental to their localisation and distribution services.
On-Set Dailies 2019 and Express Dailies 2019 – New Formats and HDR Playback
The updates Colorfront showed for the 2019 versions of Express Dailies and On-Set Dailies at NAB 2019 demonstrated the viability of 4K and 8K SDR/HDR dailies and monitoring on-set. Both applications are built on the Colorfront Engine, taking advantage of its ACES-compliant, WCG/HDR-managed colour pipeline supporting on-set look creation.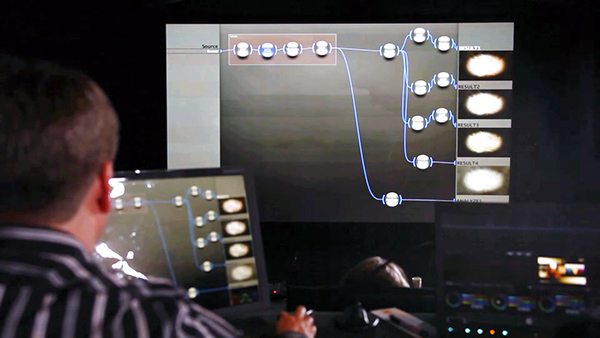 EFILM using Transkoder and On-Set Dailies.
It ensures the colour integrity of UHD HDR dailies and deliverables, with associated metadata, through the entire camera-to-post chain. Colorfront On-Set Dailies has a flexible node pipeline with unlimited outputs, and Express Dailies 2017 allows rendering of up to four concurrent deliverables, the distinguishing factor between the two products.
On-Set Dailies and Express Dailies both now support ProRes RAW, Blackmagic RAW, ARRI Alexa LF/Alexa Mini LF and Codex HDE (High Density Encoding). As in Transkoder 2019, the new version of On-Set Dailies supports the realtime 8K HDR workflow to set up an uninterrupted set-to-post pipeline from HDR playback through QC and rendering HDR deliverables.
Colorfront Contributes to New AJA FS-HDR 3.0
AJA Video Systems released v3.0 firmware for the FS-HDR real-time HDR/WCG converter and frame synchroniser. This update upgrades the colouring tools, and makes several other improvements for broadcast, on-set, post and HDR production that Colorfront has developed.
A new, integrated Colorfront Engine Film Mode, for example, brings ACES-based grading and look creation tools with ASC Color Decision List (CDL) controls and built-in look selection. The looks include film emulation looks, plus variable Output Mastering Nit Levels for PQ, HLG Extended and P3 colourspace clamp. That is, the user can assign acceptable values to colours that are either too light or dark for the intended display device. This mix of information is very useful when evaluating different displays and Display P3 capabilities. Display P3 is a colour space created by Apple using the DCI P3 primaries with a D65 white point, but applying sRGB transfer characteristics.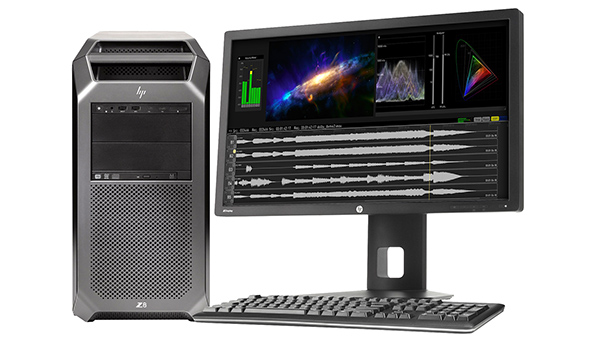 Colorfront licensed its HDR Image Analyzer software to AJA for AJA's HDR Image Analyzer in 2018. A major new version of the Analyzer is set for release during the second half of 2019.
Colorfront Goes On Set with Pomfort
Colorfront and Pomfort have worked together to integrate their respective HDR-capable on-set systems. This collaboration, based on Colorfront Engine, will include live reading of CDLs in ACES pipelines between Colorfront On-Set/Express Dailies and Pomfort LiveGrade Pro, giving motion picture productions better control of HDR images, and simplifying their on-set colour workflow and dailies processes.
LiveGrade Pro is a standard software for look management on set, made especially useful due to its scalability and integration with various camera workflows and setups. It is used to create and manipulate looks and apply them to the live image so that footage can be reviewed accurately. To make sure that the applied look is based on the correct camera settings, LiveGrade Pro allows the DIT to monitor the metadata from one or multiple cameras live. At post production time, looks can be exported in various ways, visually communicating the DP's and director's intent to post teams. www.colorfront.com