MTI Film Sees the Future in HDR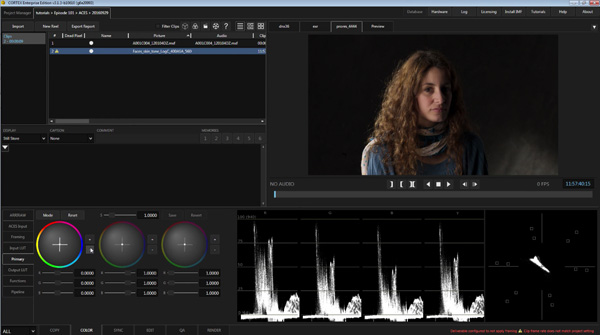 MTI Film is dedicated to post production, operating both as a facility handling dailies, editorial, VFX, colour correction and assembly for film, broadcast and commercial projects, and also as the developer of CORTEX, the software they design to process media from set to screen.
The company believes HDR is among the most significant technical advances in television in more than a decade, producing imagery with a significantly wider range of colours than standard dynamic range imagery, as well as greater, more lifelike contrast and brightness. The difference is immediately visible and very attractive to both content providers and consumers.
HDR Time, Effort and Resources
With a speciality in episodic television, MTI Film recently expanded its studio in order to process and deliver TV shows in HDR. The facility added new HDR-capable colour grading and finishing systems and Sony X300-2HDR colour correction monitors, and strengthened its infrastructure to handle the greater data loads that come with the new formats.
"We've invested in HDR because we believe it's the future," CEO Larry Chernoff said. "We think the new formats are going to be very popular. We have devoted a lot of time, effort and resources to properly servicing our clients who are interested in HDR, and to meeting the requirements of networks and streaming services." This time and effort were required because working in HDR demands not only hardware but also new workflows, protocols and creative approaches.
HDR10 and Dolby Vision, still the two principal HDR formats, differ from each other in image structure and workflow requirements. MTI's senior colourist Steve Porter said, "For Dolby Vision, two deliverables are incorporated into one file, an HDR master and an SDR master derived from it. For HDR10, the two deliverables are rendered separately." Each format has its adherents and each has strengths and technical constraints.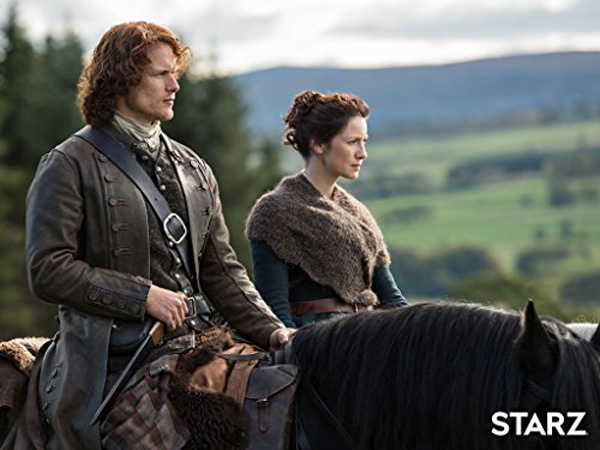 Two Formats
Furthermore, Dolby Vision is robustly supported by Dolby Laboratories, while HDR10 is open source developed by a community of programmers and engineers. Larry noted that Dolby, as a company, has invested a great deal of time, money, and effort into the Dolby Vision ecosystem. "Their philosophy appears to be 'HDR first', giving greater emphasis to HDR delivery over SDR, but accommodates both in an elegant packaging system," he said. "Because of the inherent financial objectives of Dolby, their system remains relatively closed. However, it also well defined and, as it matures, will remain in the hands of a coherent development team.
"HDR10, on the other hand, is an open format defined by committee and, therefore, potentially subject to differing corporate objectives and a wider array of opinions that could result in a longer development cycle. The initial HDR10 format requires significantly less metadata interaction with the essence, while the later HDR10+ is intended to address this much the same way as Dolby has. It will be interesting to see how long it takes for an institutionalized process to evolve."
Aesthetic Advantage
In either case, the aesthetic advantage over previous formats is clear, and post-production artists are being challenged to capitalize on them. "Colourists need to embrace the brighter, more dynamic qualities of Dolby Vision and HDR10," said Steve Porter. "We need to fully explore the greater latitude HDR affords in order to make each shot the best that it can be." He notes that the colour correction tools artists are using now can essentially support this exploration already, but the palette needs to be expanded into the correct colour space with corresponding monitoring equipment such as monitors and scopes - all of which are now available.
That is why MTI Film has placed as much emphasis on educating its staff as on adding new gear. Larry said, "We've put a lot of effort into training our people on the technical requirements and creative possibilities. We believe we have a very good understanding of HDR and know its sweet spot so that we can deliver top quality results to clients."
Hands-on HDR – MTI CORTEX
On the software side, MTI Film's CORTEX post processing applications for have been now updated to reflect HDR, among other interests, within its core functions. Based on a foundation of dailies tools, IMF & AS-02 packaging and upres algorithms, the new version 4 adds DCP packaging, integrates ACES colour support, and has a new Extended Edit tool and officially certified Dolby Vision metadata editing capabilities.
"CORTEX users can now manipulate Dolby Vision HDR metadata in the same way that they edit segments of video," said Randy Reck, MTI Film's Director of Development. "In the edit tool, they can graphically trim, cut and paste, add metadata to video, analyze new segments that need metadata, and adjust parameters within the Dolby Vision metadata on a shot-by-shot basis."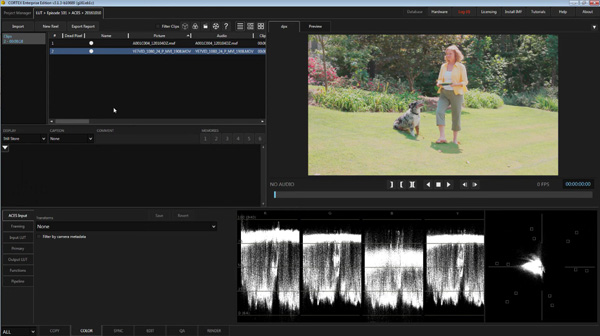 With the integration of the Dolby Vision ecosystem, CORTEX v4 contains a method for quality controlling HDR and SDR versions of a shot simultaneously, using Dolby Vision metadata. For delivery, the inclusion of Dolby Vision's particular version of the IMF output format – even though Dolby Vision includes metadata that is not currently part of the IMF specification - allows rendering and delivery of edited Dolby Vision metadata alongside HDR media in the one all-inclusive package.
Editing Environment
CORTEX v4's Edit Tool, available in the Dailies and Enterprise editions, has been updated to include regular trimming and repositioning of edited segments within the timeline, due to new drag-and-drop functionality. "We've always had a solid editing environment within Cortex to do simple tasks necessary for generating outputs like an IMF or DCP," Randy said. "Adopting a more standard drag-and-drop interface allows users familiar with NLEs to be productive on Cortex immediately using the Edit tool. There is no learning curve."
Because the progressive colour changes are best gauged with a two-monitor system, the look of the Edit Tool has also been updated entirely to accommodate a Dual Monitor layout, making it easier to scrub through media in the source monitor while keeping the composition in context in the record monitor.
These updates were released at NAB 2017, at the same time as the new subscription based DIT+ edition of CORTEX. Especially suitable for production schedules that include a hiatus when the package won't be used, for example, this is a fully functioning dailies package supplied on subscription for users who only need it for short periods of time. DIT+ contains all functions in the free DIT version of CORTEX plus the ability to render HD ProRes, DNx and H.264 files for delivery. www.mtifilm.com