MSI has released several new series of laptops equipped with NVIDIA GeForce RTX 40 series GPUs, up to 13th Gen Intel Core HX series processors.
Powered by efficient NVIDIA Ada Lovelace architecture, they are attracting attention at CES 2023 in Las Vegas. The Content Creation series, as well as several in the Gaming and Business categories, have been NVIDIA Studio validated, equipping them for access to NVIDIA's Omniverse, the RTX and AI-enabled platform that connects 3D workflows, replacing linear pipelines with live, synchronised collaboration.
NVIDIA Ada Lovelace
NVIDIA Ada Lovelace GPU architecture accelerates the RTX visual computing platform to increase rendering, graphics and AI performance. The Ada 3rd-generation RT Cores deliver up to twice the ray tracing performance over the previous generation, improving photoreal rendering. Enhanced RT Cores combined with new Shader Execution Reordering dynamically reorder inefficient workloads, improving shader performance as needed to speed up ray traced image rendering.
The Ada-based CUDA cores double the processing speed for single-precision floating point operations over the existing GPUs, which means higher performance for graphics workflows such as 3D modelling and compute workflows like desktop simulation for CAE.
New Ada GPUs support PCIe Gen 4.0 as well with twice the bandwidth of PCIe Gen 3.0. This improves data transfer speeds from CPU memory for data-intensive tasks such as AI and data science. Finally, new 4th-generation NVIDIA Tensor Cores enable and accelerate AI developments such as NVIDIA DLSS and the new DLSS 3, which uses AI to increase frame rates. DLSS 3 relies on the 4th-gen Tensor Cores and Optical Flow Accelerator on GeForce RTX 40 Series GPUs, to create the extra, high-quality frames.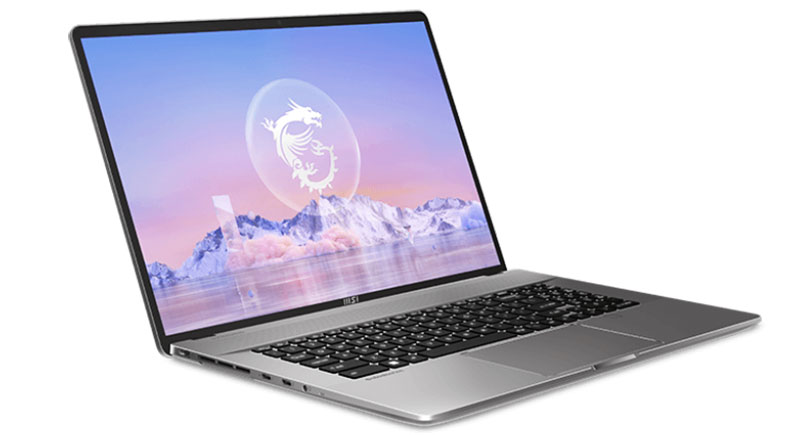 Supported by NVIDIA Studio systems for creators, hardware built with NVIDIA RTX GPUs have RTX optimisations in over 110 creative apps, plus NVIDIA Studio Drivers for stability and performance. They can also be used with NVIDIA's AI-powered tools Canvas, Broadcast and RTX Remix. MSI Stealth, Creator Z and Prestige series laptops come pre-installed with NVIDIA Broadcast, making it possible to upgrade an ordinary room into a studio using AI-based features.
Intel 13th Gen Desktop Processors
The new MSI laptops also include the new Intel 13th Gen desktop processors with an overall performance increase up to 45% due to the increased core count and turbo frequency. These new generation processors each integrate two types of cores – Performance-cores (P-cores) and Efficient-cores (E-cores) – which play different roles. Performance-cores are larger, high-performance cores designed for speed and tuned for high turbo frequencies and high instructions-per-cycle. They push through heavy, single-threaded work required by game engines, and are capable of hyper-threading, that is, running two software threads at once.
The Efficient-cores are much smaller and are designed to maximize CPU efficiency by performance-per-watt, a good match for scalable, multi-threaded performance though they are also capable of running a single software thread. They can work in combination with P-cores to accelerate video rendering, for example, and other expensive tasks. They are also optimised to run background tasks efficiently. Smaller tasks can be offloaded to the E-cores leaving the P-cores free to drive gaming performance. This is making a difference for MSI's Raider and Stealth gaming laptops.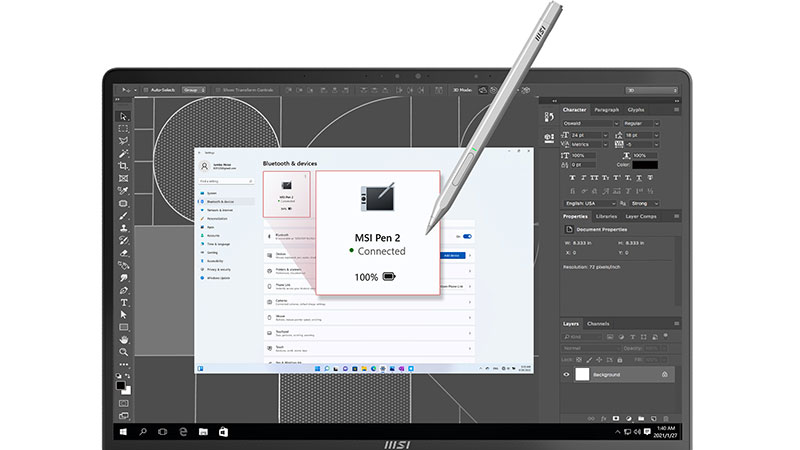 The New MSI Laptop Models
New models in the Creator Z Series – Creator Z17 HX Studio and Creator Z16 HX Studio – come with 13th gen Intel HX series processors and NVIDIA Studio certification. Their build includes the Vapor Chamber Cooler thermal design, which has a large heat dissipating surface capable of storing heat from the processor, carrying it to the surface and out via the exhaust vents.
These laptops support the new MSI Pen 2, an award winner at CES this year, built with updated MPP2.6, with 4096 pressure level and haptic feedback producing a slight resistance when the pen is in contact with screen for a realistic writing experience. You can also use the MSI Pen 2 as a traditional pencil on paper without switching to physical pens, as well as on touch screens without scratching.
The new Prestige 14 Evo and Prestige 16 Evo support Intel Core i7 H series processors to give a lightweight user experience with enough power for business applications. Prestige 16 Studio also comes with GeForce RTX 40 Series Laptop GPUs, and is NVIDIA Studio validated.
The 13-inch Prestige 13 Evo is new and at 990g is the lightest laptop MSI produces. It has a 75WHr large-capacity battery lasting up to 15 hours.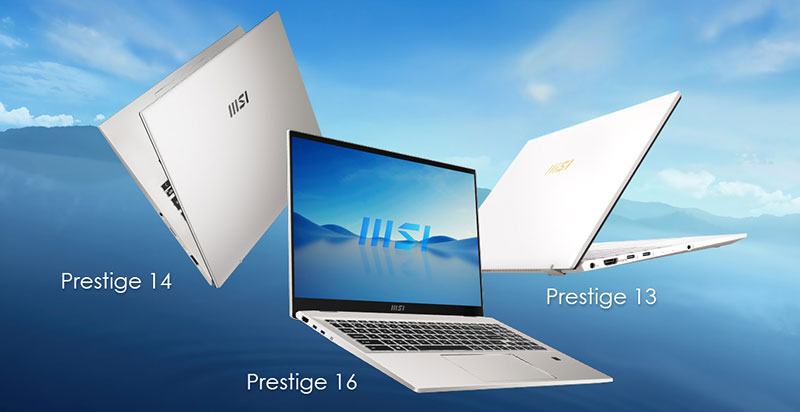 The Titan GT and Raider GE come with the Intel i9-13980HX processor and up to GeForce RTX 4090 Laptop GPU, combined with MSI OverBoost Ultra, a system that pushes processing and graphics by a total of 250W, or supports 5.2GHz frequency across 8 P-cores, depending on workload.
Titan GT and Raider GE also come with high performance display screens. Titan GT has a 4K/144Hz Mini LED display, featuring over 1000 nits of peak brightness with over 1000 local-dimming zones, while Raider GE has a 16:10 QHD+ 240Hz display.
The Stealth series now has a complete range of sizes – 14, 15, 16 and 17-inch – by introducing the new Stealth 14 Studio and Stealth 16 Studio, both of which are thin and lightweight chassis. Stealth 14 Studio has the MSI Vapor Chamber thermal design, and Stealth 16 Studio comes with a trilateral Dynaudio 6-speaker sound system. The Stealth 14, 16 and 17 Studio laptops are NVIDIA Studio validated, and the Stealth 15 has a high refresh rate OLED display, with 240Hz and less than 0.2 ms response time. It also supports a 100% DCI-P3 colour gamut.
The NVIDIA Max-Q suite optimises Stealth system performance, making the series fast, thin and quiet. The suite includes DLSS 3 (see above) improving performance acoustics and battery life; high-speed memory increasing power efficiency with extra bandwidth, capacity and improved clock gating; low voltage GDDR6 graphics memory, and Memory Control enabling the GPU to dynamically switch to lower power memory states. au.msi.com