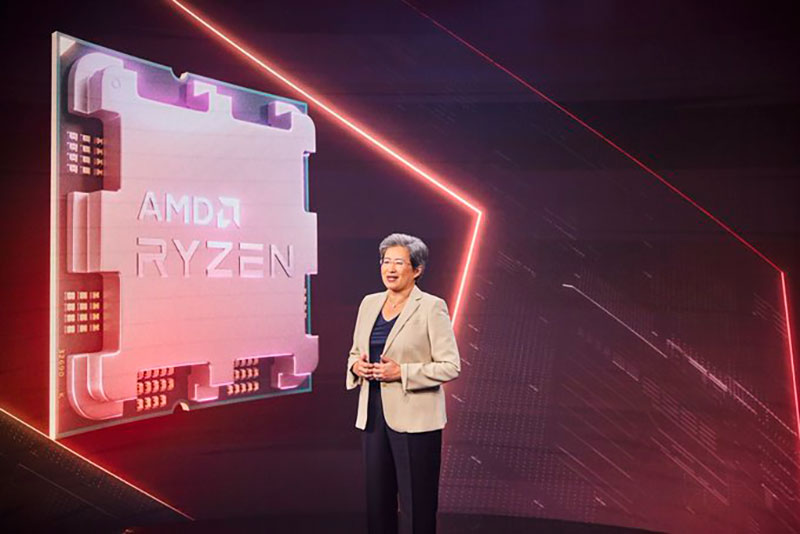 At COMPUTEX 2022, taking place 24-27 May in Taipei, AMD showed its upcoming Ryzen 7000 Series desktop processors based on the new Zen 4 architecture, due for release toward the end of 2022. The new processors are expected to double the amount of Level 2 cache per core, feature higher clock speeds, and greater than 15% increase in single-thread performance compared to the previous generation.
L2 cache serves to bridge the gap between process and memory performance, and can supply the necessary stored information to the processor without interruptions, delays or wait-states. During the company's keynote address, a pre-production Ryzen 7000 Series desktop processor was demonstrated running at 5.5 GHz clock speed throughout AAA game play. The same processor was also demonstrated performing more than 30 percent faster than an Intel Core i9 12900K in a Blender multi-threaded rendering workload.
As well as the new Zen 4 compute dies, the Ryzen 7000 series has a new 6nm I/O die. The new I/O die includes an AMD RDNA 2-based graphics engine, a new low-power architecture adopted from AMD Ryzen mobile processors, support for the up to date memory and connectivity systems such as DDR5 and PCI Express 5.0, and support for up to four displays.
Full support for PCIe Gen 5, which enhances performance, efficiency and the user experience for storage and graphics, is one of the major advantages for both the Ryzen 7000 series and the new AMD Socket AM5 motherboard platform, which will feature some of the first available PCIe Gen 5 NVMe drives.
AMD Socket AM5 Platform
AMD Socket AM5 improves on connectivity for demanding applications. It features a 1718-pin LGA (land grid array) design. Using an LGA design gives a chip package with a very high density of contacts. Instead of the protruding pins that traditional chips have, that are inserted into a socket, an LGA chip has flat pads on the bottom that touch contacts on the motherboard socket.
The platform supports up to 170W TDP (Thermal Design Power) processors, dual-channel DDR5 memory and the new SVI3 power infrastructure for all-core performance with the AMD Ryzen 7000 Series processors. AMD Socket AM5 features up to 24 PCIe 5.0 lanes, which makes it AMD's fastest and largest desktop platform able to support upcoming storage and graphics cards. The 170W TDP listed here refers to the power consumption under the maximum theoretical load – consumption will be less under lower loads.
The AM5 family includes three levels of motherboards. X670 Extreme has the most connectivity and extreme overclocking capabilities with PCIe 5.0 support for two graphics slots and one storage slot. X670 supports overclocking with PCIe 5.0 support on one storage slot with optional graphics support, and B650 is designed for performance users with PCIe 5.0 storage support.
Motherboard models spanning all three chipsets are expected from partners including Asrock, Asus, Biostar, Gigabyte and MSI, and PCIe 5.0 storage systems will be available from partners including Crucial, Micron and Phison. https://www.amd.com/