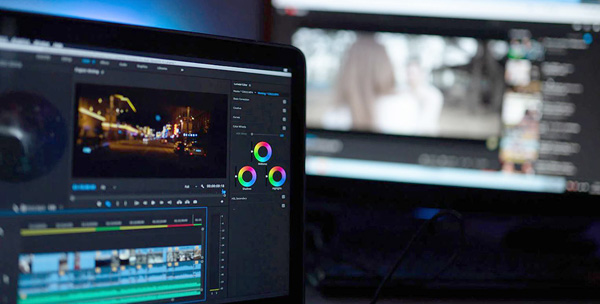 AMD's CES 2021 keynote, presented by CEO Dr Lisa Su, included a conversation with VP of Technology for Lucasfilm François Chardavoine. They talked about the use of AMD microprocessors at ILM, in particular at the company's new facility in Sydney Australia that opened in early 2020, a few months ahead of the pandemic. The new location was a chance to re-think the studio's physical infrastructure. In its render farm, the studio uses AMD processors exclusively.
François said, "We were early adopters of AMD EPYC and Threadripper processors, which give us flexibility and scalability. Regarding scale, the number of threads and cores that AMD makes available per user is as important for interactive processing as it is for accomplishing large jobs. Software today is much better able to take advantage of that, and it makes a massive difference for artists.
"It changes their creative process, especially when they are working on high res, HDR, high bit-depth material – all these factors result in more data to process. Compression algorithms – in other words, codecs – which takes more compute power to work with. Now with AMD processing, artists can review 4, 8, 16K content on regular hardware, more cheaply than before."
Economics of Rendering
Talking to Digital Media World, AMD's virtual production director James Knight also said that visualisation and the artist experience have been major factors in the development of EPYC and Threadripper processors – artists can see the results of the artistic decisions in real or near real time, which means they can cycle through a larger number of iterations in a limited time.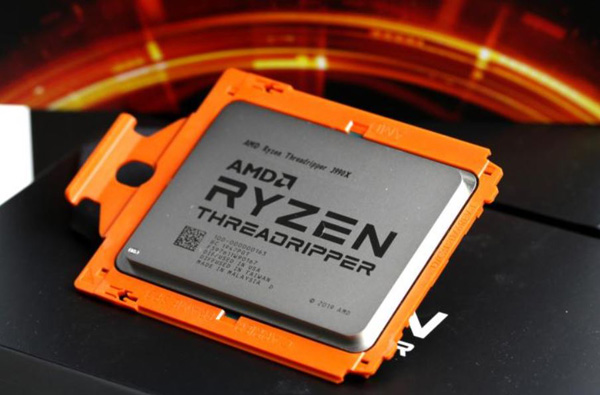 AMD Ryzen Threadripper PRO 3995WX
"Furthermore, these iterations can be reviewed without specialised hardware," James said. "AMD's work bringing hardware developments like PCIe Gen 4.0 to CPUs, GPUs and desktop and mobile workstations has changed the economics of rendering."
The PCIe 4.0 interface, the data transfer bus used to connect expansion cards and SSD drives and interconnect the chips in a PC, has about twice the throughput of PCIe 3.0 – a 16 slot PCIe Gen4 interconnection for graphics cards and M.2 drives will allow data transfer rates of up to 32GB/s. This greater bandwidth will help meet the data transfer rates of new servers and data farms as well, as cloud storage becomes a more important part of studio operations. It will also allow mobile devices to transfer information very quickly, reducing power consumption during downloads or data synchronisation.
"Vendors and developers like those at ILM are writing software to figure out how they can take advantage of the double bandwidth available from PCIe 4.0 – more transfers per second, power efficiency, and read/write speeds for storage," he said. "The direction we take our work here comes partly from the new challenges we see customers facing. After working with director Tim Miller on 'Terminator: Dark Fate', it was clear that meeting the demands and requirements of the M&E industry is the source of many of the new ideas behind our innovations."
Threads and Cores in the Studio
The first PCIe 4.0 professional workstation was the Lenovo ThinkStation P620 running on the AMD Ryzen Threadripper PRO 3995WX processor. It can be configured with up to 64 cores, reaching speeds of up to 4.0GHz, tuned and ISV-certified for multi-threaded applications. The Threadripper PRO processors are a good choice for workstations because their compute capabilities are wide-ranging with high core counts for multi-threaded workloads, and also high frequency single core performance for single threaded workloads.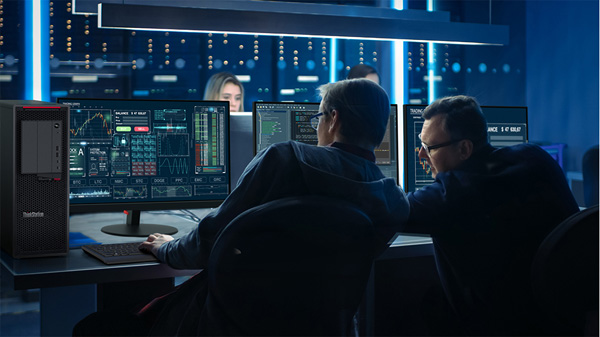 Isotropix Clarisse look development, lighting and rendering software is an example of an application that is able to take advantage of AMD processors in an unusual way. Clarisse relies on CPU rather than GPU power, unlike a number of other 3D content creation applications, and is also efficiently multi-threaded. A typical workflow and pipeline without Clarisse starts with a 3D application for modelling, animation and some look development, but then always turns to external software for the render.
In the Clarisse pipeline, on the other hand, artists start with Autodesk Maya or 3ds Max as usual for modelling and animation, and then import their assets into a scene in Clarisse. The artist can then proceed to assign materials, create the lights and output final renders, using Clarisse as a single tool.
Rendering out final images for cinema can take a huge amount of time, processing power and memory to account textures and millions of polygons per asset. For that reason, once developers had reached top speeds on a single core and began to make multiple-core processors available, Clarisse's multi-threading stood out. Tools that could not exploit the newer CPUs' massively parallel processing power were held back.
Most 3D applications are single-threaded, so artists spend most of the time using a single core except for rendering. Clarisse uses as much CPU power and multiple cores as possible not only for rendering but across the application, including design stages that are traditionally GPU-accelerated. Clarisse renders a near-final image in close to real time, as the designer works.
Interactive Film Sets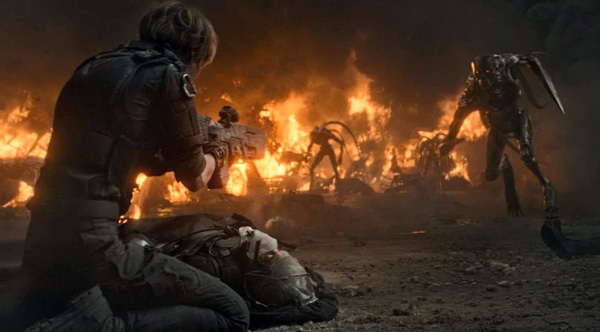 'Terminator: Dark Fate'
Interactivity is also a major factor in film makers' interest in virtual production, bringing tasks like pre-viz, compositing and colour grading on set with the cameras and director. James said, "AMD CPUs are becoming an industry standard for virtual production LED walls. There are a few reasons why. One is that our core to core clock speeds with the AMD Ryzen 5900 and 5950 are the highest available when compared to the competition. VFX artists and virtual production pros are overclocking both of those CPUs, pushing them as far as possible.
Further to that, to achieve that double bandwidth between the CPU and NVIDIA or AMD PCIe 4.0 GPUs on a virtual production stage, Intel or other processors still built on PCIe Gen 3.0 can't suffice. Another factor is that AMD simply supports more cores than the competition – when it comes to light baking, or rendering out environments to shoot cameras on, working without an AMD Threadripper will mean waiting longer between setups. Those delays cost time and money.
"The overall goal is simple but is difficult to achieve because it never remains static. We are aiming to free VFX artists from technological constraints – that is, waiting for renders between set ups – and give them room to create as their imagination allows. AMD designed Threadripper Pro to enable immediacy in the creative process, allow for more 'what ifs' during the production and, as a result, speed up the overall film and TV content pipeline," said James.
Where People Work
Although due to unforeseen circumstances, allowing people more flexibility in where they work has now become a critical aspect of freeing them from hardware constraints. Since a workstation with abundant cores like the Lenovo ThinkStation P620 means that DPs and supervisors can essentially finish movies at home, including colour correction, these products are here to stay regardless of the pandemic.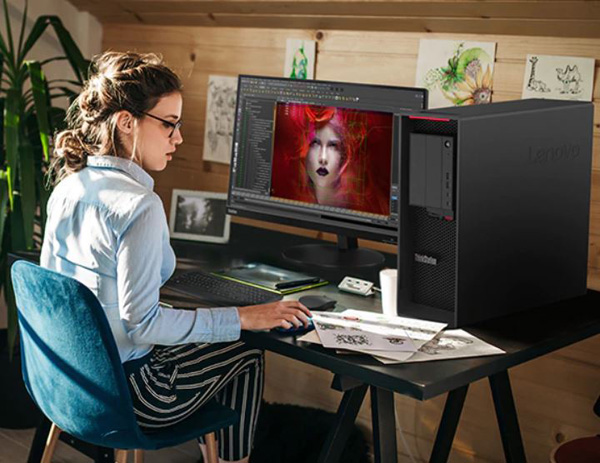 The Lenovo ThinkStation P620, running on the AMD Ryzen Threadripper PRO 3995WX, can be configured with up to 64 cores.
EPYC server processors for data centres and clouds, supporting virtual workstations, are the first x86-architecture server processors supporting PCIe 4.0, as mentioned, delivering twice the I/O performance over PCIe 3.0 and making 128 lanes of I/O available to tie together HPC clusters. In virtualised environments, users can connect with higher speed to GPU accelerators and NVMe drives.
In January 2021, Supermicro released a 64-Core workstation with AMD Ryzen Threadripper, driving up to four full-height, double-width GPUs and supporting up to 2TB of DDR4 3200 memory and four M.2 slots for ultra-fast PCI-E Gen 4 NVMe storage. Supermicro also has an ongoing range of systems using the AMD EPYC series, as well as dual AMD EPYC processors with multiple-GPU servers.
Lenovo mobile workstations that were also released in January are the ThinkBook Gen 2 laptops powered by up to AMD Ryzen 9 5000 H Series Mobile Processors. They will be available with NVIDIA GeForce RTX discrete graphics as an option to match the Ryzen microprocessor, creating a high-performance laptop with a 16-inch display that can be used for ray tracing, AI and high-resolution video. Having the right equipment makes it easier for small to medium businesses to adopt hybrid business models that allow them to adapt to any situation. www.amd.com