AJA Ki Pro Ultra Plus Gives Rebels the Edge on Performance Analysis
Eoin Toolan works with the coaches and staff at Super Rugby's Melbourne Rebels to help improve performance at the club. A former rugby player, as a performance analyst he draws on his own experience developing video workflows for the Irish Rugby analysis group in Dublin, and sees many advantages in the use of video in performance analysis.
He applies the slogan 'Educate Through Video' to his work and has initiated several changes in the Rebels' video analysis workflow since his arrival at their home stadium, AAMI Park in Melbourne. Recently, he added an AJA Ki Pro Ultra Plus multi-channel HD recorder to the team's video processing to improve the picture quality standard.
4-Camera Analysis in ProPes 444
"I'm always exploring new video formats and systems that can help improve our analysis process. When I came across Ki Pro Ultra Plus, it seemed to suit our needs," Eoin said. "We need to capture pixels at the same fidelity you would use in production, within an optimal colour space, and we can achieve that level of quality with Ki Pro Ultra Plus. It is also possible to simultaneously record four different views of the pitch in Apple ProRes 444, setting up HD feed redundancy from the OB truck."
Eoin's workflow comprises a portable myplayXplay system that is located in either the coach box or a broadcast truck, depending on the match. Coaches and other sports personnel use myplayXplay to stream live video to an iPad app that has tools for preparing instant video reviews and analysis. The software captures video from sources such as broadcast feeds or cameras, which a coach can review, tag and add comments to. Their system is housed in a custom-built flight pack with four SDI connections that take feeds from the Ki Pro Ultra Plus.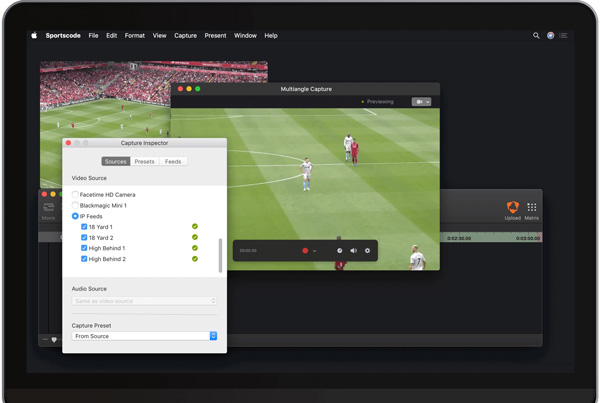 Hudl Sportscode
Four cameras capture the action from different match angles and views – including TV, side wide, tight and end-on views – recording through the Ki Pro in ProRes 444 to AJA Pak 1000 1TB SSD media drives. The feeds are simultaneously looped out and into the myplayXplay, which then streams all content to 12in iPad Pros. Up to five coaching staff members, including medical officers, can view 1080p content on the iPads during matches, and select various angles.
Single Workflow, Two Tasks
At the same time as supporting live review of H.264 footage on iPad Pros, the setup records ProRes footage for in-depth analysis post-match. "By building myplayXplay for live in-game performance review with Ki Pro Ultra Plus for high resolution post-match review into one workflow, I take care of two jobs at once," said Eoin.
During each match, line coaches select relevant views, btag footage and supply the commentary at half time or during breaks in play via the iPads. By the end of a typical match, more than 550GB of ProRes footage is recorded to each Pak drive. Footage is then uploaded to a suite of MacBook Pros at the team's home base and run through Hudl Sportscode software, which compresses the ProRes files down to H.264 content for simultaneous editing and analysis. Final recordings are then uploaded to the team's online hub at Hudl for remote viewing.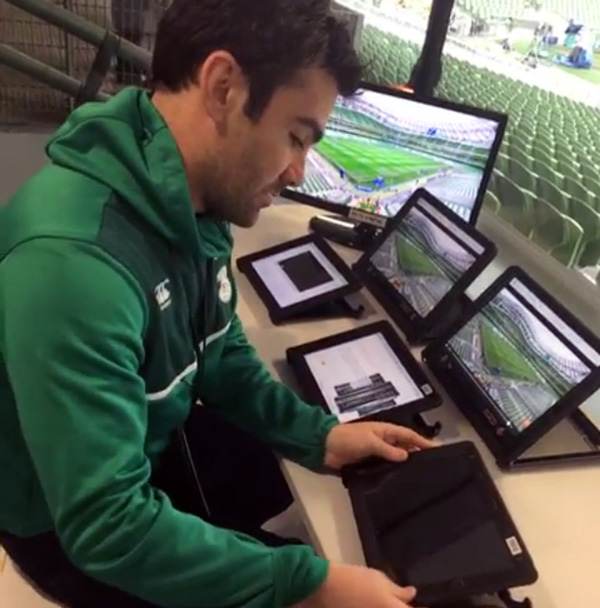 myplayXplay
A similar setup is used for training analysis at the team's home training ground, except the sources include an AXIS PTZ HD IP camera mounted to an 8m pole and a GoPro attached to a DJI Phantom 4 drone. In this case, footage is looped out of a controller and fed into the KiPro and myplayXplay for a live stream and post-training recording.
For either the match-day or the training scenarios, coaches review the recordings to examine the team's attacking and defense structures, critique player positions on the pitch, see how the team can better exploit opportunities presented by the opposition, and review alignment and spacing in defense formations. Individual players use the footage to analyse their performance as well.
Visual Evidence
"Instead of relying on memory, coaches and players have visual evidence to reference and can make more informed adjustments," Eoin said. "The quality and fidelity of the video Ki Pro Ultra Plus makes it easier to identify players, touches and ball movement on the field. The difference from our previous system is similar to going from SD to HD frame content sizes."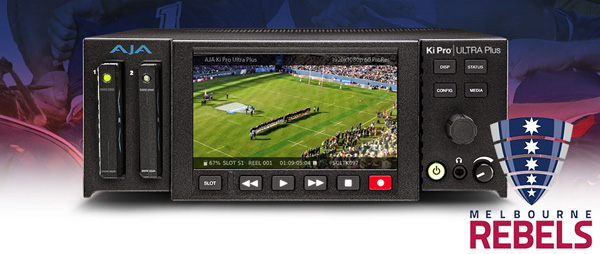 The Ki Pro's KiProtect data integrity function has also given the Rebels a way to recover footage in the event of video failure from an OB truck, which they never had before. Ki Protect automatically allocates recording space in advance on the media drive when recording starts and the file header is updated every time new data is written. This means the only loss incurred is the last few frames that were in transit to the drive when the operation was interrupted. Frames that are already recorded are recoverable.
"I've pulled out SDI cables during recording and plugged them back in, and the continuity of the files is unaffected," said Eoin. "From an analyst perspective, that insurance saves many headaches when trying to sync and keep continuity between all the angles captured for post game review. It's saved our analysts and me a lot of time, and is a step forward for our live production gear." www.aja.com