HP Z Workstations Deliver Flexible I/O, 3D Software Integrations and Security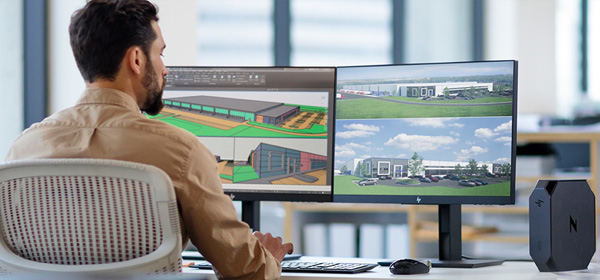 HP has released a new series of entry workstations for product design, architecture, media and entertainment, OEMs and education. The new HP Z Workstation lineup - HP Z2 Mini, Z2 Small Form Factor, Z2 Tower and HP EliteDesk 800 Workstation Edition - emphasises graphics performance, configuration options and software integrations. They are built to handle complex, customised workflows and deliver continuous, fast performance, and include data protection functionality.
Workstation Security
HP security services protect the hardware from evolving malware threats with self-healing BIOS (Basic Input Output System) and the HP Endpoint Security Controller. The BIOS controls communication between system devices such as the disk drive, display and keyboard. It also stores configuration information for the peripherals types, startup sequence, system and extended memory.
HP's Endpoint Security Controller strategy embeds a proprietary chip in the system to monitor conditions for functions that can mitigate various security workarounds and hacks by protecting and recovering BIOS, the Windows OS and software applications. The proprietary chip also supports three hardware-enforced security systems - Sure Start Gen 4, Sure Run and Sure Recover - that help to keep critical processes running consistently, in particular when malware tries to stop them.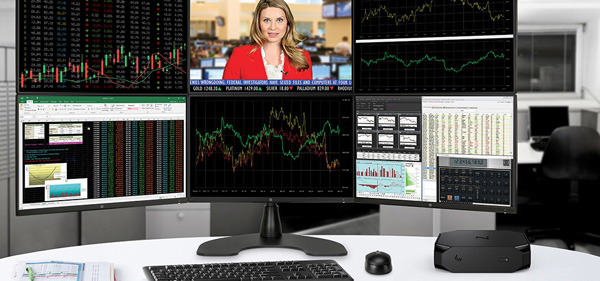 Sure Start Gen 4 protects the BIOS, plus a BIOS copy running inside the system memory, and simultaneously runs encryption, resilience and event logging functions. Sure Run helps the OS to self-heal by monitoring on-going processes and apps, alerting the user and IT department when a problem is encountered. If necessary, processes may be automatically restarted. Sure Recover is used to reimage the device – that is, remove all software and the OS on the computer and reinstalling them from the ground up - using only a wired network connection, even if the hard drive is completely emptied.
HP Sure Start Gen4 is available on HP Elite and HP Workstation products configured with 8th generation Intel or AMD processors. HP Sure Run is available on HP Z workstation products equipped with 8th generation Intel processors.
Management and Workflow
HP's Manageability Integration Kit Gen 2 is also installed on the Z workstations to help manage multiple devices through your Microsoft System Centre Configuration Manager (SCCM) – in other words, everything from HP BIOS and security to general hardware and software.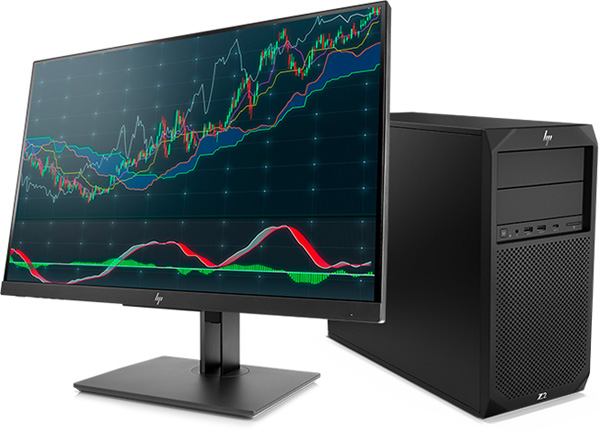 All HP Z2 Workstations can now connect to devices with Thunderbolt and have a large choice of software certifications. HP Performance Advisor is available to optimise software and drivers, and customers can deploy Intel Xeon processors and ECC memory for reliability. The customisation, expandability, performance upgradeability and I/O options help extend the workstations' practical life.
HP Z2 Mini G4
HP Z2 Mini G4 Workstation is the most compact model of the new line with a volume of 2.7 litres and can be mounted under a desk, behind a display or in a rack. It can be configured with NVIDIA Quadro P600 or Quadro P1000 GPUs, or AMD's Radeon Pro WX4150 graphic card. These options result in twice the graphics power of the previous generation HP Z2 Mini. The Z2 G4 Mini is also HP's only mini workstation with six core Intel Xeon Processors.
The workstation suits 2D design workflows, supporting lag-free performance when working in multiple layers and performing complex tasks with enough space for organising and storing high-resolution files. It is certified for Adobe Photoshop, Indesign, XD, Lightroom and AI Creative Cloud applications.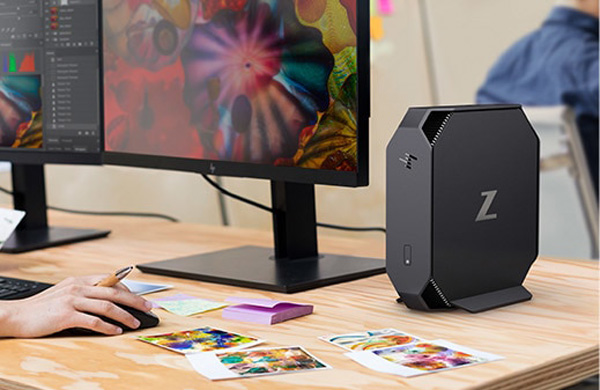 The I/O options allow you to configure the system connecting legacy serial ports, with support for up to six displays. An IO module supports VGA, HDMI, DisplayPort and 2nd RJ-45 inputs and has a USB-C 3.1 Gen2 Charging Port, and there are extra USB 3.0 ports elsewhere.
HP Z2 Mini is very quiet and can be set up as a trading desk, on a shop floor or in a data centre. Up to 56 HP Z2 Mini workstations will fit in a standard 42U rack with a custom rackmount bracket. HP Z2 Mini Workstation is available now for a starting price of AU$1199.
HP Z2 Small Form Factor (SFF) G4
HP Z2 Small Form Factor (SFF) G4 Workstation affords about 50 percent more processing power than the previous generation, but in the same compact size. It has a six core CPU that handles single and multi-threaded applications, and an NVIDIA Quadro P1000 GPU to render complex, detailed 3D models with certified software.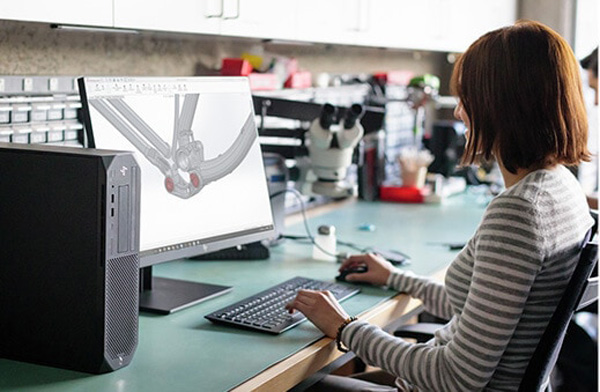 The workstation was designed for working on complex parts and large assemblies with fast and reliable clock (CPU cycle) speeds. It can be used to render 3D models for project visualisation, 3D design or running multiple applications, with Error Correction Code memory that detects and corrects soft errors in the memory system on the fly. Software certifications include Autodesk and Adobe applications, SolidWorks, Creo and Solid Edge.
I/O options for customisation include four PCIe slots and dual M.2 storage slots, plus a number of USB 2.0 and 3.0 ports and many others including Thunderbolt that enable customised networking, I/O or display needs without taking up PCIe slots or adding external adapters.
The size allows several mounting and installation options suited for architecture, engineering and construction, product developers and OEM. HP Z2 G4 Small Form Factor Workstation is available now for a starting price of AU$2299.
HP Z2 Tower G4
HP Z2 Tower G4 Workstation is built mainly for building information modelling (BIM) and rendering with up to Ultra 3D, owed to NVIDIA Quadro P5000 graphics and the new Intel Core or Intel Xeon processors. The HP Z2 Tower handles 3D projects with about 60 percent more graphics power than the previous generation, with high clock (CPU cycle) speeds for better performance when rendering CAD design visualisations, for example.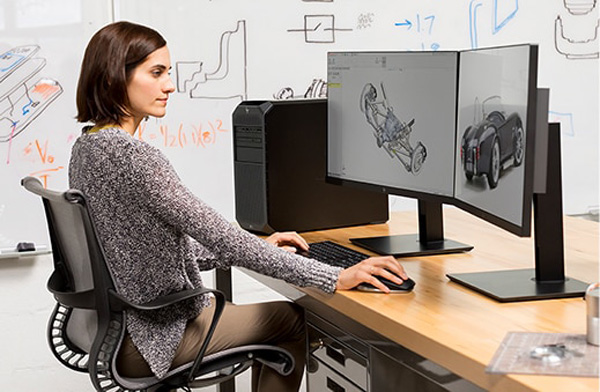 With dual M.2 storage slots, users can install the pro-grade storage and optional self-encryption drives to control access. The Z2 Tower is certified for SolidWorks, Creo, Autodesk Inventor and Adobe software.
The new design has front and rear ledges so that users can move the system from location to location and is 13 percent smaller than the previous generation. An optional dust filter an be purchased to keep the system cleaner and more reliable. HP Z2 G4 Tower Workstation is available now for a starting price of AU$2699.
HP EliteDesk 800 Workstation Edition
HP EliteDesk 800 Workstation Edition is a commercial workstation-class desktop with integrated ISV certified applications, SolidWorks- and AutoCAD-approved for 2D/3D design and drafting. It also ships with optimistions for the major VR engines, supporting VR development with NVIDIA GeForce GTX 1080, affording 10 Gbps of memory speed, and the Unreal Engine. The HP EliteDesk 800 Workstation Edition includes specialised workstation customer support and can be expanded.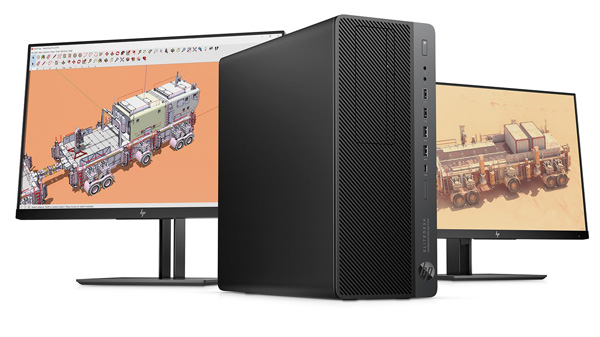 It is possible to achieve low latency response times and high frame rates on 3D graphics rendering. To help plan for the future, it has five bays, four full-height slots, three M.2 slots and a number of configurable ports. Further certifications include Sketchup, Autodesk Revit, eDrawings and SolidWorks. HP EliteDesk 800 Workstation Edition is available now for a starting price of AU$3199, including NVIDIA Quadro P400 graphics. www.hp.com.au