Blackmagic eGPU Optimises Performance for Resolve, Games and VR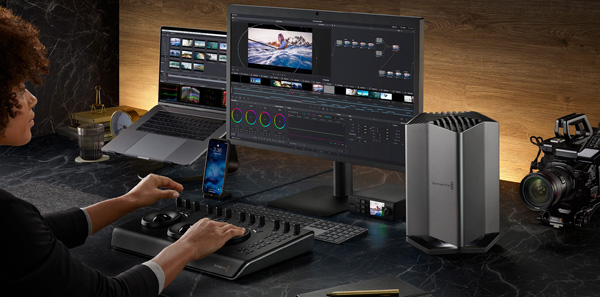 Blackmagic Design's new eGPU is a high performance graphics processor optimised for professional video and graphics, such as those used in DaVinci Resolve software, 3D gaming and VR packages. The eGPU was designed in collaboration with Apple to improve graphics performance and accelerate computational tasks. It has a built-in AMD Radeon Pro 580 graphics card, two Thunderbolt 3 ports, HDMI 2.0 and 4K output, 85W of charging power and four USB 3.1 connections.
Built into an integrated desktop device, it is made for MacBook Pro users who use professional video workflows, work on 3D games or need immersive VR graphics processing. It also supports Thunderbolt 3 displays. The typical anticipated users are video editors, colourists and visual effects artists who need both the mobility of a MacBook Pro and the power of a desktop GPU.
Potential advantages from the increased performance are greater realism when viewing 3D games and VR video, higher resolution images, higher frame rate gameplay, more realistic lighting and more detailed textures, achievable on a regular laptop computer.
The AMD Radeon Pro 580 graphics processor built into the eGPU holds 8,192 MB of GDDR5 RAM, 256-bit memory bandwidth and 36 discreet compute units for up to 5.5 teraflops of processing power. It is designed with 2304 shading units, 144 texture mapping units and 32 ROPs (render output units). Its theoretical performance is rated at 38.40 Gpixel/s. Apple's Metal, a hardware-accelerated 3D graphic and compute shader API, also supports the Blackmagic eGPU, due to Metal's wider support for AMD Graphics Core Next-based GPUs. Metal allows almost direct access to the GPU to enhance graphics and compute performance for games and software applications.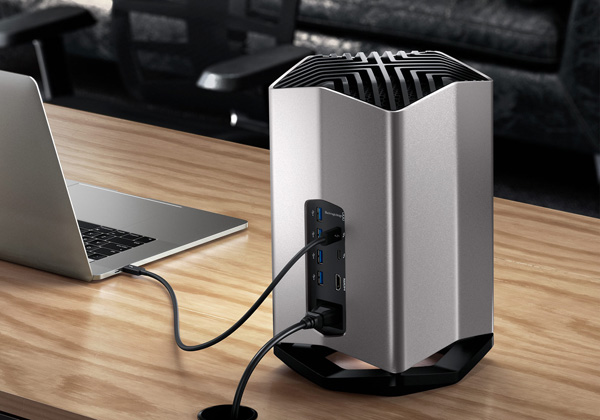 Blackmagic says DaVinci Resolve 15 users can expect increased performance when editing with real-time effects - for example, film grain, light rays and blurs. Colour correction can be done with more nodes. Adding numbers of effects and colour correctors to the timeline can consume a massive amount of computing power, but because Resolve 15 also supports multiple GPUs as well as Metal API, it can take advantage of more of the eGPU's functionality.
DaVinci Resolve 15 will recognise and access the Blackmagic eGPU. Most of the set-up is automated. As DaVinci Resolve starts up it will select the optimum GPU configuration. Customers can also select various GPU options from the DaVinci Resolve preferences, where it is possible to choose which and how many GPUs to use for image processing, with or without an external monitor. eGPU support is designed to accelerate OpenGL, Metal and OpenCL applications, although not all applications support eGPU acceleration.
The device's aluminium exterior housing is extruded as a single piece and has an almost silent cooling system that balances the airflow and dissipates heat. eGPU serves as a docking hub for connecting devices such as keyboards, mice, Thunderbolt monitors, big screen HDMI televisions, high speed storage and so on. The two 40Gb/s Thunderbolt 3 connections, 4-port USB hub and HDMI supporting 4K output are spaced ergonomically to accommodate peripherals connections.
The Blackmagic eGPU's built-in power supply supporting the GPU can also send 85W of downstream power via Thunderbolt 3 for charging laptop computers and powering peripherals. The power supply works from 100V to 240V and has a standard IEC power connector so it can be used universally. www.blackmagicdesign.com