Noh Theatre Preserves Japan's Heritage with Blackmagic ATEM and Hyperdeck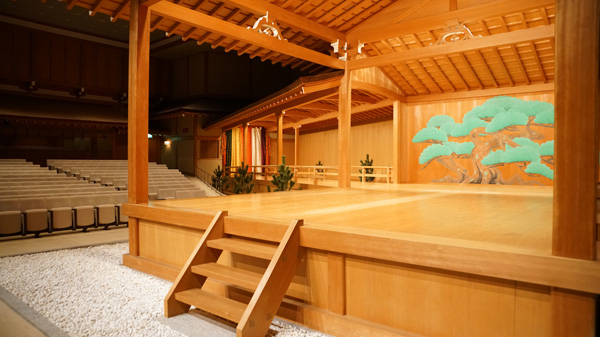 The Japanese National Noh Theatre was built in 1983 as a national venue for performances of Noh and Kyogen plays. Noh is a Japanese performing art with a history of over 600 years, using words and intonations carrying the style of the Muromachi period when Noh was born. It is registered as an important Japanese intangible cultural properties and listed as part of the UNESCO intangible cultural heritage. National Noh Theatre preserves related dramatic arts such as Kabuki and Bunraku, and seeks to enlighten young people into ensure their future.
The theatre holds 627 seats, a document library and reading rooms, and was the first in Japan to install a subtitle system for each seat so that foreign audiences can enjoy the performance. The organisation records their performances and recently made a decision to upgrade their NTSC monitoring system, which they had been using since opening 35 years ago, in an effort to catch up with the trend toward HD in the video industry.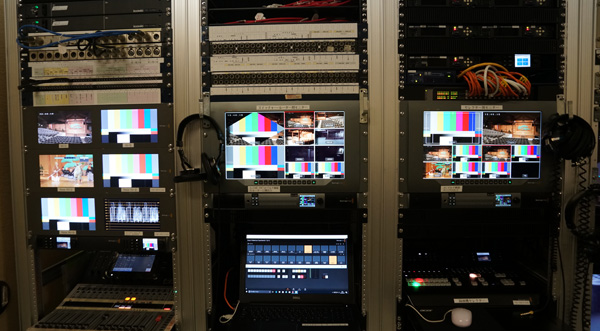 Akimitsu Baba in the promotion department was in charge of the equipment selection and talked over the details of the system upgrade. "The recording system had already been upgraded to HD but the monitoring system remained in NTSC," he said. To integrate these two systems, we decided to completely upgrade the monitoring system. We used to edit recorded video in a linear method. But linear editing takes too much time and entails huge risks to the footage from accidental errors. Therefore, we upgraded our studio equipment with the goal of achieving a smooth transition to a non-linear editing system."
There are six cameras in total for monitoring - three for the stage, two for the rehearsal stage and one for the lecture room. Smart Videohub CleanSwitch 12x12 is at the centre of the system, routing these signals from six cameras to monitors in about 20 rooms. The monitors help announcers, lighting staff, janitors and performers follow the progress of the programs.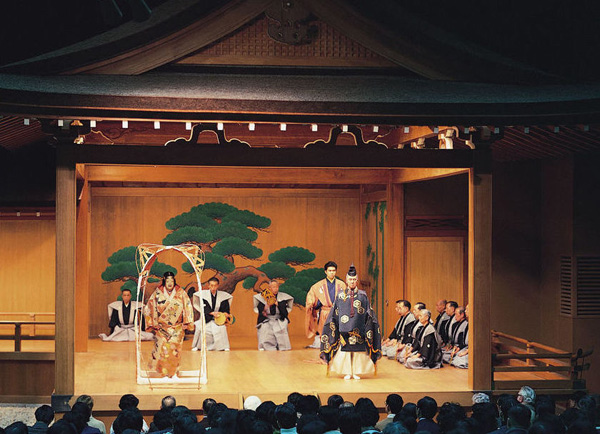 As well as the router, the system includes backup recording equipment. Camera signals are switched on the ATEM Television Studio Pro HD and ATEM 1 M/E Production Studio 4K and the program output is recorded on HyperDeck Studio Pro. "I like ATEM Television Studio Pro HD because a switcher, a panel and an audio controller are all built into the one product. Switching and recording our performances used to require up to six people, but now that we have installed these switchers and monitoring gear, you can even handle the system alone. This is a great advantage for us," Akimitsu said.
Also, ATEM Television Studio Pro HD and ATEM 1 M/E Production Studio 4K have built-in multi-view generators, which makes it possible to monitor multiple cameras in SmartView 4K. This configuration is efficient because you don't need a monitor for each camera. The ATEM switchers and Smart Videohub CleanSwitch 12x12 have a frame synchroniser as well, with which you can synchronise signals even when their feeds are asynchronous, making it unnecessary to purchase genlocked cameras.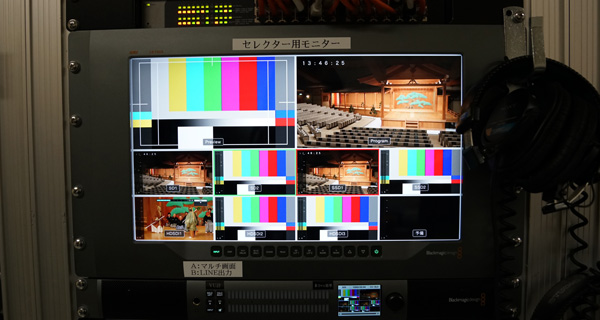 Akimitsu noted, "One of the reasons we decided on HyperDeck was that it supports XLR timecode input, which simplifies editing of recorded material afterwards. HyperDeck Studio Mini was installed to record a signal from a fixed camera for long shots, so that whenever there might be a mistake in switching, the material from HyperDeck Studio Pro can very quickly be replaced with the one from HyperDeck Studio Mini. In this way, we've made sure that the system can prevent possible errors."
The theatre is now making plans to transition to the online non-linear editing, and to support this their team is working on integrating DaVinci Resolve into their workflow. After being recorded and edited, video clips of performances at the theatre are preserved at National Noh Theatre as cultural heritage. It is later used at screening events, lent to researchers or referred to as a document at lectures. www.blackmagicdesign.com/