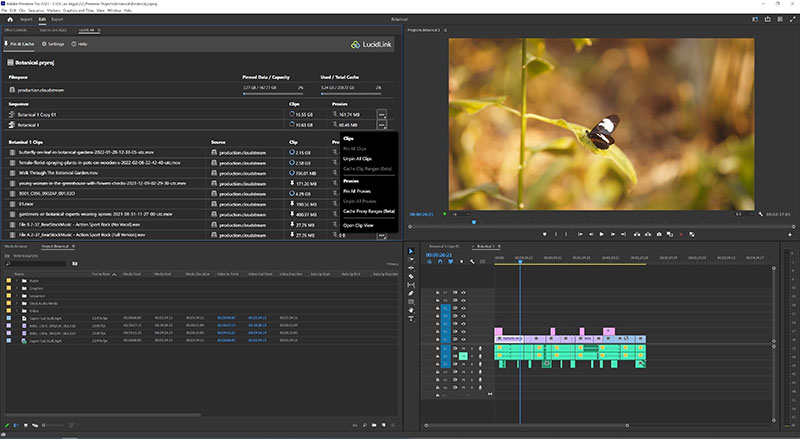 LucidLink showed the first integration of its Filespaces file system with a creative application at IBC 2023. The integration is now available for Adobe Premiere Pro video editing software, allowing creative editors to pre-emptively cache only the media needed in their edit, directly within the Premiere Pro application. Traditionally, pre-emptive caching has involved including media that the editor is not sure he or she will need, which wastes space and time.
Using a new dedicated panel inside the Premiere Pro interface, editors can now either pin just the clips needed within their sequence or cache the precise clip ranges found within their edit, resulting in a faster experience. This LucidLink Panel for Premiere Pro marks the initial launch in a series of integrations designed to directly integrate with the Adobe Creative Cloud system of applications.
Intelligent Caching
Downloading or transferring media is not necessary. LucidLink's approach to collaborative editing is intelligent and sequence-aware and removes the need to pin entire folders at desktop level. The Premiere Pro integration introduces LucidLink caching directly into the application, only caching the relevant content needed by the editing timeline.
Making LucidLink's capabilities immediately available can, for example, make it possible to work with high-resolution media despite poor internet speeds, and without changing the existing workflows the team uses when collaborating. This functionality is possible without downloading and duplicating media, owing to LucidLink's Filespaces file system, which creates a uniform shared, global file system namespace across devices connected to the Internet. It functions in a way similar to a NAS system or file server, but both the clients and data repository can be located anywhere.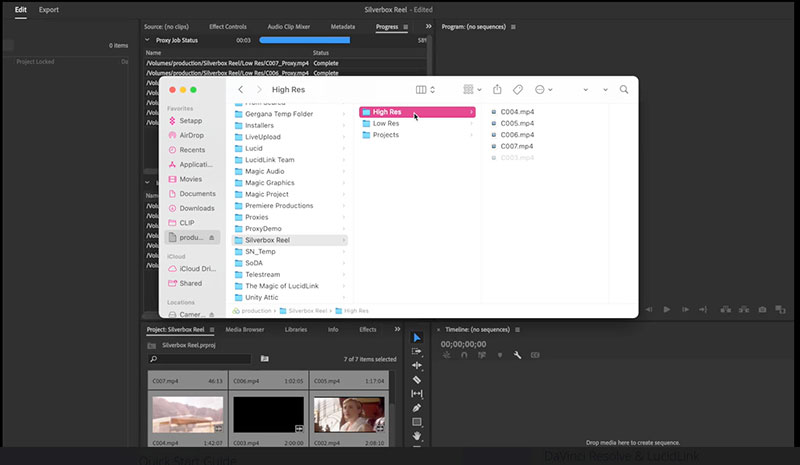 Customisation
Premiere Pro users can tailor their cache to high-res, proxy or both kinds of files, resulting in a smooth offline-to-online editorial workflow without needing to download or duplicate huge amounts of camera-original media.
The settings in Premiere Pro can be optimised for better performance with a single adjustment. For instance, the default location for your cache is within a .lucid folder inside your user profile or home directory, depending on your operating environment. But this can be changed, as well as cache size, transfer rates and other settings.
The new panel will also indicate whether or not content is in a Filespace during the pinning or caching process. This is important because LucidLink presents Filespaces content to all users as if it is stored in a local drive, streaming only the data that is needed, as required.
Use Cases
The LucidLink Panel for Premiere Pro can be applied to various use cases. For sports highlight reels requiring near-immediate turnaround, the Panel's precise in-app, sequence-aware caching means sports editors can work with the highest quality footage possible without downloading any extra media on a desktop.
Similarly, for documentary filmmakers on the road, in-app, sequence-aware caching means a high-performance experience even in remote locations, and without having to manage content that isn't actually needed for the edit. These same factors also makes post-production conform editorial simpler and more efficient. www.lucidlink.com