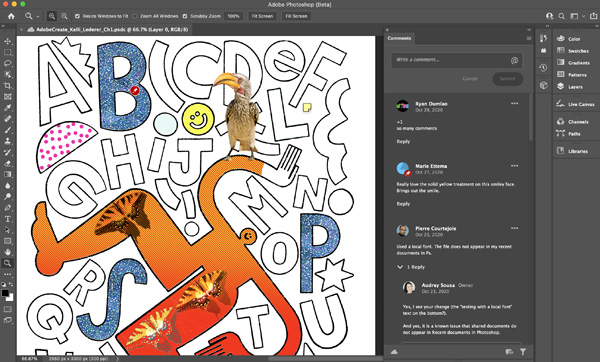 Photoshop Commenting panel
Adobe's most recent updates to Photoshop, Premiere Pro and After Effects Creative Cloud software include new features using the Adobe Sensei AI engine, and take advantage of the Frame.io acquisition to speed up review-and-approval stages. The company is also launching some new initiatives to support online content creation and team collaboration, including beta versions of Photoshop and Illustrator on the web.
Photoshop
One of the new AI-powered tools in Photoshop is the Object Selection Tool that you can now use to hover over an object in an image and select it with single click. A new menu item, Mask All Objects, will generate masks for all detected objects within a layer, also with one click. The tool can detect most, though not all, objects yet. As the Sensei AI machine learning models improve over time, they will be able to detect further object categories. Selections made with the Object Selection Tool are more accurate as well, and preserve more details in the edges of the selection.
The Neural Filters workspace inside Photoshop that Adobe introduced last year has three new non-destructive filters. Because the Neural Filters are built on ML (machine learning) and AI, Adobe has been able to iterate on the models and improve the results. The new and existing filters may not immediately produce the final result, but can save time in concepting or moving closer to the intended look. Meanwhile, Photoshop's standard tools are always available to make final adjustments.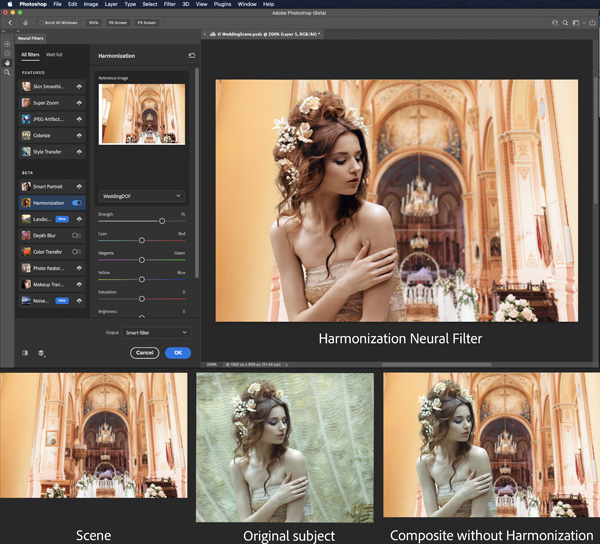 Harmonization Neural Filter
Landscape Mixer (beta) filter creates new scenes by combining two landscape images together, redusing the manual effort needed to change the season of an image or time of day, often useful for concept art or repurposing images. People or other subjects in the scene can be automatically masked and harmonised on lighting and colour with the new scene.
Color Transfer (beta) makes the colour of your image match a reference image by automating the application of the reference colour palette over to your image. It saves time by moving straight to a workable start point that can be fine-tuned to reach the final look.
Similarly, Harmonization (beta) matches the colour and tone of an element on one layer to another layer, using machine learning to intelligently adjust the hue and luminosity.
Updates to the original set of filters include Depth Blur, which now applies a more natural blurred background and keeps the subject in better focus for a more authentic bokeh effect. Superzoom operates on the entire image, not just on the zoomed area in the preview window. Style Transfer is retrained to apply an artistic effect with models better aligned to styles of recognised painters. The models in the Colorize filter, which turns black and white images to colour, are also improving.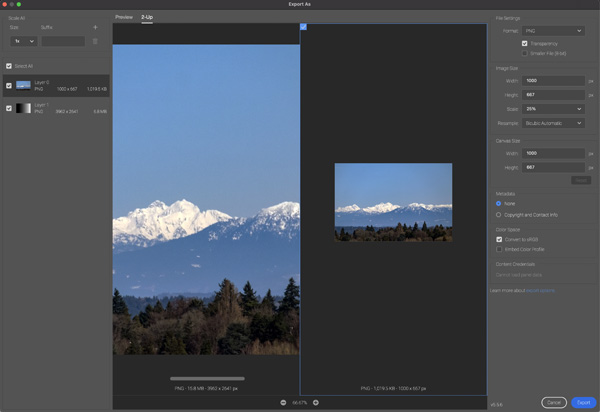 Export As functionality
Photoshop gradients have new interpolation options to produce a more natural blend, similar to a sunset or sunrise sky. The Classic Photoshop gradient display mode is still available but the new default is the Perceptual mode that displays gradients more closely to how humans perceive light blending together in the physical world. The familiar Linear mode is also closer to natural light and gives more tuneable results.
The Export As functionality in Photoshop, available until now on Apple M1 machines, is now the default on all desktop operating systems. It is faster and built on top of new export APIs. Adobe says that the colour profile handling is better, the behaviour for previewing layers is updated and export settings may be compared side-by-side.
To share work for review with clients and colleagues and receive feedback, Photoshop has a new commenting panel on the desktop, mobile and web versions. Collaborators receive a link to the Creative Cloud web site where they can access the documents and leave comments, pins and annotations. That information flows directly to the user working inside Photoshop, who can respond to the feedback in context.
Due to new interoperability, users can copy and paste vector shapes such as rectangles, polygons, circles, lines and compound paths from Illustrator, while maintaining editable attributes in Photoshop like fill, stroke, blend mode and opacity. Groups and layers are pasted into Photoshop matching the way they were authored in Illustrator as closely as possible, maintaining looks even if features are not supported for editing.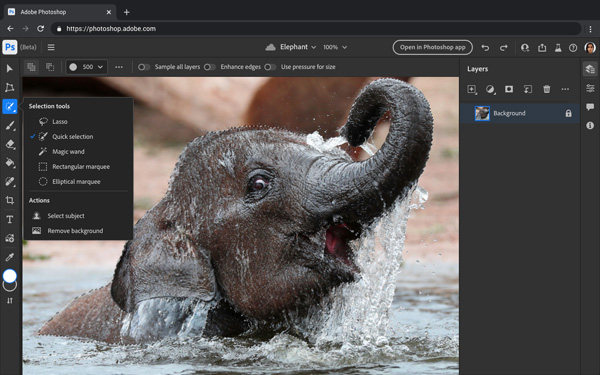 Photoshop on the Web
Photoshop on Web (Beta)
Adobe is extending Photoshop to the web as a beta that runs in Chrome and Edge browsers. So far, it has a commenting workflow and a limited number Photoshop editing features. Users can now open and view Photoshop cloud documents in the browser and give feedback, in one place, without having to download or launch Photoshop. You can share a document for group edits, or send a view-only link for comments, contextual pins and annotations.
Basic edits include simple layers, selection tools and masking, among others, and workflows include retouching and adjusting images, some of the most common Photoshop use cases.
Premiere Pro
Workflow news for Premiere Pro includes better Speech to Text performance, colour management for H.264 and HEVC, Lumetri colour tools updates, and hardware-accelerated playback for 10-bit 4:2:2 HEVC video. Premiere also has a new Simplify Sequence feature that creates a clean copy of your current sequence for sharing, archiving or exporting as an EDL, XML or AAF. When the timeline becomes cluttered, you can also use it to remove empty tracks, disable clips with specific labels, and remove markers or other user-specified elements.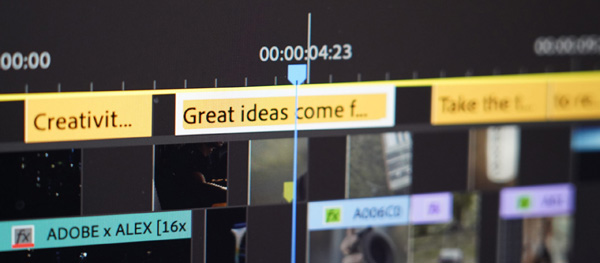 Speech-to-Text workflow
Speech to Text in Premiere Pro is an integrated, automated workflow that runs from transcription to export and creates and customises captions. It now formats dates and numbers in a more conventional, predictable way and has a new option to export captions as sidecar files only. It also transcribes pop culture terminology more appropriately.
New H.264 and HEVC colour management means that Premiere Pro can now interpret the colour space correctly when importing those formats, including 10-bit and HDR files. For exports, Premiere includes the correct colour space metadata with the output files so that colours will display correctly on the destination platform. When creating new sequences, you can choose to Match Source or apply a chosen colour space, depending on the working media.
The new colourised Vectorscope now gives a more vibrant representation of the colour components in an image, and shows clearly how grading adjustments affect the colours. A new skin tone line in the Vectorscope serves as a reference when fine-tuning the grade. The Histogram display, supporting both SDR and HDR content, is also clearer when analysing colour distribution. Lumetri curve refinements make it easier to select adjustment points on Luma and RGB curves.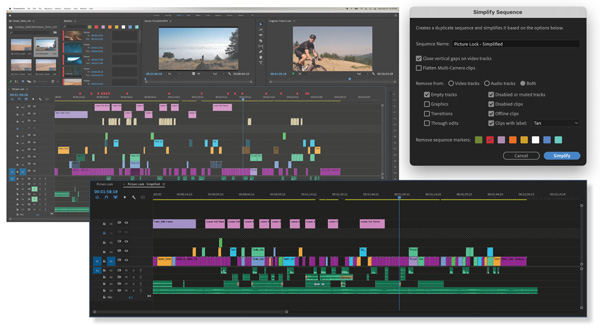 Simplify Sequence for cluttered timelines
Four more effects in Premiere Pro are now GPU-accelerated, giving a total of 69 accelerated effects and transitions. Alpha Glow, Mirror, Reduce Interlace Flicker and Strobe give better playback performance and render faster for exports.
The Bars and Tone generator in Premiere Pro, used to check the calibration of a display, for troubleshooting or to include as part of content delivery for fidelity assurance, can now create test patterns for HDR and SDR. The audio parameters are combined into a single dialogue. By default, colour space, resolution, frame rate and so on, will be set to match the currently active sequence, user-specified or using a preset.
Premiere Pro (Beta) has several new features as well. Instead of making razor cuts and crossfades, editors have Remix, an AI feature that intelligently re-arranges songs to match the music to the video. Remix analyses the patterns and dynamics in songs to create new arrangements that match the desired duration, with controls for timbral (tone quality) vs harmonic (frequency) changes and edit length.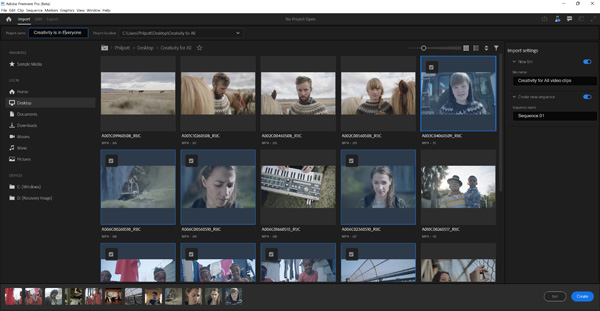 New import features
Auto Tone applies intelligent colour corrections in the Lumetri Color panel that are reflected in the Lumetri sliders to allow fine-tuning. You can also use it to guide colourwork as you become familiar with the Lumetri tools. When it is released, Auto Tone will replace the current Auto adjustment button. For faster transcriptions, Speech to Text on-device allows users to use Speech to Text transcription without an internet connection, and the new import mode includes many more options and controls.
After Effects
After Effects has gained speed for previews and renders with Multi-Frame Rendering and beta Sensei-powered scene edit detection capabilities. Multi-Frame Rendering was developed to take better advantage of the user's system CPU cores when previewing and rendering compositions. It allows the computer to render multiple frames at a time, thereby speeding up the total render time and export time with Media Encoder.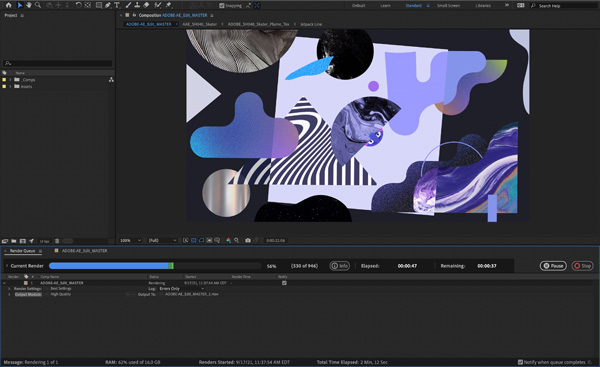 Multi-Frame Rendering
After Effects automatically adjusts the use of resources to render a composition as fast as possible on a given machine. The Composition Profiler shows which layers and effects are taking the most time to render in relation to others. If a complex project is producing performance bottlenecks, the Profiler allows you to decide how to optimise the system resources.
Meanwhile, Speculative Preview renders active compositions in the background while the application is idle so that you can playback or scrub sooner. The Render Queue displays information such as what files are rendering, how much time is remaining, rendering progress and how the system is used and sends notifications remotely to the Creative Cloud desktop or mobile app.

Scene Edit Detection, another tool running on Adobe Sensei, is now in the After Effects (Beta). Finding the original edit points in a video is necessary before editing can begin. Using scene detection helps users automatically detect scene changes and place scenes to set up projects quickly without having to go through the footage manually.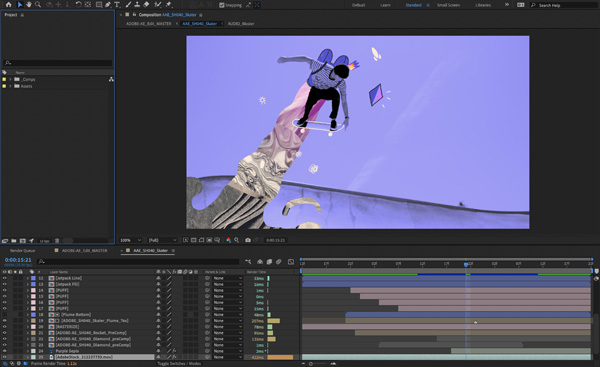 Composition Profiler
Connected Creative Teams
Adobe has pushed forward some initiatives for artists who want to work and collaborate on the web – in real time, regardless of device or location. One of these is the recent acquisition of the Frame.io cloud-based review and approval system. Premiere Pro and After Effects can combine with Frame.io's, a secure platform used to gather feedback from everyone involved in a production and allow each stakeholder to contribute to the creative process.
Creative Cloud Spaces, now in Private Beta, is a digital space built to support team collaboration and decision-making by placing all project resources in one place. Project files, libraries and external links are included so everyone has continuous universal access. Spaces will be accessible across desktop and mobile through Creative Cloud Web and available in Photoshop, Illustrator, Fresco and XD.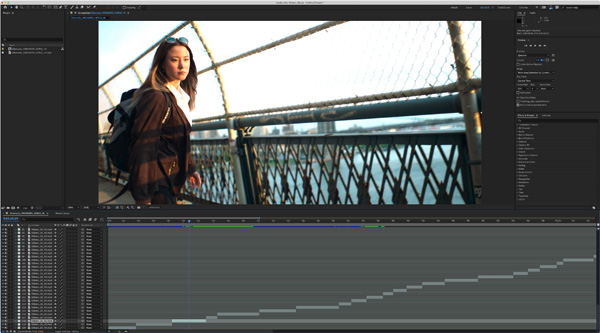 After Effects Scene Edit Detection
Creative Cloud Canvas (Private Beta) is another collaboration service used to lay out, visualise and review creative work together, in real time. The main difference between this and similar services is that users do not have to leave the browser of their creative application. On a Canvas, teams can place shapes, text, images and stickers, plus linked documents from Creative Cloud apps, so anyone can make quick edits to the original element in the corresponding app with a single click.
Finally, a new Workfront plugin for Photoshop gives artists the ability to collaborate in context. Users can see tasks and issues, and post and view comments related to the project they're working on, through an embedded Workfront update screen in Photoshop. www.adobe.com