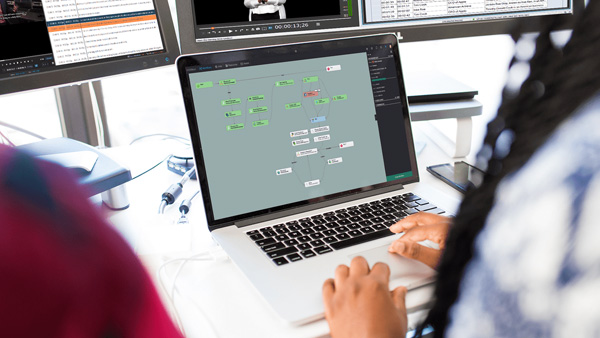 Dalet Flex, workflow software for OTT and multi-platform distribution, now includes support for Alibaba Cloud, and adds search capabilities that make it easier to manage and locate content using a new thesaurus. Dalet Flex's media logistics are developed for producers and distributors, to help them scale content supply chains and respond to rapid changes in content consumption.
The software's cloud-native architecture supports hybrid and full cloud workflows, making it possible to adapt to a distributed workforce more quickly. Dalet Flex receives quarterly updates, ranging from major workflow changes and new developments in logistics workflows, to administrative fine tuning.
Multiple-Cloud SaaS
Support for Alibaba Cloud, the main cloud computing company in China, is now added to the list of natively supported cloud options for Dalet Flex, which include AWS, Google Cloud and Microsoft Azure. Alibaba Cloud has numerous regional data centres and operates availability zones around the world. The multiple-cloud SaaS approach gives users scope for scalability and flexibility, with the granular control required to manage complex SLAs and media logistics workflows.
As well as hybrid deployments, distributors can use Dalet Flex cloud deployments to add elasticity to media workflows that temporarily require extra processing power. With auto-scaling, based on the Kubernetes platform for containerised workloads, Flex makes cloud resources available when needed but does not increase costs when they are not.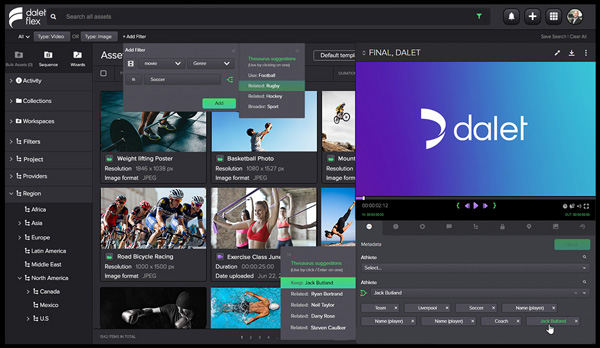 Dalet Flex thesaurus
The cloud helps address disaster recovery with options to deploy systems and back-up options in different datacentres and regions. Also, keeping a system on-premises that a large number of users access from remote locations can put demands on network performance. Hosting the system in the cloud redirects part of that demand.
In a hybrid multisite architecture, it is also possible to deploy two Dalet Flex sites, one on premises and one in the cloud, that can run independently from each other but are synchronised. Their independence means that if the connection between the cloud and your facilities is interrupted, users working locally will still be able to connect to the on-premises site, while users working externally will still be able to connect to the cloud site. Automatic synchronisation occurs when connections are restored.
Running two synchronised sites also helps very widely dispersed users all receive a similar smooth experience.
Thesaurus for Naming, Indexing and Searching
The new Dalet Flex thesaurus puts structure around content so assets are both named and indexed correctly. When a thesuarus is used to support indexing, users have an independently selected vocabulary of naming terms, as well as the relationship types between the terms – such as synonyms, associated terms or a hierarchy ranked from broader to narrower terms. The different relationships help users choose the most appropriate terms to describe content, and the same thesaurus may also be used to help end-users find the best terms to describe what they are searching for information about.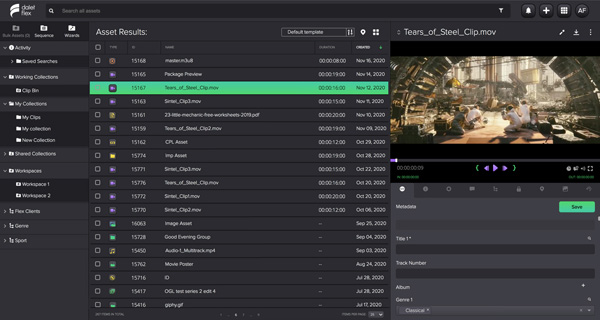 Dalet FlexMAM
In other words the thesaurus not only standardises the language for the concepts, but is also a guiding structure.The controlled vocabulary lends consistency to asset naming and indexing, simplifying content cataloguing, and Dalet Flex's permissions management allows only selected users to enrich a tag collection, keeping metadata orderly.
With the thesaurus are updates to Dalet Flex search capabilities. Users have new wildcard search support for setting up targeted search terms for a wide or very specific set of results. New markers groups allow users to carry out a single search with a collection of related terms in order to, for example, locate content that may violate compliance guidelines or content shot in specific locations with certain actors.
The FlexMAM application has improvements as well, including extra administration tasks that allow non-administrators to set up access levels and define default application settings. FlexMAM is a configurable HTML5-based media asset management application used to carry out content processing tasks such as uploading, organising and reviewing assets, rough cuts, EDL exports, and searching for and updating metadata. www.dalet.com