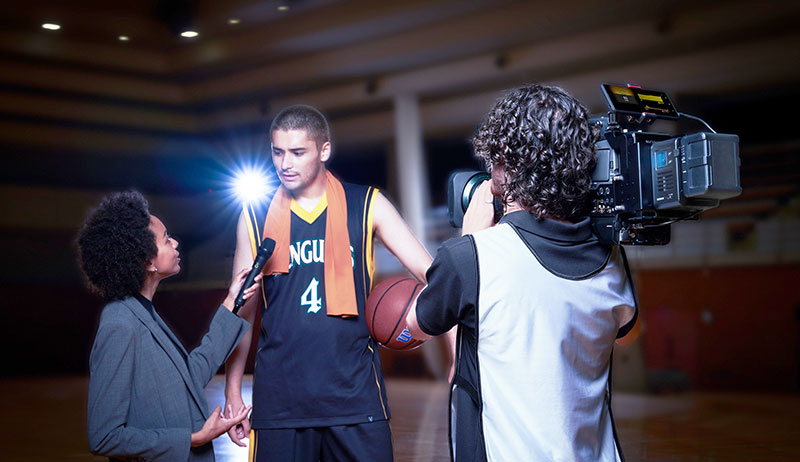 Sony's remote production unit, CBK-RPU7, used on-camera.
Sony has continued to develop and enhance its Networked Live system for remote and distributed production. A new remote production unit CBK-RPU7 for video transportover 5G networks has been released, and a software switcher, M2L-X, to use either on-premises or in the cloud.
Sony says that these new products, plus updates to some of the existing elements of the Networked Live lineup, are part of their goal to combine hybrid on-premises and cloud processing with network connectivity, bringing the logistics and economics of live production up to date.
Launched a year ago at IBC 2022, Networked Live is a system of products, services and partners designed to create and maintain connections between places, people and processing, using and sharing these resources optimally across productions regardless of their locations. It is based on three main functional areas – network and resource orchestration; media transport; and hybrid processing and operations. A series of updates launched at IBC 2023 address all three of these areas.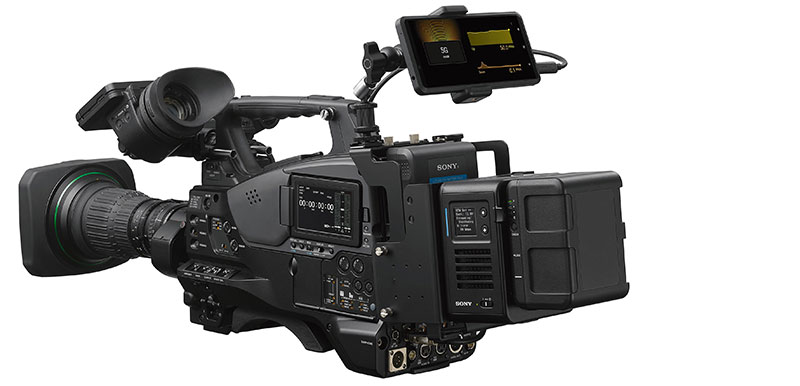 VideoIPath in the Cloud
Networks and resource orchestration involves configuring equipment and controlling media flows across LAN, WAN, 5G networks or cloud.
Media orchestration platform VideoIPath, developed for Sony by Nevion, has recently been expanding in terms of network orchestration capabilities. Nevion has successfully deployed VideoIPath in the cloud to manage ground-to-cloud connectivity, among other tasks. It was also involved in a recent proof-of-concept to demonstrate the ability to dynamically prioritise live media signals over 5G for the King's Coronation.
Nevion's vision of combining network orchestration, with new techniques to support broadcast operations for IP based infrastructures, has also taken further steps forward in recent months. Several new features have been added to VideoIPath to simplify operations in an environment in which workflows are much more dynamic, and organisarions can more easily use the flexibility of IP to find more efficient ways of working.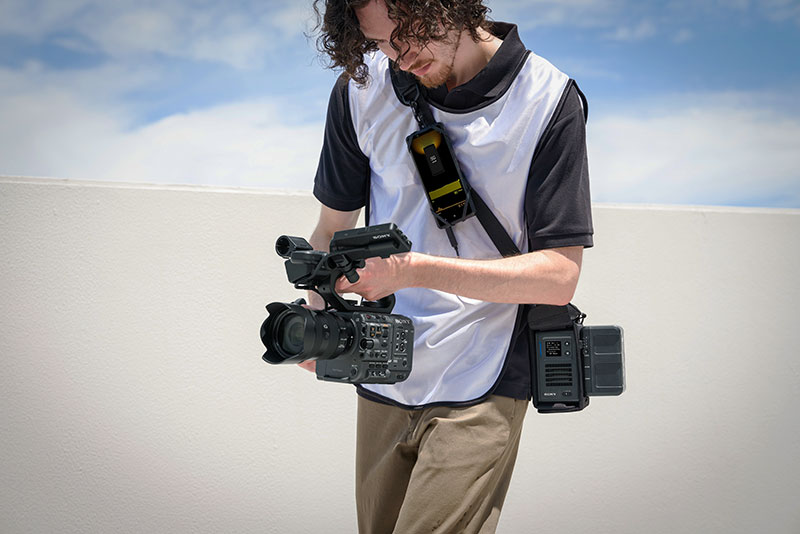 Virtuoso Media Transport
Media transport is about transmitting video, audio and data in real time, reliably and securely across LANs, WANs and 5G networks.
At NAB 2023, Sony introduced the NXL-ME80, a Media Edge Processor for WAN transport, which was first product to use Sony's new HEVC Ultra Low Latency encoding. This approach combines a high compression ratio with very low latency in order to maintain as high a picture quality as possible for remote and distributed live productions.
The new remote production unit, CBK-RPU7, is also equipped with Sony's Ultra Low Latency HEVC codec. Its compact size means it can fit on field cameras such as camcorders, using the V-lock battery mount for example, and connecting via SDI, making it a lightweight option for remote live production. Used with a modem, it works well in 5G networks, but is also suitable for wired networks with limited bandwidth. In a production environment, the CBK-RPU7 encoder is paired with the NXL-ME80 for decoding.
Virtuoso is Nevion's software-defined media transport and processing node. It also has several new features including JPEG XS over TS (VSF TR-07), added to the original ST2110 (VSF TR-08). It performs fast, clean switching typically required for shading operations, for example, and it supports 3D-LUT colour conversion as part of its Up/Down/Cross (UDC) and HDR/SDR conversion capabilities. All these features are available on the Virtuoso MI, a carrier-grade modular 1RU appliance that holds up to eight media accelerator cards and also on the compact Virtuoso RE, holding up to six Media Accelerator cards. The RE was announced at NAB 2023 and is available to order now.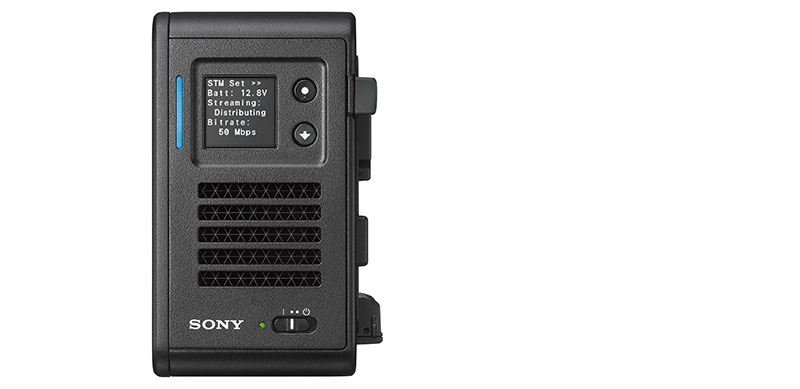 CBK-RPU7 remote production unit.
Hybrid and Virtualised Switching and Processing
Hybrid processing and operation refers to combining on-premises and cloud production as needed. The new M2L-X is a software switcher that expands the established platform and interface of Sony's existing cloud-based switcher system, M2 Live. It is used to carry out video/audio switching, graphics insertion and other production functions remotely during live broadcasts.
M2L-X can be used as standalone software, either in a Virtual Private Cloud (VPC) environment or on-premises. It can then be operated through its GUI, the ICP-X series control panel, and through 3rd party controllers such as Stream Deck from Elgato – thereby giving the operator more flexibility and reactivity during live productions.
The M2L-X can be deployed alongside Sony's MLS-X1 Scalable Production Switcher, creating a hybrid processing stack, using the ICP-X7000 Control Surfaces to operate both. The MLS-X1 is a production switcher platform, instead of a monolithic switcher chassis sized for large-scale projects. Multiple smaller processing units can be rapidly configured to meet the requirements of varied production types. The MLS-X1 has the power to cater for large-scale events – including multi-programme and multi-format productions – with the agility to meet future demands.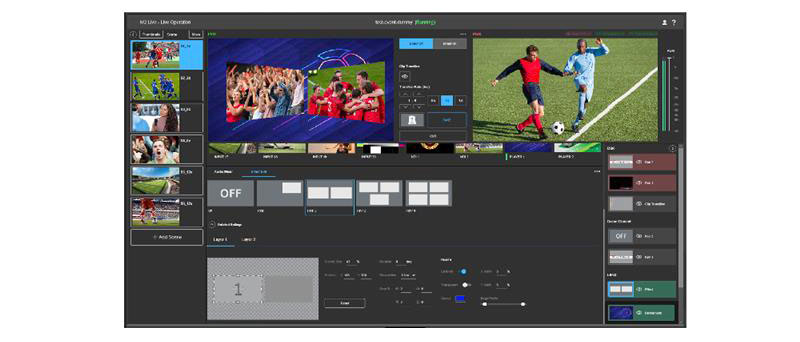 M2L-X software switcher
With this set-up, operators do not need to think about where the processing engine is located, or whether it is hardware or software. It also makes operations more flexible and allows the user to select the best resources for the job at hand, from anywhere, anytime at any scale. Also, the M2L-X system's open interface will integrate with existing live production systems, for instance, graphics, audio mixing or multi viewers. With these choices, users can build, and re-build, flexible production environments.
SDI Option
From January 2024 Sony will make an SDI input and output option available for the MLS-X1 so that userscan transition from pure SDI environments to mixed SDI-IP and, from there, on to pure IP environments. Multiple logical deployments can be made from the same island configuration in parallel, and then combined later to form different or larger switchers depending on production demands as they change over time.
Networked Camera Management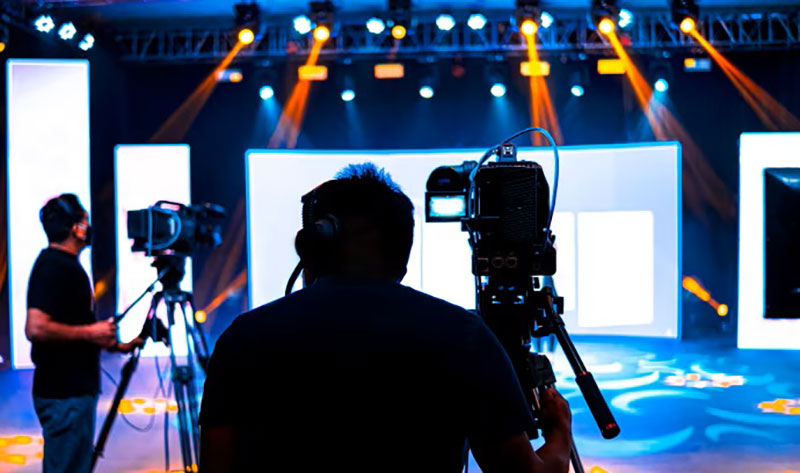 CNA-2 camera control network adaptor
At NAB, Sony introduced the CNA-2 camera control network adaptor, designed for monitoring, configuration and control of Sony system cameras at any spot in the network of a multi-camera, multi-site live production.. It enables camera systems to integrate into remote and distributed production systems, with a dashboard displaying an overview.
Now, Sony has issued three new software licenses HZC-RCPCN2 ,HZC-GWCN2, and HZC-MSUCN2 that can be installed on the CNA-2. With these licenses, the idea is to deploy a CNA-2 at each site, and then manage the camera systems centrally. pro.sony