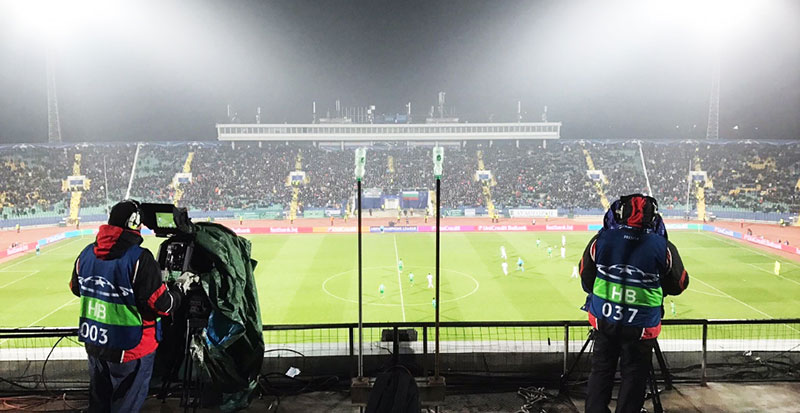 NVP, one of Italy's largest broadcast service suppliers, has completed development and brought online its NVP Innovation Hub, based on open standard SMPTE ST 2110 with GV Orbit orchestration, Grass Valley's AMPP SaaS platform and redundant GV Fabric IP switching.
As a Grass Valley customer for more than 10 years, with over 100 LDX cameras and six Kahuna production switchers, NVP was interested in the potential of AMPP and its seamless ability to be used with software- and hardware-based products to produce tier 1 and tier 2 events for their customers.
On the hardware equipment side of the Hub's workflow are a Kahuna 9600 production switcher with a 3 M/E Maverik control panel, a Kaleido-IP multiviewer and Audio Live for up to 2048x2048 audio routing of AES67 IP streams. Grass Valley distributor and systems integrator Video Progetti maintained responsibility for the integration of all Grass Valley equipment.
IP Connectivity
NVP is planning to replicate this initial model, located in the Cologno media city in Milan, in its Rome, Naples and Messina centres as well. Currently, at least one match per day is being managed remotely, with the goal of managing between three and five matches per day by the end of the Serie B 2022-23 championship in June 2023. NVP plans to increase remote production further for the 2023-24 season.
"The NVP Innovation Hub satisfies our customers' production needs from minor sporting events up to tier 1 sports productions and many others," said Ivan Pintabona, CTO for NVP. "Based on ST 2110, we can cover all conventional and event-based production requirements, especially with redundant IP links to all major national and international venues."

The NVP Innovation Hub consists of two production studios, six dubbing rooms and an OB Van gateway. The gateway area allows the team to quickly integrate any OB Van from the NVP fleet into the Hub's production studios. Productions can be completed in formats ranging from SD SDR to UHD HDR WCG.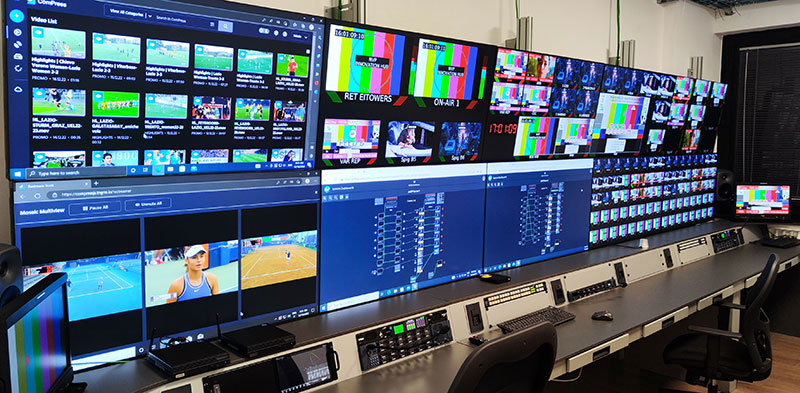 Dynamic Orchestration
Using GV Orbit orchestration, NVP routes sources coming from any venue to their production control room or to a number of other production control rooms, based on AMPP on-premises and cloud technology. The GV Orbit configuration, control and monitoring software is used to orchestrate broadcast media networks dynamically in SDI, IP or hybrid environments, but its underlying architecture and many of its features target open standards-based IP systems.
The dynamic nature of its functionality differentiates it from other orchestration systems. Users can build, configure and change systems on-the-fly by adding, renaming or removing devices, which speeds up the deployment and re-purposing of systems for new applications. It integrates directly with the GV Fabric and carries out SMPTE ST 2022-7 hitless changeover on redundant IP flows.
AMPP increases the system's scalability and flexibility in production, which NVP has capitalized on to design a cost-effective remote production system for smaller sporting events. It has proven crucial as NVP can use it, based on need, to augment their on-premises productions tools with cloud resources. The ability to launch AMPP resources on-demand has made it possible and affordable for NVP to increase its scope for coverage of sports and other events.
Scaling Beyond Traditional Constraints
AMPP is essentially an SaaS platform of agile management tools, cloud-based elastic platform services and intelligent media fuctions that combine to serve as broadcast workflows where and when they are needed. Its cloud-based features and performance are familiar to broadcast equipment operators but expand beyond the traditional constraints associated with scale, physical location and equipment uses.
"NVP, as with other AMPP platform users, has discovered the flexibility and scalability of our SaaS and on-prem live production system," said Tim Banks, CRO for Grass Valley. "NVP can now handle existing and new clients' production requests very quickly."
The Hub also incorporates HiWay Media, part of the NVP group of companies, that owns and operates a specialized OTT platform for sports. Through HiWay Media, NVP can help customers to produce and immediately publish their content to increase monetization.
"Using AMPP we can produce our sports coverage fully remotely, while maintaining a core 2110 IP-based infrastructure in the Hub," said Ivan Pintabona. "It's this combination of high-quality production and cost saving through remote production of sports events on an open standards IP platform that our customers appreciate." www.grassvalley.com