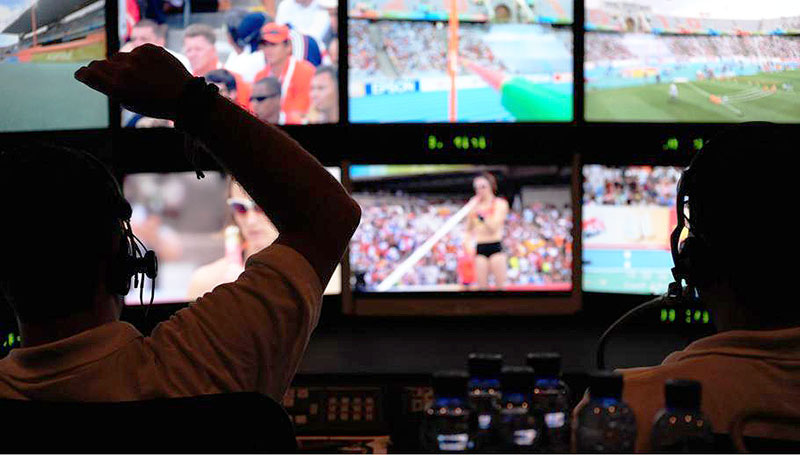 LucidLink's Filespaces is now validated and supported by LucidLink and EVS to drive workflows for efficient production of live sports, entertainment and breaking news. Their goal is enabling true real-time collaboration over distance, by speeding up and simplifying the task of making high-resolution video from a live event available to remote users. Creatives gain instant, simultaneous access to media files in the cloud from any location.
Using LucidLink Filespaces, EVS customers' creative teams working from home or on-premises can access media as if it were stored on a local drive. Team members can participate in live events, using content directly from a live capture, and contributing finished edits back to location.
Lucid Link – Global File System Namespace
Filespaces software creates a uniform shared, global file system namespace across devices connected to the Internet. It is capable of making any type of object storage act as a high-performance file system volume, shared and accessible from anywhere.
Designed to resolve the limitations of NFS and SMB protocols, the Filespaces file system works over both LAN and WAN. It has a high-performance concurrent streaming architecture and robust security model, and is compatible with all operating systems. The result is a near-local user experience, even when accessing remote data at a distance, and functionality similar to a NAS. All authorised client devices with network access to the object-store can see and access the same shared data set, irrespective of their operating system or location.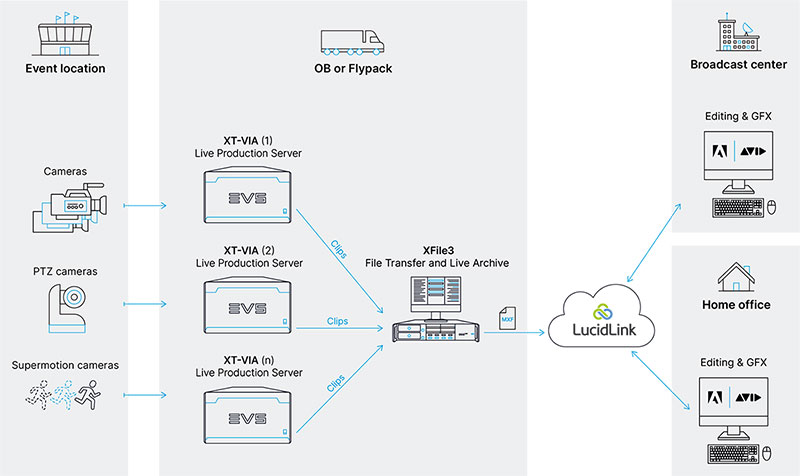 EVS – Ingest, Archive, Workflow Management
Live news and entertainment typically need efficient, fast paced production. EVS LiveCeption and MediaCeption live production systems are based on the company's XT-VIA, XT-GO and XS-VIA and XS-NEO production servers for high speed ingest and rely on XFile3 and VIA Xsquare to manage the archiving and storage needs of the ingested content.
XFile3 automates file transfer and archive needs during live production to increase efficiency. Users can archive, transform and restore selected content in any format and from multiple destinations, and use the XFile3 software to control and monitor all file transfers from a single interface.
VIA Xsquare creates a single entry point for production teams to transform, orchestrate and monitor media files as they progress through the live workflow from ingest to shared storage and distribution. Focussed on efficiency like XFile3, it centralises media processing job requests in one web interface, reducing transcoding needs and increasing visibility of workflow processes. Its flexible architecture supports a scalable management system for workflows between EVS systems, third-party storage and NLEs.
LucidLink Integration
With the integration of LucidLink in XFile3, VIA Xsquare and IPDirector Nearline production asset management, users can store ingested content directly in the cloud. The cloud filespaces of LucidLink allow editors, graphic designers and other live- and post-production teams to collaborate securely on ingested low or high resolution media.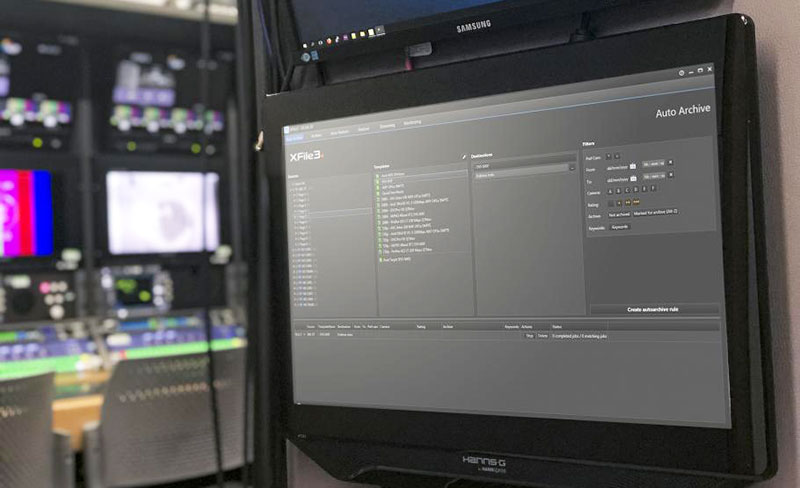 EVS XFile3
The LucidLink integration gives immediate access to the ingested footage, without downloading or syncing files and with end-to-end encryption so that teams can perform video and post-production editing directly in the cloud.
Thus, using EVS with LucidLink supports collaborative multi-site workflows with a centralised repository where teams can exchange assets in both directions. This means editorial and graphics teams have immediate access to live ingested content and edited renders without sending hard drives. evs.com